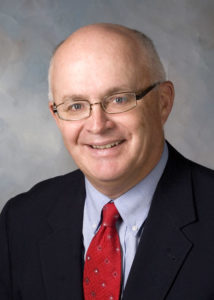 Tom Johnson, vice president for finance and administration/treasurer, is set to retire in April 2022.
Throughout his seven-year career at Central College, Johnson has collaborated on multiple strategic initiatives, including a new tuition pricing strategy and the $18-million Forever Dutch® expansion and renovation. Other notable projects include renovations to Douwstra Auditorium, Peace Mall gardens and Veterans marker and the new maintenance facility at Collegiate Center Drive. In total, Johnson completed $27 million in projects at Central.
Overall, Johnson has directed nearly $200 million in capital projects over his 29-year career. He had 22 years under his belt in the same role at Iowa Western Community College, bringing a depth and breadth of experience with him to Central.
While Johnson says he truly enjoyed leading and working through capital projects, the highlight of his career is hearing the success stories of students.
"Capital projects are where I've really gotten a lot of satisfaction out of my career," Johnson says. "But, most of all, nothing beats hearing success stories about our graduates. To know that I have worked in an industry that helps somebody get a good education, to go out into the world and be successful, that's what I enjoy most."
In addition, Johnson successfully re-financed the college's long-term debt, lowering a 30-year fixed interest rate from 5% to 2.375%.
"Tom has been an accomplished leader and outstanding colleague. Our campus community has been extraordinarily well-served by his steady hand, affable spirit and wise counsel," says President Mark Putnam. "We have been strengthened by his efforts, and he leaves a legacy of achievement we will all value for many years.