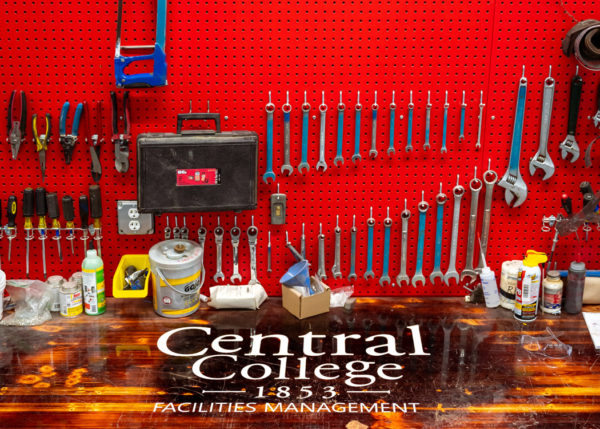 Central College buildings all have a story to tell.
Windows being blown out during a Styx concert in Douwstra Auditorium in 1975. Tales of nervous prospective students in the admission offices of Central Hall over the past 165 years. Love stories culminating in marriages in the Chapel. Martin Luther King Jr.'s visit to campus and presentation in the gymnasium on March 22, 1967, just over a year before his assassination.
Oh, if only the walls could talk.
But maybe they do.
Central's new facilities management building holds its own remarkable story of history and innovation. A tour of the space shows it's a treasure trove of repurposed, recycled and preserved history. The newest building on campus houses facilities management's staff offices and work spaces to keep the campus looking impressive and operating smoothly 24/7.
Repurposed
Key focuses during the facilities management building construction, which was completed in the summer of 2020, were functionality, cost saving, reducing waste and environmental sustainability. It started with renovating and expanding the former ground's equipment warehouse and transforming it into a modern office, stores center and workspace.
"It was designed by facilities staff for the facilities staff, and it functions very well for us. Our staff is very grateful for this building," says Craig Roose, director of facilities maintenance.
Gerald Pleima, grounds/utility team supervisor and the department's most senior employee, joined the team in 1986.
"With the new facilities center, we are organized and supplies are centrally located. We're together in the morning to discuss projects and plans. We begin the daily sweep of campus from one location. It's much easier to communicate. For example, instead of multiple locations and having to call people in different buildings, we can step into the shop or a work area and ask the staff questions," he says.
Funding for the building, located behind Ron and Joyce Schipper Stadium, came from the sale of the Webster school, where facilities management had been housed for about 10 years. A private business approached the college about purchasing the Webster school property for housing development. This began a series of moves for the facilities team, first to Hoffman while the building was constructed and renovated, and then to the new permanent location, all under the direction of Tom Johnson, vice president for finance and treasurer. He supported the repurpose, recycle and resourceful approach to the construction.
"I've been involved in some significant construction and capital projects during my career. I really enjoy the opportunity to figure out best design, building placement and user-focused elements in classrooms, labs and offices for construction projects," Johnson says.
"We repurposed items as much as possible in the construction of the facilities management building," Roose says. "Many items were removed or salvaged from other demolition and construction projects on campus and saved for reuse in our building. I added up the total cost of the items saved and reused. The estimated cost savings for the college was $90,915."
For example, throughout the facility, repurposed lockers removed from P.H. Kuyper Gymnasium during the last renovation now serve as lockers for the staff as well as storage spaces for tools, gloves and supplies.
Janine Fontana, director of purchasing and facility services, explains the history of many recycled items. The lobby welcomes visitors with its rich, dark cherry wood cabinetry and marble counter top.
"The cabinetry was removed from the college president's home in 2010. We have been storing it since then, so the facilities management staff repurposed it. The beautiful cabinetry and counter tops work so well as the welcome lobby. The lights were shipped in the wrong size for the Scholte Hall remodel in 2008. They were too nice and too expensive to get rid of, so we have been storing them and finally repurposed them here. The paneling was created from excess shipping pallets," Fontana says.
Across the lobby hangs a piece of art that reminds the staff of their creativity and resourcefulness. It's a Chevrolet truck tailgate, painted in Central red, from a retired service vehicle.
"This was a late 1980s truck that was converted to electric in the early 2000s by facilities management staff. The fleet mechanic and one of our technicians of that time did most of the work to convert it to electric. They were ahead of the curve for EVs," Fontana says.
Preserved
Alumni will recognize art elements adorning the halls of the facilities management building. The original Grand Central Station sign, which hung over the student café in the Maytag Student Center for years, now resides in the facilities space. The building also houses the original Central College Bookstore sign and a Central's Convenience Store After Hours sign.
"Office furniture was repurposed from offices in the Webster School, the previous facilities management location, as well as other locations on campus. With careful planning, the offices look modern and are comfortable. LED lighting was removed during other renovations and saved for this building. The staff kitchen has white cabinets repurposed from the A.N. Kuyper Athletics Complex renovation," Fontana says.
Heavy work tables in the woodworking shop came from an old science building renovation and from the original carpentry shop located in what is now the Graham Annex. "In the shops, all the light fixtures were removed and reinstalled here, saving those from going into a landfill. The same is true for a supply of carpet squares and storage cabinets. Most supplies in the offices and work areas were not purchased specifically for this building. It's stuff that we've moved, sometimes two or three times," Roose says.
Efficient
Another unique and essential component of this new space is a 15-foot-long map of the underground steam pipe system with water mains, boilers and outlets. When keeping nearly 1,200 students warm and classrooms operational during Iowa winters, the facilities staff need to know how and where to get fast access when heating issues arise.
The fleet repair bays are spacious enough to accommodate larger equipment. Prior to the construction of this building, the big bus and some other sizeable equipment had to be worked on outside.
"This was a real challenge for us when we needed to do sensitive repairs on the big equipment and had to do the work outside in the weather," Roose says. "The new, heated bays allow us to maintain the college's 42 vehicles and other equipment in better work spaces and greater comfort."
Resourceful
Roose explains how the team used their own expertise to save money.
"During the construction of the building, we acted as our own general contractor, hiring local sub-contractors as needed. Balancing that responsibility with other maintenance work on campus lengthened the timeframe of the construction, but ultimately allowed us to do more with allotted funds. A large portion of the interior finish work in the building was done in-house with our staff, as time allowed," Roose says.
"We have people who are experienced or trained in almost any kind of maintenance. We can do anything from grounds tree care, lawn care and snow removal to buildings, building exteriors roofs, windows to interior rehab, electrical plumbing and HVAC. Back in the fleet shop, we have expertise in gas vehicles, diesel vehicles, larger trucks, smaller cars, as well as smaller mowers and tractors. We have the staff to cover most repairs no matter what the problem is," he adds.
"Our staff have great pride in their space. They built a work bench from strips of wood that they glued together, gave it a burnished look with a torch, added the college logo, and then coated with polyurethane for a durable finish. It's absolutely beautiful," Roose says. "It was almost too pretty to use." (See it at the top of this story.)
A walk on the Central campus tells the tale of a beautiful area with preserved, historic buildings as well as modern, environmentally sustainable buildings.
That doesn't just happen.
It takes a team of creative and resourceful staff.
Now, they have a unique building of their own.
Operating a Small City
From the building, the staff oversees the safety and daily operations of the equivalent of a small city.
During the academic year and much of the summer, people are living on campus 24/7. As you can imagine, this means running water, garbage removal, heating, cooling, lights and transportation must be available always. With nearly 1,200 students and 350 staff and faculty, Central employs a team of 50-60 individuals to keep campus humming all day and night.
In the 18,145-square-foot facilities management complex, you will find a tech shop with everything for plumbing, electrical and HVAC needs. The walls are covered with every kind of power strip and specialty power strip needed to run the college.
The new facility has a large receiving dock and expansive storage area, which makes the staff's work much more efficient. Sustaining a small community means having supplies for most every situation. To protect productivity and improve efficiency, Sandy Schippers coordinates the Central Stores inventory. And what an inventory! The stock room shelves flow with trays holding everything needed to run a small city. Bar codes on each tray help monitor inventory and usage.
Most people don't think about the number of fire extinguishers on campus. Or that Central Stores has more than 75 different-sized air filters for the various buildings.
"We keep everything from ant traps to custodial supplies, whiteboard markers, electrical items, plumbing items, trash cans — anything needed on campus. The stock room gives us a little buffer, especially lately as deliveries have longer lead times and it's harder to get some supplies quickly," Fontana says. "We try to be careful so we're not stocking too much. But some of our items needed for critical repairs, like getting furnaces running, we keep enough inventory on hand to get through emergencies."
Like a Family
The facilities management team considers the souls they take care of like family. Pleima, with the grounds team, is involved in almost everything on campus.
"From furniture moves, grounds maintenance, event set-up and tear-down, supply deliveries, snow removal and even cleaning bikes out of the pond, we are involved with the students, staff and faculty all the time," he says, adding that the best part of being a member of the Central community is the people.
"We see people on campus, and they remember you on a first-name-basis in church, on the street or in a grocery store. I've had student workers who now work full time at Central, so I've watched them progress in life. It's like a family," he says.