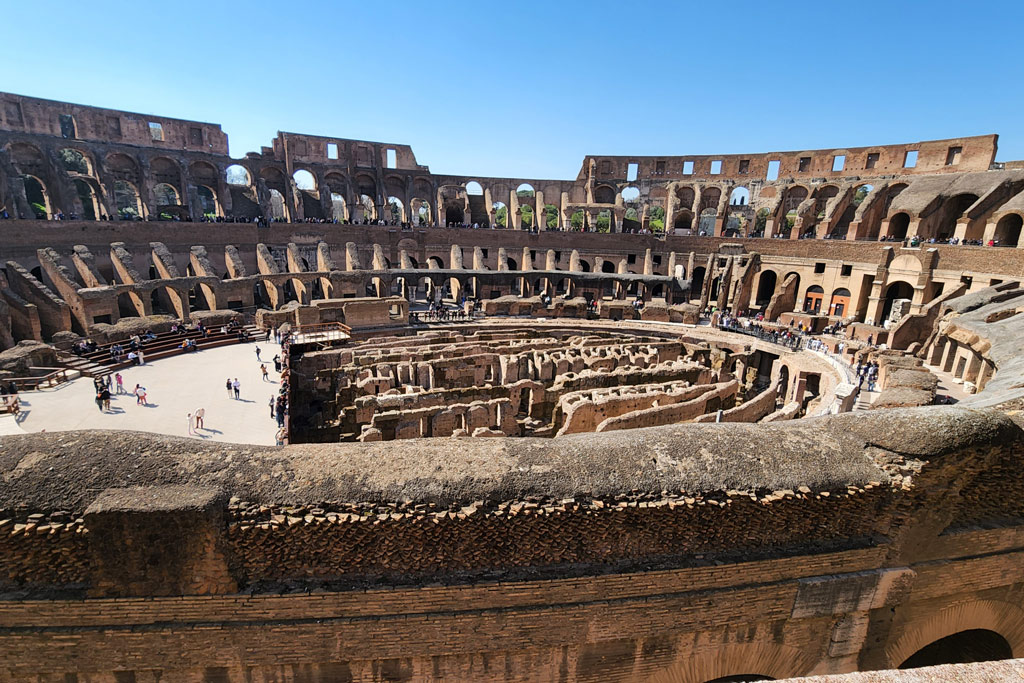 "Life changing." "Nothing like I expected." "So beautiful." "So different from anything I've ever seen."
These are common responses by Central College students who return from an off-campus experience — adventures that change perspectives and open doors and minds for a lifetime.
That door to new experiences closed abruptly in March 2020.
After a hiatus for the COVID-19 pandemic, it's time for Central students to re-engage with the world again, says Mary E.M. Strey, vice president for academic affairs and dean of the faculty.
In Summer 2022, students and faculty began traveling again through Central.
"A faculty priority has been and continues to be preparing Central students to be global citizens, equipped to compete in the global job market," Strey says. "International education for Central students will continue to be academically focused."
A New Model for Central
While the world paused for the pandemic, Central administrators and faculty took advantage of the time and assessed the path forward for off-campus experiences, including the larger academic umbrella of faculty-led opportunities and partner-led programs.
Faculty made it clear that education — no matter if in Pella or Paris — must uphold academic integrity, challenging curriculum and opportunities to engage in a meaningful way with the communities where students live while studying off-campus.
Enter a new model: one that offers both domestic and international experiences that provide opportunities for study, service, internships and other types of experiential learning in cost-effective ways. Add a mix of faculty-led programs, extracurricular activities and partner program opportunities for a high level of global learning and cultural competency.
After researching several international academic program providers, Central developed a partnership with ISEP Study Abroad. ISEP coordinates international education programs with more than 350 colleges and universities in 60 countries. Central is piloting four locations for Summer 2022 and 10 locations in Fall 2022.
ISEP also happens to be led by a Central graduate: John Lucas '92.
"ISEP checks all the boxes on our academic, financial, operational and organizational safety expectations," Strey adds.
Another priority has been to make sure that students have opportunities to explore in the language that they are studying — Spanish, French or German. And if they're not majoring in languages, students gain an opportunity to learn the language of the country where they're studying. Students who are studying in Ghana, for example, will have the opportunity to learn Akan (Twi).
"International education is taking a richer, deeper, immersive experience to Central students," says Lucas, CEO of ISEP. As a Central graduate, Lucas has a personal commitment to ensuring success for Central students.
The previous Central model used a center-based international education program. Students lived in housing with Central staff and/or faculty, depending on the program. Academic courses were taught by Central faulty in some locations, or by the local university academics in the city of the program. Lucas explains that this center-based model had advantages and disadvantages. Central has switched to the direct enrollment model for the immersion benefits to the student's education as well as the college's cost and logistics.
What Is ISEP Study Abroad?
ISEP uses a direct enrollment model to provide credit-bearing experiences, student support at host institutions, housing and in most cases, excursions and cultural experiences. Students directly enroll in the local university.
"One of the great benefits for using ISEP is that students directly enroll in the university and attend courses with domestic students within that country as well as other international students. It is full immersion," Strey explains.
"It's a truly authentic experience. We value community and relationship. Being in a class with students from all over the world builds community and relationships," Strey says. "This type of immersion builds a student's understanding of the culture and new perspectives that may be different than their own."
Lucas agrees.
"Things that we value in American education are student support and connections. Central does that really well," Lucas says. "Now colleges and universities abroad have that support intrinsically on campus for our Central students who attend those institutions."
For example, "ISEP coordinators are in place on every one of our sites, and they do similar work as a campus resident assistant. They're all members of the local university's faculty or staff. They have a covenant with our organization for support services," Lucas says.
In addition to offering a broad range of choices, the ISEP model is cost-effective.
"The deeply immersive model is more affordable and sustainable. I love working in this model at ISEP. It allows us to offer more opportunities in more universities abroad," Lucas says.
Changes in the world place higher demands on college graduates. Employers place greater value on prospective employees who have competencies in critical thinking, communication, equity and inclusion, leadership and teamwork.
"I'm really excited to see that we have opportunities for students to go to more parts of the world and I'm impressed with the diversity of programs. We have semester programs through ISEP that are brand new to students. We are now offering opportunities in Ghana and Chile, places where the college has not had relationships before," says Jess Klyn de Novelo '05, associate dean for career development and civic engagement.
Klyn de Novelo leads the career development and civic engagement team at Central, which is responsible for leading many of the high-impact practices at Central, including international education, internships, service learning and career and professional development for students.
"With the current focus on diversity, equity and inclusion, we're seeing both a strong interest in international education from our students as well as from the organizations that will be hiring them. There is really a need for students to learn how to collaborate with people that are different from them," Klyn de Novelo says.
Under the partnership with ISEP, "the range, variety and number of locations for academic study has just exploded, so that every student can find something that meets their budget, comfort level and their academic needs. It's exciting," Lucas says.
Preparing Citizens of the World
Central's off-campus programming started primarily as an opportunity for language and cultural immersion. With support from ISEP, Central now offers experiences to most majors and prepares them to be citizens of the world.
"If you remember back 30 years ago, the language majors ruled the study abroad world. And now all majors have options. If you're an art, education or business major — whatever you want to study — you can find it abroad at a university that has the whole range of courses," Lucas says.
"Through ISEP, students have courses available that Central doesn't offer. It may complement their experience and give them an opportunity to study a topic that they never thought possible. Students with most any major will find value going abroad now by partnering with local universities. Plus, there are more courses available in English," Lucas adds.
Phoebe Nishimoto, manager of international program logistics at Central, is helping students navigate the new international education process.
"I meet with every student who applies to study internationally. I work in partnership with the student's academic advisor to determine the best programs for the individual student's interests and graduation criteria. Then I coordinate with the ISEP team to identify the best locations for that student's academic goals. It's a partnership with the student, advisor and ISEP," she says.
Nishimoto's role includes helping with pre-departure paperwork and re-integration after a semester abroad. With her guidance, students will know which courses they are enrolled in before they pay tuition fees and travel. And they will know how those courses fit into their Central graduation plan.
"We're excited to roll out this partnership for our students," Nishimoto says. "I appreciate what the administration has done and is doing to make international education accessible and to keep it accessible."
Bringing Textbooks to Life
Central's faculty-led programs take students to interesting and educational places throughout the U.S. and abroad. In 2022, this programming has resumed again, providing students with intercultural experiences through coursework in business, foreign languages, sciences and other disciplines — while also traveling to key destinations and learning around the world with Central faculty.
"We know from research that when you provide students an opportunity to engage in learning outside of the classroom, and then you provide them an opportunity to reflect on that experience, that's really where the magic happens. They take the theories, topics, whatever it may be, that they're learning through classes here, and then apply that with faculty alongside their learning," Klyn de Novelo says.
For decades, Central's faculty-led courses and programs have ordered this ideal learning environment.
"Off-campus study, whether in the United States or internationally, allows students to get out of their comfort zone. Students demonstrate a willingness to engage with diverse cultures and diverse individuals from all over the world. Those are hallmarks of a liberal arts education. That's what Central values for our students," says Linda Laine, faculty fellow for interdisciplinary and faculty-led programs.
"We are invigorating and expanding our faculty-led off-campus experiences," says Laine, who also is professor of communication studies and interim associate academic dean. "In one type of faculty-led off-campus experience, travel is a component embedded in a course offered on campus. The other type is a standalone experience."
In the standalone experience, off-campus experiences are not directly connected to an on-campus course. Maggie Fisher Schlerman '02, associate professor of accounting, teaches two accounting courses in Mérida, Yucatán, Mexico, as a standalone summer term option.
"I teach two classes for a total of six credit-hours. The classes we ran last time were Accounting for Social and Environmental Responsibility, and Government and Nonprofit Accounting," Schlerman says.
"Yucatán connects well to the courses because when we study social environmental responsibility, we talk about treating people and the planet sustainably," she adds. "And, we assume responsible entrepreneurs also earn a profit, since they continue in business. We can observe that in practice in Yucatán. There is a thriving informal economy there, which is a cash-transaction-driven system. We have some great businesses that we've observed in action. Students participate in the market and take that understanding back to the classroom.
"Yucatán also provides a wonderful contrasting context for the government accounting course. We discuss the services that a government says it provides its constituents and how that is reported back to citizens," Schlerman says.
Mérida has public stadiums, which are workout facilities that anybody can use. It's free to use because they are funded by the government. Students use these experiences to compare and contrast how governments provide services for citizens at home and abroad.
Many out-of-classroom experiences also are just plain fun. Students will escape the afternoon heat by swimming in an underground cave, called a cenote. On Sundays, on Paseo de Montejo, the government shuts down the main road for an event called Biciruta. Everybody grabs rollerblades, bikes, skateboards and strollers and then rolls up and down the boulevard for hours.
Óscar Reynaga, senior lecturer of Spanish, is planning an add-on Spanish course, Language and Culture in Yucatán, for one credit. It will complement a three-credit on-campus course. Students and Reynaga will leave in early January 2023 for a two-week immersion course into Spanish language and culture.
"I really enjoy leading the students as they experience this culture, seeing it through their eyes. It's a distinct experience from what we can create in an immersive experience in the classroom. There's nothing that can compare to being in a Spanish-speaking country where the students are immersed 24/7 in the language. Even if it's a short stay, it really provides a richness of opportunity," Reynaga says.
"Because I've taught this course several times, I've now opened it up to all levels of Spanish students. I redesigned the course more for beginning intermediate and for advanced students that are considering Spanish as a minor or major. Students in the program put their language skills to use and I design activities based on their skill level and every conversation activity. In late fall, I'll work with students on pre-departure information, readings and vocabulary review," he says.
"We also work with different language assistants while in Mérida in fields like journalism, communication and archeology. Maite Lozano, an archeologist, gives historical context to the sites that we visit. There are archaeological areas of the Mayan civilization that we have a chance to visit. It's not the goal to be a generic touristy activity. Students gain a sense of perspective of the richness of the history and culture of this area," Reynaga says. "We also work to demystify misconceptions of Mexico. Mérida is a wonderful Mexican city. We give students real-life perspective with families and friends, work and play."
"Faculty-led courses really lend themselves well to nudging students who might be a little unsure or frightened to take that step to a full semester in another country," Reynaga says. "It opens the door to other experiences."
Central continues to create more interdisciplinary faculty-led programs. The potential is great for any major to participate in a two- to three-week faculty-led course.
"We strongly encourage students to participate in these courses," Schlerman says. "I like to say that you never regret the things that you did but you always regret the things that you had the opportunity to do and didn't do. Study abroad is a perfect example of that."
Off-Campus in the U.S.A.
Central continues to offer students a semester in Chicago or Washington, D.C., for internship-focused programs. These options returned in Fall 2021.
Central was one of the founding members of the Chicago Semester program. Central partners with Chicago Semester and The Washington Center to increase career-related opportunities to qualified juniors and seniors of any major. The semester-long classwork and internship, or student teaching in Chicago, equips students for integrated personal, professional and public lives through internships, academic seminars and access to networking in the third-largest city in America.
Sarah Lindeman '23 of Grundy Center, Iowa, is a communication studies major with a Spanish minor. She had wanted to participate in the Mérida semester, but COVID-19 changed her plans. She did the next best thing and chose the Chicago Semester program in Fall 2021.
"The whole Chicago semester opened my eyes. It helped me see new opportunities," Lindeman says. "It seemed really scary at the beginning. I remember driving there with my parents. I couldn't believe they were just dropping me off and leaving. Once you get the lay of the land, it's awesome. You don't want to leave at the end."
"It exceeded all expectations! I worked at the Magnificent Mile Association, which supports and promotes the businesses along Michigan Avenue. It's a nonprofit located on Michigan Avenue — that was super cool. I was a part of the Magnificent Mile Lights Festival parade. It's like the third largest parade in the U.S. after the Macy's Thanksgiving Day Parade and the Rose Bowl."
The Chicago program is set up like a regular work week. Students work at their internship four days. On Wednesdays, they take classes. Lindeman had three classes on Wednesdays. One course was Arts in the City, which took students to different events in Chicago. She also took a professional seminar and a course on diversity and inclusion.
"The diversity class took trips to different neighborhoods throughout Chicago. It was really interesting to see the different neighborhoods and how they differ so much based on each culture," Lindeman says.
"Chicago Semester helped me understand distinct aspects of the communication studies major. I didn't think event planning was something I was really interested in, but I really enjoyed it. The association where I worked had a small staff, so I was able to do a little bit of everything. I was in marketing communications and event planning. It opened my eyes to different professional options," Lindeman says.
Moving forward, Central will continue to offer wonderful experiences for students to engage with experiential learning opportunities. No matter if it's across Pella, across Iowa, the United States or the globe, Central is making students engaged citizens of the world.
---
The Central Advantage
Maggie Fisher Schlerman '02 is making plans for a summer 2023 Mérida experience. Previous programs had a huge impact on these students:
Luz Maria Perez Flores '18, a Spanish and business management major, participated in the four-week summer experience in Mérida, Yucatán, Mexico. She completed two courses: accounting for social and environmental responsibility and government/non-profit accounting taught by Schlerman.
These courses helped Flores realize her passion. It was here she saw the need for financial literacy education.
"Someday, I'd like to start a nonprofit to serve the community. There is such a need for financial literacy. The experiences I had in Mérida with the local government and talking with business owners really focused my passion," she says.
Laurynn Mize '21, who majored in business management and accounting and minored in Spanish, says her off-campus experiences played a role in securing an internship and employment after graduation.
Mize also participated in a faculty-led summer program to Mérida.
"Employers see your resume and realize you've clearly done something out of your comfort zone. Having the language experience that you gained from studying in another country makes it more credible," she says.
Where Open Minds Get Their Start
Additional information about Central's off-campus experiences is available at central.edu/study-abroad.