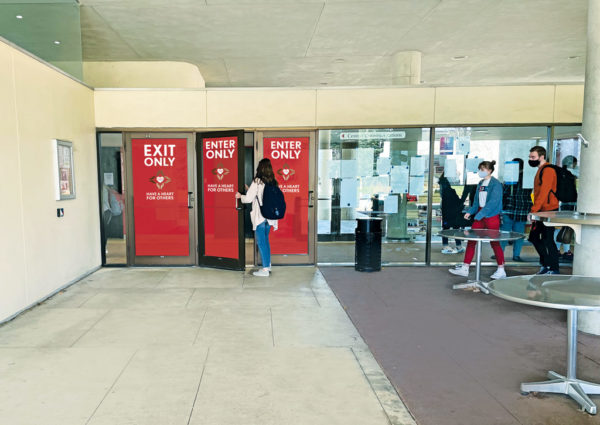 Classes in the Chapel.
Wearing a face shield but not working with hazardous materials.
In one door, out another.
These are just a few of the "new normals" faculty, staff and students were met with when they returned to Central's campus in August. With new health safety protocols in place, everyone set foot on campus with high hopes for the semester and a side of cautiousness on how to navigate college in the COVID-19 era in our community. To ensure safety, everything has looked different — from classrooms and the cafeteria to residence halls and social spaces.
President Mark Putnam continues to send out emails with protocol updates on an as-needed basis. Those protocols included everything from physical distancing and wearing a mask on campus to cleaning desks and work areas to restrictions in residence halls.
"We started by having strict rules for housing to limit the spread of COVID-19," Ashley Lupkes '23 says. The academic year is looking a little bit different, with classes in new spaces to allow for physical distancing and new protocols. Faculty have had to adjust teaching strategies, but many are more than willing to be able to teach in-person and be with students.
"Classes are a little strange, but I am just glad they are in person. We have classes in places I never thought I would. For example, I have my Principles of Management class in Cox-Snow's Recital Hall," Lupkes says.
Teaching Perspectives
With every new adventure comes challenges.
"My classes are big, so now I find myself teaching in the Chapel to maintain physical distance," says John Roslien, associate professor of exercise science, who normally teaches at the Helen Jean Hislop Center. The Chapel is special to Roslien. He was married there 31 years ago.
"To facilitate a lab, I now have to coordinate with other faculty to rearrange their schedules in Hislop to find space for my class," Roslien adds. "It can be a bit confusing for the students moving from building to building. Fortunately, I have colleagues willing to accommodate my class and students eager to be in lab. So far, we have successfully done CPR and an injury evaluation lab bouncing back and forth."
"It's been a challenge, for sure, but I'm so very glad to be back in my classroom," says Liz Golovatski, assistant professor of physics. "Nothing can beat being able to see (half) my students' faces and wave my arms around in front of a whiteboard!"
Keith Jones
Title: Professor of Psychology and Mark and Kay DeCook Endowed Chair in Character and Leadership Development
Department: Psychology
"It's more fulfilling and it's easier to work in-person on campus together than it is remotely, without question. Being together even with protocols is much better than being remote."
Jen Diers
Title: Associate Professor of Education
Department: Elementary and Secondary Education
"Our students are incredible. They are the reason we do what we do here at Central, and during this time of change and challenge, they have repeatedly shown us what the Central family is all about: flexibility, support, open minds, open arms. Despite the new protocols, it feels so great to be back on campus."
Julianne Taylor
Title: Lecturer of Education
Department: Elementary and Secondary Education
"Returning to campus and connecting with my students has been like finding water for the thirsty soul. I thrive on building relationships and getting the opportunity to reconnect with my students after being away from one another for so long."
Katelin Valster
Title: Lecturer of Exercise Science, Student-Athlete Advisory Council Advisor and Pre-Health and Post-Graduate Fellowship Advisor
Department: Exercise Science and Athletics
"We, as faculty, are excited to deliver content and students are engaged in the learning process. It's certainly stretched my creative brain to connect students and material in diverse ways."
Students Happy With Return
Students appreciated being able to be back to the place they called home.
"It felt like returning home after an extended vacation. The first few weeks of seeing people in person and getting to catch up were so refreshing and well worth the wait," Cooper Vittetoe '21 says.
"We have our temperatures taken at the door, masks are worn at all times and we utilize every bit of Douwstra Auditorium for rehearsals," Vittetoe says of choir rehearsals. "We even sing outside from time to time! Even though we're distanced and wearing masks, our sound is just as good as it has ever been!"
"I'm happy to be on campus because a lot of other students elsewhere didn't get that opportunity," Ally Focht '21 says. "I'm so happy I go to school at Central because my friends who go to larger schools are 100% virtual for their classes. I'm just thankful to be here and thankful we're taking precautions needed to be here and stay. Because we are still getting much more of an experience than they are during this year."
A majority of the Central family looked forward to the return to campus. For those in football, volleyball and soccer, they got disappointing news — their seasons were postponed.
"It was heartbreaking to hear we weren't going to have a regular season. I just pray that I suit up for a game once my senior year," says Focht, who plays volleyball.
Focht is doing her best to look at the pros of being a student-athlete and a college senior amid the coronavirus.
Just before Thanksgiving, students were presented the option of returning to campus or going to remote learning the remainder of the semester.
Because as we have learned about the people who are a part of Central's community, we are resilient. We have a heart for others. And behind the masks, we are smiling widely.
Ally Focht '21
Hometown: Stanton, Iowa
Major: Sociology
Future Plans: Attend Graduate School
"I think volleyball has affected me the most just because it's almost like a part-time job. I don't look at it like a job, because I enjoy it so much, but volleyball and academics are my life in college. I'm really happy we still have the academic part and a little bit of the volleyball part, but it's weird because I feel like my job got cut in half. That was the hardest adjustment for me during the fall season."