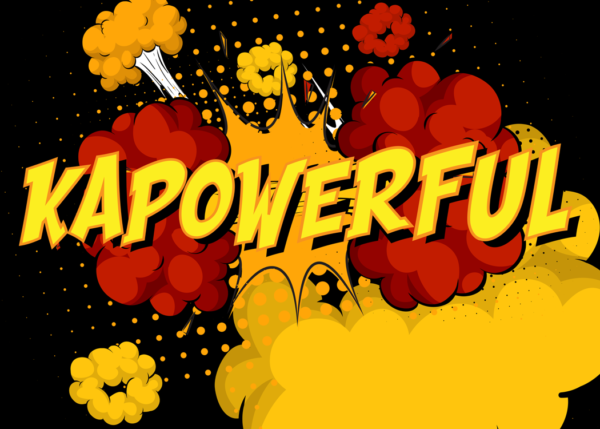 Graphic Novels in the Classroom
Batman. Superman. Spiderman. Wonder Woman. These iconic superheroes were birthed from the world of comic books, which tell stories and express ideas through a combination of text and images in a sequence of panels, often colorful, bright and engaging.
And there's more to comics than just superheroes — a whole world of comics and graphic novels exists that explores an array of genres, topics, cultures and themes.
Kathy Korcheck, professor of Spanish, adds a new dimension to student learning by using single-panel comics and graphic novels to teach Central students the Spanish language — and culture.
¿Pero cómo? (But how?)
"Comics are a vehicle for fostering reading comprehension, developing visual literacy, engaging in intercultural dialogue and encouraging student creativity," Korcheck says.
VRROOOM: Visual Vocabulary
Learning a new language can be challenging so it's helpful that pictures often speak louder than words.
Korcheck recognizes the power of connecting images with vocabulary — especially when learning a new language.
"In my lower-level Spanish courses, I often start my students with single-panel comics that have one image and one word," Korcheck explains. "The students have to describe what's in the panel, and a lot of times, they might not have the words yet, so then they'll need to look them up. In the process of learning how to describe the picture, they're developing their vocabulary."
In this way, vocabulary development is enhanced with visual clues, strengthening students' understanding and comprehension of the text.
However, this method is not limited to the written word. Korcheck encourages her students to symbolically explore the text and imagery and ask themselves, "What does it mean?" Students aren't just learning a second language — they're discussing complicated and controversial topics, some of which include aging and Alzheimer's disease, family/intergenerational relationships, gentrification, homelessness, immigration and terrorism and trauma, among others.
Korcheck then challenges her students to think a little deeper.
"Discussing the artist's role and perspective also is a plus," Korcheck says. "Why is the artist depicting this scene in a particular way? How does the artist accomplish this? What might be their motivation in doing so? What is at stake?"
Korcheck assigned students the graphic novel "Arrugas," meaning "wrinkles," by Paco Roca, where Roca explores ageism and Alzheimer's disease. The graphic novel was particularly engaging to Olivia Svoboda '21, an elementary education major and Spanish minor from Cedar Rapids, Iowa.
"Roca sparked open discussion in class about the taboo topic of Alzheimer's disease and care for the elderly — a topic that is not simple to engage with. Still, the messages conveyed by Roca would not have resonated so strongly with me if there were gaps in my understanding of the story or the vocabulary," Svoboda explains. "These gaps were prevented when Roca chose to express his ideas in the format of a graphic novel. The visuals used in these graphic novels supported my language development, while simultaneously challenging me to think critically about the universal messages that were being communicated."
BOOM: Beyond Language
Along with learning a new language, Korcheck wants students to explore the variety of cultures and representations that exist of Spanish, Latin American and Latinx people in the world through graphic novels.
For example, "Gazpacho Agridulce," or "Sweet and Sour Gazpacho" by Quan Zhou, explores Zhou's experience growing up in southern Spain as the daughter of Chinese immigrant parents. She explores her hybrid identity to critique Spanish and Chinese stereotypes of one another and themselves.
"Her story is about coming from a family and growing up in an environment where she never feels completely Chinese, and she never feels completely Spanish," Korcheck says. "You don't normally think about the Chinese community in southern Spain speaking Spanish, right? Or the kinds of challenges they encounter in their interactions with their own family or other Chinese people who may judge them. These are examples of things I want my students to learn and think about."
"Zhou's combination of concise text and visual representations in 'Gazpacho Agridulce' criticizes existing cultural assumptions and challenges each reader to avoid cultural ignorance by educating themselves about cultures that are not their own," Svoboda adds. "This is a message that is difficult to digest, but it is one that still follows me."
WHA?!: Enriching Instruction
Students aren't just reading and interpreting comics and graphic novels in Korcheck's classes. In upper-level Spanish courses, students are challenged to draw and write their own comic panels based on their interpretations of literary texts. They present their work as their final project at the end of the semester.
"This type of project is really uncommon in a literary class for Spanish majors," Korcheck says. "Most of our work focuses on written final projects, and I continue to include these kinds of assignments. But I think having the opportunity to do something that feels so radically different allows students to access a part of their creative selves they didn't even know existed."
Korcheck says students can oftentimes feel detached by reading traditional literature, especially a generation of students who have and continue to grow up in a visual culture. A multimodal approach to learning engages their brains in familiar ways.
"Incorporating art helps students further understand what they're looking at. Students are all looking at the same scenes in a graphic novel, but everyone's interpretation is different," Korcheck says. "Drawing makes it tangible. It helps them visualize what they're reading and think about how it relates to their own lives and experiences."
BAZINGA: Cultivating Creativity
Korcheck isn't trying to "pass as an art teacher." Rather, she's adding a whole new dimension to student learning.
"Lynda Barry, an art professor and cartoonist at the University of Wisconsin-Madison, has an interesting concept that everyone can draw, and anyone can teach themselves how to draw. When we become adults, we lose the capacity to just draw as we do as kids when we aren't self-conscious," Korcheck says.
Hillary Chute, literary scholar and comic and graphic novel expert, says "Drawing is a way of thinking." This concept resonates with Korcheck.
"When my students are drawing, I want them to think and ask themselves 'Why would I represent this scene in this particular way?'" Korcheck says. "I want them to convey these messages and their own interpretations in their own creative way."
And Korcheck wants her students to know they don't have to be an artist to create a comic.
"There's a part of me that feels strongly about the idea that you can't truly understand the comics and graphic novels you're studying unless you try to feel what it means to draw something and put your ideas into images," Korcheck says. "I'm challenging my students to think about what they've read but express it in their own creative way."
BOOM: The Big Picture
Now that both Korcheck and her students have seen the educational (and creative) benefits of teaching and learning with comics and graphic novels, Korcheck is in the process of developing a new, advanced Spanish course to bind everything together.
The course will focus solely on comics and graphic novels in the Hispanophone, or Spanish-speaking world.
"I want to focus both on the plot and content of graphic novels but also dive deeper into how the artist conveys their story by combining visual images with text," Korcheck says. "And I want my students to then be able to spend more time to create their own comic throughout the semester as a large, final project."
Students won't find superhuman strength, x-ray vision or telepathy in the comics and graphic novels Korcheck teaches — but they will learn what it truly means to be human.
"Comics and graphic novels are inherently interdisciplinary," Korcheck says. "You're learning about different histories, culture, politics, literature — the list goes on. The opportunities to learn and grow in the world of comics and graphic novels are endless."
And that's something to be taken seriously.