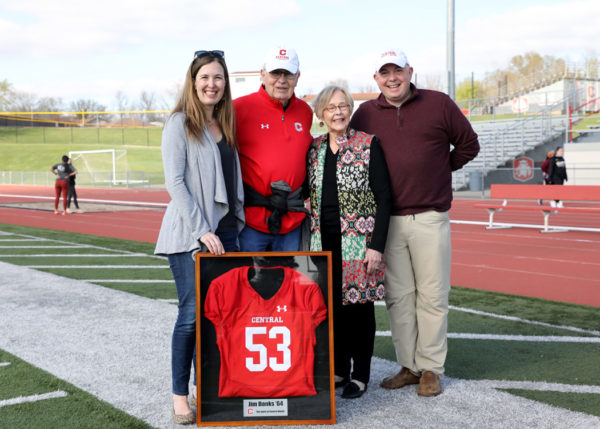 After more than 60 years of commitment and service to Central College, Jim Danks '64 died Nov. 14, 2021, in Pella.
A standout offensive lineman as a student, Danks returned to the college in 1966, serving as assistant football coach and associate professor of physical education until 1974. He also was men's golf coach (1968-74) and the school's first wrestling coach (1969-73).
He held a senior sales management role at Pella Corporation from 1974-2002, then returned to Central as director of development until 2005. His first wife, Maureen Croaks Danks '67, was a professor of biology at Central before dying unexpectedly in 1981. He remarried in 1986 and he and his wife, Phyllis, raised children Ryan and Elizabeth.
Danks was a generous Central supporter. He received Central's Distinguished Alumni Award in 1993, was named to the Heritage Roll of Honor in 1995, the 1853 Club in 1996 and the Cornerstone Society in 1997. He was honored with the first-ever Spirit of Central Award and recognized with his family in the fall of 2021.