Jay Wackerly Awarded National Science Foundation Grant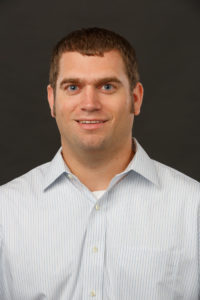 Jay Wackerly, associate professor of chemistry, was awarded a National Science Foundation Award of $235,000 for academic research.
The National Science Foundation supports fundamental research and education in all non-medical fields of science, technology, engineering and mathematics, including computer science and the social sciences. This support advances knowledge to grow the U.S. economy and sustain global leadership.
With the help of Central students, Wackerly will conduct research focused on the synthesis and supramolecular properties of a novel class of supramolecular macrocyclic host molecules they have termed "cambiarenes."
"It's exciting to see our work funded in the same program as Nobel prize-winning scientists, and I am honored to have been awarded this grant," Wackerly says. "We hope to continue to innovate the field of supramolecular chemistry by designing and creating new cambiarene structures that can be utilized for a wide variety of applications."
This award will provide funding for Central students to perform summer research, attend and present at national conferences and for laboratory reagents and supplies.
Central students who currently conduct research on cambiarenes with Wackerly are Amy Philavanh '22, Madolyn Clark '22, Bronwyn Metcalf '22, Bradon Annegers '23, Marcus DeVries '23 and Seth Olsen '25.
This ongoing research has been funded through multiple grants since 2013, including an Organic Syntheses, Inc. Grant for Summer Research, American Chemical Society Petroleum Research Fund Undergraduate New Investigator Grant and multiple Moore Family Foundation Development Grants.
Wackerly has been with Central since 2011.
Paulina Mena Named Faculty Fellow for Diversity and Inclusion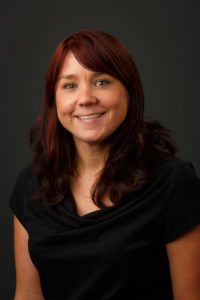 Paulina Mena, associate professor of biology, has been appointed as faculty fellow for diversity and inclusion at Central.
Mena will work with faculty, along with Brian Peterson, associate dean of students, and Mary Strey, vice president for academic affairs and dean of faculty, to support faculty development, curriculum and the classroom climate as it relates to diversity and inclusion for course development and pedagogy. Her appointment began August 2021.
Mena earned her Licenciatura en Biología from Universidad Católica de Valparaíso in Valparaíso, Chile, and her Ph.D. in biology from the University of Iowa. She has been a Central faculty member since 2009 and was promoted to associate professor of biology in 2015.
Linda Laine Appointed Faculty Fellow for Interdisciplinary and Faculty-led Programs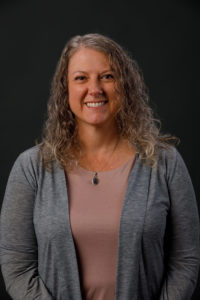 Linda Laine, Kenneth J. Weller Distinguished Professor of the Liberal Arts and professor of communication studies at Central, has been appointed as faculty fellow for interdisciplinary and faculty-led programs at the college.
Laine will work with faculty, along with Brian Peterson, associate dean of students, and Mary Strey, vice president for academic affairs and dean of faculty, to support faculty development in interdisciplinary and off-campus programs, including familiar trips led by faculty to locations such Costa Rica, Belize and Mérida. Her appointment began August 2021.
Laine earned her bachelor's degree with honors in human communication from Abilene Christian University in Abilene, Texas. She completed her master's degree and Ph.D. in communication at the University of South Florida. Laine has been a Central faculty member since 2004 and was promoted to professor of communication studies in 2018.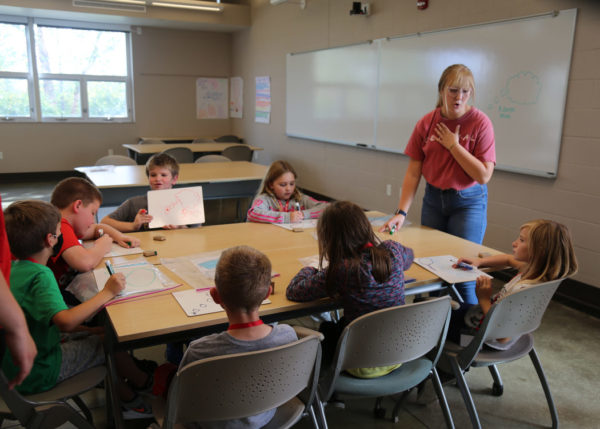 Little Dutch Academy
Central's education department has partnered with Pella Community Schools to create Central Little Dutch Academy, an early out program for third and fourth grade students focused on social emotional learning and STEM education.
The goal of the donor-funded program is to provide an opportunity for students to develop social and emotional learning skills through activities in science, technology, engineering and math in a fun, engaging way. Upper-level teacher education students at Central plan and implement all activities for students under the direction and supervision of Jen Diers, director of the education department, and other faculty in the department. Students in introductory education classes can serve as assistants in the program.
"This has been a dream of our program for some time. It's the perfect avenue for our future teachers to practice their skills while also fostering a love of science and bolstering social emotional skills in students. The importance of this is only heightened following the impact of the COVID-19 pandemic on education," Diers says. "The Central Little Dutch Academy benefits Pella students, our upper-level students and provides a space for our introductory students to explore the field of education right here on Central's campus."
The program meets once per week in Roe Center, where the education department is housed. Materials and curriculum are pulled from the department's newly created Learning Lab, which represents an elementary school classroom.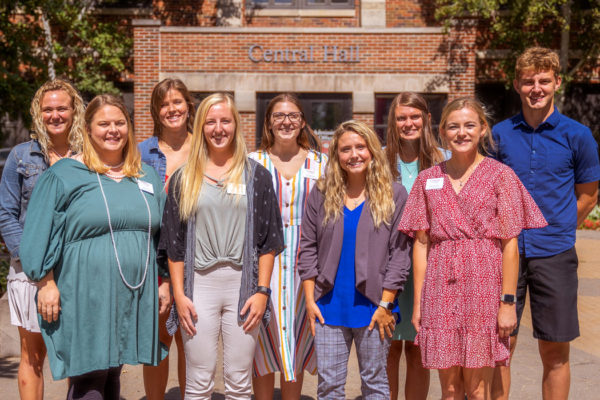 2021 Geisler Penquite Scholars
Central's education program announced its 2021 Geisler Penquite Scholars in Fall 2021.
The Geisler Penquite Foundation honors and supports exceptional students in the college's teacher education program who exhibit potential for leadership and hold at least a 3.4 GPA, among other qualifications.
The Geisler Penquite Foundation was established by Harold and Mavis Geisler, Cecil Geisler Penquite and Loren Penquite in honor of their parents, John Edward Geisler and Gertrude Setzer Geisler. The foundation also gave a gift toward the library endowment, a space now named in their honor.
The 2021 Geisler Penquite Scholars are:
Alexis Buls '23 of Kansas City, Missouri.
Amanda Smith '23 of Moravia, Iowa.
Dustin Haines '23 of Sigourney, Iowa.
Jessica Carithers '23 of Mackinaw, Illinois.
Kate Pachner '23 of Akron, Colorado.
Misty Rivas '22 of Pella, Iowa.
Samantha Kosman '23 of Indianola, Iowa.
Victoria Joy '23 of Aledo, Illinois.
Zoey Brockway '23 of Iowa Falls, Iowa.
Scholars receive approximately $5,000 each year for their junior and senior years. In return, they represent the education program with prospective students, conduct research and/or help develop new education program initiatives.
Central Receives $50,000 Gift From Noel Cover Foundation
Central received a $50,000 gift from the Noel Cover Foundation of Cozad, Nebraska.
Central is one of four colleges that is supported by the foundation and the only Iowa institution represented. Since the early 1970s, Central has received $1.336 million in support leading to 301 scholarships for 132 students.
Support from the foundation is used to provide scholarships to needy, deserving and promising young men from Iowa, Colorado, Wyoming or Nebraska who attend one of the following four colleges: Central College (Iowa), University of Denver (Colorado), St. Olaf College (Minnesota) and Hastings College (Nebraska). Recipients must study in fields related to science, scientific research, mechanical engineering and craftsmanship, medicine, medical research or social science.
Noel Cover was a farmer and rancher in the Cozad area. He and his wife, Nellie, believed in education, even though they had no children. The foundation was established after Noel's death to benefit students. Earnings from the foundation are derived from the annual revenue generated by approximately 1,000 acres of irrigated farmland near Cozad.
Central's 2021 World Food Prize Lecture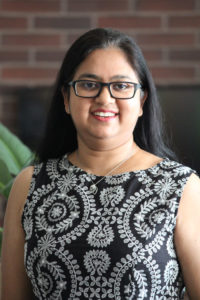 Aditi Mukherji, the first recipient of the Norman Borlaug Field Award by the World Food Prize Foundation, presented Central's annual World Food Prize Lecture in November 2021 via Zoom.
The World Food Prize is the foremost international award recognizing individuals who have increased the quality, quantity or availability of food in the world. Central has hosted the lecture for many years in conjunction with the World Food Prize Conference in Des Moines, Iowa.
"The World Food Prize Lecture is an opportunity for our students to hear from someone who lives out Central's mission to instill values of responsible citizenship," says Brian Peterson, senior associate dean of curriculum and faculty development. "Hearing from world-class researchers, scholars and activists helps students begin to see possible futures for themselves as truly lifelong learners and society changers."
Mukherji is a principal researcher at the International Water Management Institute, where she led the Water and Air Theme at the International Centre for Integrated Mountain Development in Nepal. Mukherji is a coordinating lead author of the Water Chapter in the Working Group II of the Intergovernmental Panel on Climate Change and a member of Core Writing Team of the IPCC's AR6 Synthesis Report.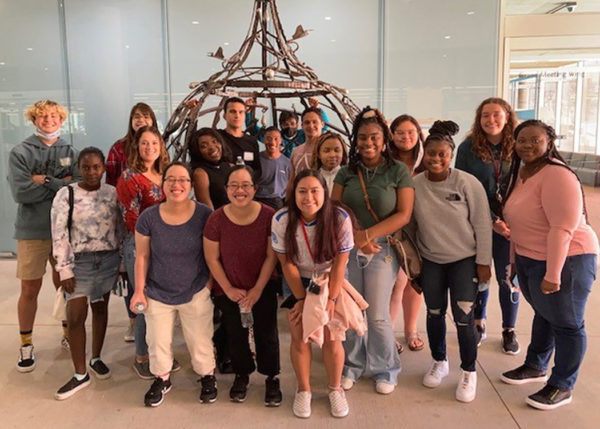 Central Forms BIPOC+ Coalition With Drake, Grand View, Simpson, William Penn
Central has partnered with Drake University, Grand View University, Simpson College and William Penn University to form the BIPOC+ Coalition.
The coalition seeks to foster a sense of community, cultivate leadership and provide mutual support for Black, Indigenous and people of color. The coalition is a safe space for BIPOC students to discuss and reflect on their college journeys.
In 2018, Central examined its campus environment and analyzed how the college could strengthen its efforts in areas of diversity, equity and inclusion. An outcome of this work was the development of the "Building a Culture of Inclusion" initiative in an effort to create long-lasting change.
The coalition held its first meeting alongside the Latino Heritage Festival in Des Moines in September 2021. Activities were facilitated by BIPOC students from these respective institutions, including Central student Deja Holloway '24. Holloway, of O'Fallon, Illinois, led an activity that encouraged first-year students to reflect on their journeys throughout college and what they envision their journeys to be, based on their individual experiences.
"I am passionate about inclusivity, diversity and social justice work, so I wanted to make sure that as a Black student, my voice was being heard," Holloway says. "I want to help other minority students use their voices, to feel welcome and respected. I want them to know their opinions and experiences are valued here and not just being brushed off."
Holloway hopes the coalition will be a safe space for BIPOC students to gather and educate others.
"We want to encourage students to learn about our upbringing and what it's like to be a BIPOC student in Iowa. It's important to learn about others who are different than you," Holloway says. "I know it's hard to talk about tough subjects, but we are not looking for sympathy. We want empathy."
"The BIPOC Coalition is a natural component of Central's Building a Culture of Inclusion initiative. Our work is to make sure every student feels their presence and perspectives are valued," says Carol Williamson, vice president for student development. "The coalition supports our BIPOC students and provides an opportunity for lasting change within our organizations.
Central Education Program To Offer New STEM Endorsements, Project Lead the Way Training
Central's education program is now one of eight institutions in the state of Iowa to offer STEM endorsements for students majoring in elementary education and secondary education.
The endorsements will benefit Central students seeking jobs teaching K-8 mathematics, K-8 science and middle school math and science.
"The goal of our STEM endorsement is to help train educators with the breadth and depth of knowledge within and across science, technology, engineering and mathematics so they can teach in integrated STEM environments," says Melissa McAninch, associate professor of education. "This complements our integrated STEM curriculum, which helps Central students learn to teach in a project-based environment."
According to Iowa Governor's STEM Advisory Council, the demand for careers in STEM will increase 60% over the next 10 years.
Central also has become a pre-service partner with Project Lead the Way, which provides the ability for the education program to provide pre-service teachers with a PLTW teacher credential, resources and support for the PreK-5 Launch curriculum. PLTW curriculum offers transformative learning experiences for students by creating an engaging, hands-on classroom environment that empowers students to develop in-demand knowledge and skills they need to thrive.
Project Lead the Way Launch training complements science and technology courses offered at Central, including the new STEM endorsement. The education program is in the process of developing new courses for these STEM endorsements.
"Having these endorsement and training opportunities will make Central students more marketable," says Amanda Clark, assistant professor of education. "The state already has specific endorsement requirements in place, so this will take Central's education students to the next level."
The first round of Project Lead the Way Launch pre-service training took place in October 2021. STEM endorsement programming will begin in the 2022-23 academic year.
Mills Gallery Features Award-winning Songwriter and Visiting Artist
Central's Mills Gallery in the Lubbers Center for the Visual Arts welcomed the works of two renowned artists last fall.
International award-winning songwriter Chad Elliott's exhibit, "Wilderman's Treetop Tales," is a collection of paintings from Elliott's book of the same name. The book is designed for ages 3-10 and contains both heartwarming and giggle-worthy poetry accompanied by Elliott's illustrations. He brings 10 of the lyrics from the book to life in the companion music album, also titled "Wilderman's Treetop Tales." Together, the exhibit, book and album create an interdisciplinary offering of art, music and writing which allows the whole family to embrace a wild imagination.
Elliott, who has been performing original songs for 20 years and is a winner of the Woody Guthrie Song contest, has penned more than 1,500 songs in his career and is lauded as "Iowa's renaissance man" by Culture Buzz Magazine. He has been featured on Iowa Public Radio's Java Blend, composed and performed music for several IPTV documentaries and shared the music stage with artists such as Eric Church, Brantley Gilbert, Tom Paxton and Counting Crows. He holds a degree in visual arts.
Delano Dunn's exhibit was titled "Delano Dunn: Dreams and Other Fables." Through painting, mixed media and collage, Dunn explores questions of racial identity and perception within various contexts, ranging from the personal to the political, and drawing from his experience growing up in South Central Los Angeles. His works employ archival images pulled from such sources as vintage Creole cookbooks, comic books, 1860s issues of Harper's Bazaar housed in the Schomburg Center for Research in Black Culture and photojournalism of the Civil Rights era, among others.
Dunn was selected as the art program's Allison B. Allen Visiting Artist. The Allison B. Allen Visiting Artist series emphasizes expanding the diversity of artistic experiences and cultural outlooks for Central art students and the campus community. Designated artists and their exhibited works are funded entirely by the Allison B. Allen Visiting Artist Fund. Dunn will return during the Spring semester for a weeklong residency.
He has had solo exhibitions in New York City, Los Angeles and Buffalo, New York. Features and interviews include The New York Times, VICE Creators, Black Lives Matter, ArtNoir and Black Artist News. Dunn was the recipient of Sustainable Arts Foundation Grant; the College Art Association's Visual Arts Graduate Fellowship in 2016; the Delaware Contemporary's Curator's Choice Award; and the School of Visual Art's Edward Zutrau Memorial Award.
Dunn received his BFA in illustration from the Pratt Institute in Brooklyn, New York, and his MFA in fine arts at the School of Visual Arts in New York City.
Central Surpasses Scholarship Fund Goal on Giving Tuesday
Central alumni and friends showed strong support for the college and its students on Giving Tuesday in November.
Central donors surpassed the $45,000 goal to unlock matching funds for the Journey Scholarship Fund and raised more than $98,000 designated for Journey scholarships. In total, the college raised nearly $104,000 with 173 gifts from donors in support of scholarships and programs.
The Journey Scholarship Fund is 100% donor funded and helps open doors of opportunity by making a Central education affordable for students. Thanks to the generosity of donors, Central will award a $1,000 Journey Scholarship to all first-year students in the 2022-23 academic year.
Jeremy Burke To Serve as Central's New Pre-health Advisor, Career Services Specialist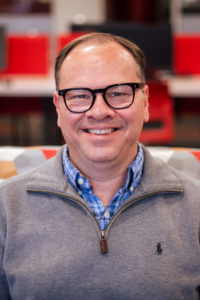 Central has hired Jeremy Burke as the college's pre-health advisor and career services specialist. He also will serve as class dean.
In this role, Burke will advise pre-health students and those pursuing post-graduate fellowships and awards in addition to working with Central's alumni office to facilitate connections between Central students, the Career and Professional Development team and alumni across the globe.
Burke received his B.A. in philosophy and a B.S. in environmental biology from St. Ambrose University in Davenport, Iowa. He went on to earn a master's degree in philosophy from Washington University in St. Louis, Missouri, and an MFA in creative writing (poetry) from University of New Orleans. Burke began advising pre-health students as a transfer advisor at St. Ambrose University.
Central Receives Gift From Estate of Newton Resident Helen Diehl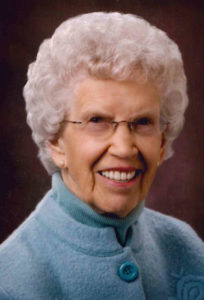 Central received a gift of more than $860,000 from the estate of Helen Diehl, a longtime friend of the college, to make a Central education possible.
Diehl was a lifelong resident of Newton, Iowa, and was president and co-owner of the Jasper County Abstract Company for more than 40 years. She retired in 1983.
Diehl's second husband, John N. Diehl, a Newton attorney, served on Central's Board of Trustees. He was instrumental in helping secure gifts to the college from several generous benefactors, including John and Gertrude Geisler, for whom the college's library is named. John died in 1984.
Helen Diehl also established in her will an endowed scholarship in memory of her late husband.
The John and Helen Diehl Endowed Scholarship provides scholarships to students to attend Central.
Helen Diehl was a member of Central's Heritage Roll of Honor and Cornerstone Society. She made her first gift to Central in 1979 and set up her estate gift with Central in 1990. Both Helen and John also were key players in Central's Heritage Day, an annual tradition that recognizes those who generously support the college.
Helen Diehl died Feb. 9, 2018, in Newton at age 96.
Central Names Kristin Lewis Director of Pre-college Programs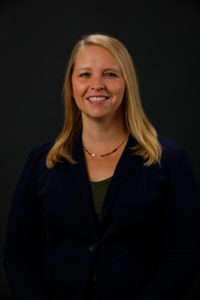 Kristin Lewis has been named director of pre-college programs at Central.
Lewis oversees Central's Talent Search, Upward Bound I and Upward Bound II. Each year, these TRIO programs provide tutoring, counseling, mentoring, financial guidance and access to college education to more than 1,000 participating students from area middle and high schools. All students in the program are income-eligible and/or are potential first-generation college students.
Lewis has nearly eight years of previous experience with the college's TRIO Talent Search program. She earned her undergraduate degree in elementary education from Northwestern College in Orange City, Iowa, and obtained an M.A. in education: curriculum and instruction from the University of Kansas in Lawrence. Lewis also holds an Iowa Teaching License.
Central's pre-college programs are federally funded by a grant from the U.S. Department of Education. Competitions for grant renewal happen every four to five years. Central's programs have been continuously funded since 1966.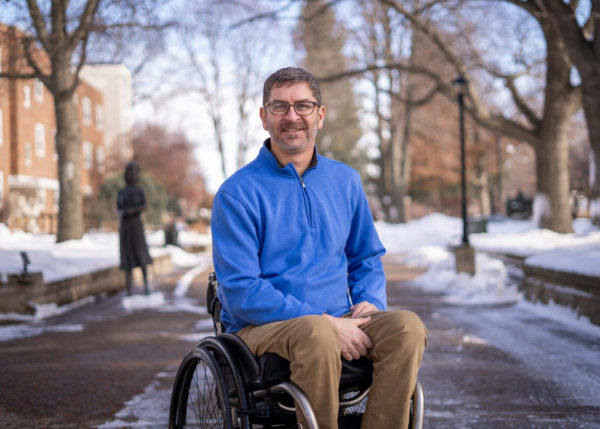 Dean Furness '94 Named 2022 Commencement Speaker
Dean Furness '94 will speak at the college's Commencement ceremony at 2 p.m. Saturday, May 14, 2022, at Ron and Joyce Schipper Stadium.
After becoming paralyzed following an accident in 2011, Furness speaks to groups via large keynotes and small settings about grit, determination and what it takes to keep moving through daily challenges. His story was recognized as a "Top 20 of 2020" TED Talk, garnering more than 3.5 million views. A significant part of Furness' story details his adventures in wheelchair racing, leading him to compete in major marathons around the country, including the Chicago and Boston marathons.
"I haven't cured cancer, and I'm not a CEO of a billion-dollar company. I'm just living my life to the best of my abilities, and I want students to know that that's okay, too," Furness says. "It's the strong connections and meaningful relationships I developed while at Central that make me who I am. Without them, I would not have the success in my wheelchair that I do today."
Professionally, Furness is a data and analytics specialist at Wells Fargo, focused on data visualization and digital dashboard solutions to help executives with decision-making activities. He and his wife, Deonne, have three children: Taylar, Raigen '20 and Angelina. Furness lives in Martensdale, Iowa, where he enjoys woodworking and cooking and is active in the community as an assistant coach for the high school girls basketball team.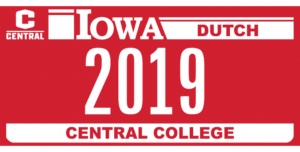 Central License Plates
Central College license plates are available through the Iowa Department of Transportation!
To order the Central design from the Iowa DOT: central.edu/plates.
To exchange an existing Central College plate: visit your local courthouse. The cost for the exchange is $5.