READI Role Models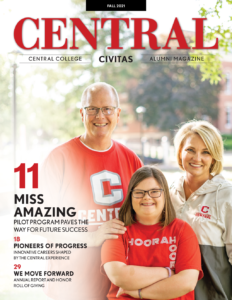 My name is Amanda Zook Rokke. I graduated from Central in 2008. I received my copy of Civitas yesterday and was in tears reading about Bella and the READI program!! My son is 16 months old and has Down syndrome. To read about someone similar to my son accomplishing so much and attending MY college was so heartwarming! I am so proud of Central! Thank you for starting this amazing program!!
I'd also love to thank Mr. and Mrs. Van Gorp for advocating so well for their daughter and, in the process, advocating for all children with special needs! They are true role models for parents like myself.
Thank you again!
— Amanda Zook Rokke '08
Grimes, Iowa
---
Enter to Win Central Gear
We are giving away a basket of Central gear so you can show off your Forever Dutch® pride! To enter the drawing, please visit central.edu/giveaway before Feb. 15, 2022.
---
Write Us!
Civitas welcomes letters and emails from readers concerning the contents of the magazine or issues relating to Central College. Please include the author's name, city and state; anonymous communications will be discarded. Letters selected for publication may be edited for length, content, clarity and style.
Address letters to Civitas, Central Communications, Central College, 812 University St., Pella, Iowa 50219 or email Denise Lamphier, Civitas editor, at lamphierd@central.edu.