Bella Van Gorp has followed in her sister's footsteps all her life.
As she prepared to graduate from Pella High School in the spring of 2020, Bella knew she wanted to go to college just like her sister.
The difference is Bella was born with Down syndrome. And the reality is that fewer opportunities existed for her next step once she graduated.
Why would her post-high school plans be different from anything else?
"The way we've raised Bella is very similar to our other two kids who do not have special needs," says Jennifer Vander Werf Van Gorp '95, Bella's mother. "If one person was responsible for a chore, Bella was also responsible for that chore. If we were going somewhere, Bella, without exception, came too. She's never really been treated a lot differently than anybody else. When our older child graduated and went to college, in Bella's mind, that was just what you did. It never really occurred to her that it might not be an option for her."
Starting Something New
Bella's parents, Jennifer and David '93, began evaluating their options. They weren't keen on the idea of being five hours apart for her to attend one of the only post-high school programs in Iowa for adults with special needs. They wanted Bella close by, especially in the height of a pandemic.
That's when they began to look locally and launched conversations with the director of special education at Pella Community Schools.
Through the process, the Van Gorps learned about a program through Des Moines Area Community College about 50 minutes away, but knew if Bella could be in town, that would be the best option. The family connected with Carol Williamson, vice president for student development at Central College, to discuss the possibility of Bella entering DMACC's STRIVE Academy while fulfilling the independent living and social components on Central's campus. Williamson and the college were supportive of piloting this innovative opportunity and considering the possibility of creating a Residential Experience and Achieve Developmental Independence program.
In the weeks before classes started, Williamson reached out with the good news that the college had two students lined up to serve as Bella's mentors. With the help of The Respite Connection, an Iowa company that provides supported community living services to help people with special needs follow their dreams, these students were trained and ready to help Bella when school started.
Emily Atkinson '23 of Lacona, Iowa, and Bella Baugh '23 of Pella, Iowa — yes, two Bellas from Pella! — were excellent guideposts for Bella in her first year. They ensured she was where she needed to be when she needed to be there. They also attended campus events together and helped Bella learn to do her own laundry. They became great friends while living on either side of Bella's room in Graham Hall.
Atkinson and Baugh had a tremendously positive impact on Bella's experience.
"These two young ladies were critical pieces to this puzzle," Jennifer says. "They stepped up and took on this assignment and, because of them, all of this was able to happen."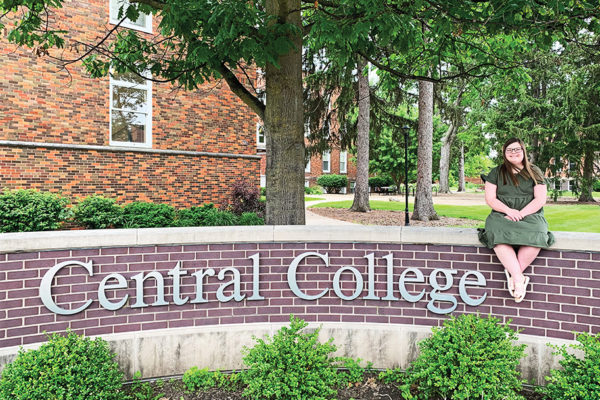 A Day in the Life of Bella
Bella has a packed schedule during the week — gaining job experience, learning work-ready skills, spending time with her peers and cheering at athletics events for the Dutch.
On Mondays and Wednesdays, she gets ready and waits for her transportation to go to school at the STRIVE Academy in Des Moines. After traveling back to Central, she goes to work at The Well, a local thrift store.
Tuesdays and Thursdays are a little different. Bella is up and at it by 4:45 a.m. for cheer practice, followed by the same school routine, but with work at Culver's after school. Fridays are the same, except Bella also helps in the education department at Central after school.
In the evenings, Bella spends her time catching up on homework and chores that she keeps track of on her whiteboard, grabbing dinner and hanging out with friends. She gets dinner with the cheer team every Tuesday and attends Bible study weekly as well.
On the weekends, Bella puts aside some time to spend with her family at home, even if she has a football or basketball game to cheer for or an event to attend. But she's always ready to be back on campus come Sunday afternoon because she needs to get laundry done in time to attend The Calm with friends. The Van Gorps are thrilled that her time is filled with meaningful events or activities and that she's so close by.
Experiencing Campus Life
Bella's favorite place on campus, other than Graham Hall or the Chapel for The Calm, is Fred's — hands down. The to-go dining option, located in Maytag Student Center, has her food of choice: the Philly cheesesteak sandwich. But Bella also is a big fan of the pasta and pretzel bars at Central Market, too. Aside from these occasional indulgences, she's learning to make healthy choices and make time for physical exercise on her own, a practice modeled by her peers.
Bella loves attending campus events. Highlights from her first year at Central include a Bob Ross painting night, cookie decorating, karaoke and more. It's these opportunities to create and connect that make Bella feel like a college student. This experience has surpassed her expectations and the college hopes to build on that this year (see "Getting READI" below).
When asked about her favorite part of her time at Central, Bella admits her favorite part of being a student here is the food, but "mostly meeting new people and participating in activities on campus so that I have something to do rather than sit in my room and watch Disney+."
Bella gets to live out her Disney princess dreams as Miss Amazing — Iowa Miss Amazing Teen Queen, to be exact. In 2020, Bella was crowned for the third time by the organization with a mission to celebrate girls and women with disabilities in the Iowa Miss Amazing pageant. She's won the crown once in each age bracket so far. In summer 2021, Bella got to participate in the rescheduled National Miss Amazing Summit in Nashville, Tennessee, where she was named first runner-up!
Every Parent's Dream
Jen and Dave watched their hopes and dreams for Bella's first year in the pilot program — and realized her impact on campus — play out all at once in something as simple as leaving church one Sunday morning. Several college students called out to Bella, all calling her by name and vice-versa. The couple later asked their daughter on the car ride home where she'd met them or how she'd known all those students. Bella responded, "Oh, you know, the cafeteria, The Calm," like it was no big deal.
Dave was especially touched by this moment.
"There are lots of students on campus, but there's only one Bella," Dave says. "And she has the beauty, or rather the skill, that once she knows your name, she'll never forget you. There's something beautiful in that uncluttered mind, to be able to call somebody by name at all times."
Jen experienced another instance like this when she grabbed dinner with Bella at Fred's after Bella cheered at a basketball game. Bella recognized some students. She went over and chatted with them then stopped at another table after.
"It's all that I'd hoped," Jen says. "She was just another student on campus. And her experience that night, just eating dinner, was that which was very typical and normal. It was a great feeling, just that she was just another kid on campus who was accepted and loved and valued. It just felt good."
The Van Gorps knew Bella would do well and, being Central grads themselves, were sure she'd fit into the culture here. Seeing that truth firsthand solidified the validity of their decision to go through with this programming in the first place.
Bella has also touched the hearts of the Central cheer team and her cheerleading coach, Lexi Gbogbo. "Bella has been an amazing addition to our team and we're so glad to have her back this year," Gbogbo says. "Bella has learned all the cheer routines very quickly. She is dedicated to the team, always coming to practices and game days with a smile and great attitude. I can tell that cheer is her passion — her enthusiasm shines through on game days!"
Growing Up
After spending two semesters living on campus, Dave and Jen noticed a real difference in Bella's level of maturity, improved time management and personal hygiene skills and the upkeep of her personal space when she returned home for the summer.
"She didn't know how to do laundry when she left home, but now she does. And she's really learning to utilize and embrace technology in great ways, too." Jen says. Additionally, Bella has learned to use the HIRTA bus as a means of local transportation.
Bella's cell phone has been a huge resource for time management — another life skill added to her repertoire, setting her up for success down the road. Time management is a life skill college students must learn. Anytime Bella needs to wake up for the day or be somewhere by a specific time, she sets alarms as reminders for her to get ready, make sure she has everything she needs and gets out the door.
Hope for the Future
This fall, Bella is at Central, working hard in her second and final year of the hybrid pilot program. One of the changes in her second year is her broadened network of mentors. Central and The Respite Connection worked in tandem to select five students to help Bella throughout the academic year. This is important for Bella, and a poignant role for these students. They serve not only as mentors and resources for Bella but also are roommates turned friends. They're her primary contacts on campus aside from administration and staff. They need to have the capacity to serve, a drive for organization and have the heart for Bella.
With five mentors, and COVID-19 restrictions reduced, the family looks forward to Bella more consistently being immersed in Central's environment and campus life.
"We've always been huge advocates for the importance of Bella needing to be around age-appropriate peers because you can't lose sight of what the rest of the world looks like," Dave says. "We're blessed that she's high functioning and a very good communicator. So those two skills really allow us to kind of meet in the middle to help bridge that gap a little bit. Jen has always said the world that Bella is going to live in is not going to be consumed with other people with special needs."
The purpose behind the Residential Experience to Achieve Developmental Independence program, and the Van Gorp's efforts, is working to prepare Bella for the moments when she's alone and has to figure out what to do on her own — a skill all college students need to master. Like Bella, college students won't always be in the Central bubble. Things like research, internships and other real-life experiences aid in that development.
"We're trying to prepare her to live in the world as it is, you know, not the world as we wish," Jen says.
The Van Gorps indicate others are watching how things are going for Bella, watching to learn.
"We've actually been approached and asked how other families can get the 'Bella Van Gorp Plan,'" Dave says.
The truth is, Bella has a team of folks who worked hard to make the READI program happen. And they continue to work together to ensure her success.
Central has worked in conjunction with The Respite Connection, Pella Community Schools, Heartland AEA, DMACC, Department of Human Services, the Van Gorp family and Bella's mentors. They meet and communicate regularly to coordinate all parts of her schedule, needs and transportation.
"There are a lot of people working to ensure the success for this program and for Bella. It's a lot of time and commitment for just one student," Jen says. "We are really hoping that Central will decide that this is something they want to implement, and benefit students who look more like Bella for years to come."
The READI program has the potential to serve Central Iowa in a rewarding, relieving way. "There are other programs available in different parts of the state, but within a 100- mile radius, there really isn't anything that looks like what has happened here. There's a lot of students who could benefit from this program," Jen says. The family hopes this is something Central can implement and expand.
She turns to her daughter.
"You just might look back and say, 'I started that.'"
Bella beams.
"Yeah, I did start it!" she exclaims.
Year one was full of hope, discovery, challenges, failure, success, lessons learned, friendship, fun and growth. Year two, which is already underway, has even greater potential for growth and development — for Bella and the READI program.
There is parallel after parallel in Bella's journey to that of a traditional Central student. It's why she feels so passionate about her time here.
"Go to Central!" Bella says emphatically. "There are a lot of fun activities that you should be a part of and that way you can get to know all the people here. It's fun to be a Central student."
Next time you're on campus, attending a football or basketball game or even stopping at the Pella Culver's, keep an eye out for Bella and be sure to say hello.
She won't forget you or your name.
Getting READI
Central College has broken the mold through innovation in many ways over the course of its 168-year history. The latest innovative move is working toward an independent learning and living program for students with special needs.
The Residential Experience to Achieve Developmental Independence program will cater to individuals with disabilities graduating from high school and looking to have a college experience. Central is currently seeking funding to work with a consultant to determine if the college is – or can be – equipped to run a program of this magnitude and do it well long term – the Central way.
Still in the pilot stage, the dream and goal of the READI program is to combine the residential and social experience with the classroom component to better serve the individuals in the program and their families.
Carol Williamson, Central's vice president for student development, envisions a program built to support about 15 students and their cohort – mentors, roommates – able to live and learn here on Central's campus. This would likely require a director and/or teacher to lead the program and one other staff member. The program would also provide work experience opportunities for students studying education.
To make something like this possible, support – monetary and otherwise – is crucial. So, while the ball is rolling, this is just the beginning – or rather the prep work to begin the real work. Central sits in an area of the state that is underserved when it comes to resources and options for students with special needs.
Bella Van Gorp may be the innovator paving the way for a READI program at Central. Indeed, as the pilot develops, she could be the first of many individuals to benefit from this programming that mirrors the traditional student experience in many ways while opening doors for other underrepresented students.
"Our hope is to provide a learning and living environment for students to grow and prepare for independent life experiences," Williamson says. "Central is perfectly situated to become an option for students like Bella. We are thankful to her parents for the knowledge we are gaining through Bella living on campus. While she is exploring new ideas and experiences, we are learning right alongside her."
For more information on how to support the READI program, contact Sunny Gonzales Eighmy '99, vice president for advancement, by calling 641-628-5272 or emailing eighmys@central.edu.