I Am Forever Dutch®
You see it peppered across Central College's campus — on posters, apparel and student IDs. You see it on social media as a hashtag, on yard signs and as Central athletics' most ambitious fundraising campaign to date.
But being Forever Dutch® is more than just a tagline.
Being Forever Dutch means being a part of a tradition of excellence in academics, athletics and professionalism beyond your time in college. It means forming deep and meaningful connections that thread their way through your life, creating memories and relationships that truly last a lifetime. It means you will always be a member of the Central community.
Take a glimpse at the lives of several alumni as they share how Central helped shape their meaning of what it means to be Forever Dutch — on and off the playing fields.
Crafting Success
Becky Hedges Pospisal '04 doesn't consider herself an artist. She would even go so far as to say she isn't "the crafty type." And after more than a decade in social and nonprofit work, she had no idea how to manage and operate a business. But Pospisal was ready to learn something new, to be her own boss.
To achieve her new career goal of owning a business, she applied a lifelong lesson she learned from Softball Coach George Wares during her time as a member of the Central softball team: Fake it 'til you make it.
And in 2016, Pospisal debuted The Knotty Nail.
"I know that's something not a lot of people say to themselves, but that's something coach said to us," Pospisal says. "Even if you don't understand something, buy into it like you do, and then you eventually will. When I first opened my own business, I had no idea what I was doing. But if you create that level of confidence, you'll find success."
The Knotty Nail, located in West Des Moines, Iowa, is Central Iowa's original string art and laser cut design studio. The shop offers DIY art workshops for those who want to flex their creativity while socializing with family and friends — and sharing a glass (or two) of their favorite wine. The store front also has witty gifts, chic home décor and do-it-yourself craft kits. The Knotty Nail is now among the Des Moines area's well-established businesses in the greater Central Iowa community, but it took Pospisal a lot of work to get there. She started the business out of her home while being a mom and working a full-time job.
"I had no money for The Knotty Nail when I first started," she says. "I 100% poured myself into it, and there were a lot of sacrifices I had to make. But about eight months later, I quit my job and moved into my first studio in downtown Des Moines and was there for two years. Now, I have my own brick-and-mortar."
Forever Grateful, Forever Dutch
Pospisal learned invaluable lessons as a student and teammate on Central's softball team that continue to thread their way through her personal and professional life.
In 2003, the softball team won the fourth NCAA Division III national championship in the program's history. But before Pospisal was part of a championship team, the Dutch came in second place on the national stage in 2001.
"I remember the disappointment of how hard the team had worked all year and then to not win. It was really difficult," Pospisal says. "But I remember learning a lot about how important it is to really commit yourself and persevere. It was really ingrained in me that I had not experienced that level of success before, and I wanted to get to that point again, but win. I really fell in love with the program after that."
After hundreds of practices, tough games, taking tests on buses and faxing finals back to campus, Pospisal and her teammates finally experienced that level of success.
"Knowing when you work hard and everyone on your team works hard — and you spend all of this time together and travel together and basically live together — that you can have all of these great successes is something I will never forget."
But what's more important than the success she found on the softball field and with her own business? The memories and lasting friendships that are forever engrained in her life.
"Being Forever Dutch means looking back at my experience at Central and being appreciative of the lessons I learned," Pospisal says. "I learned so much about life. And to this day, I'm close friends with a lot of my teammates. Who would have thought playing softball at Central would have shaped my life like it has? But it did. And I am forever grateful to be Forever Dutch."
Larger Than Life
For Zachary Steward '17, being a part of something larger than yourself is a life-changing experience. Steward participated in many organizations at Central, including A Cappella Choir, Theatre Central, Symphonic Wind Ensemble and Theta Kappa Alpha.
"Central allowed me to be a part of many organizations where I was only a small part of the end result," Steward says. "With these groups, we were able to create moments of good in our darkened world."
While on tour in Colorado, Steward and a group of choir members visited the Colorado State Capitol. They found their way into the rotunda and sang their benediction "The Lord Bless You" just for fun. People peeked over the railing from three floors and listened.
"To hear that echoing around the dome was such a special moment," Steward says. "Everyone in that dome was sharing a moment together, and I won't forget it any time soon. Forever is a long time, but I know that any time I need someone, I can rely on those chosen family members to be there."
Steward lives with three other Central alumni he met during his four years on campus, and the amount of jokes and stories they share daily from their time on campus shows their heartfelt experience.
"All four of us were involved in theatre productions and keep in contact with professors who have now become our friends. Time after time, the relationships I made at Central keep my heart full. I will proudly be Forever Dutch."
Part Of the Family
Sixty years ago I graduated from Central College, and I will always be grateful for what I learned there. My memories continue to bring a smile to my face. In 1957, as a freshman, the enrollment was less than 500, so it allowed for close-knit experiences with students and professors. We were not just a number. I met my life partner there (Dallas Wassink '61), and we were thrilled to be able to send all three of our children to Central as well. Presently, and with great delight, I am observing one of my grandchildren make preparation to attend this coming fall. She will be the fourth generation to attend. Being Forever Dutch means being part of Central's family for life.
— Virginia (Ginny) Weeks Wassink '61, Grants Pass, Oregon
Central Cares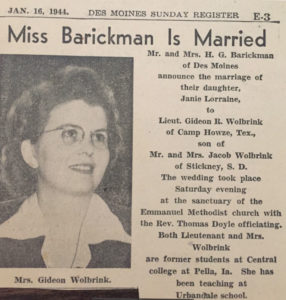 Harriet Wolbrink '71 says she literally owes her life to Central College.
"My parents, Rev. Gideon Wolbrink '42 and Lorraine Barickman Wolbrink '43 met at Central during my mother's second year," Wolbrink says. "My father only attended Central one year (1941-42) before enlisting in the Army in World War II. And Central was not on my mother's radar when she was considering college."
Lorraine chose Central because of Vernon Bobbit, a former art professor who also worked in admissions from 1937-42. Bobbit went out of his way to make her feel welcome. After a hesitant visit to campus, Lorraine received a special visitor.
"Mom said she and Bobbit sat on the porch swing for an hour and discussed the benefits of attending Central. She visited other colleges that spring, but no one else sent out a rep to follow up. That convinced her Central really cared about their students, and Bobbit convinced her she'd get a good education there."
Wolbrink, along with her three siblings, also received their education at Central: Janie Wolbrink Koopmans '67, Paul Wolbrink '68 and Martha Wolbrink Schultz '73.
Friends for Life
I first met Art Alt, former director of student activities, my freshman year when registering and buying a student union activity pass. Over the years, I worked for Art as part of the student union, paid for extracurricular activities, became part of the Gator Ski Club and continued skiing at Breckenridge, Colorado, even after college while staying with my good friend Kim Dykstra '83. I was also fortunate to get to know Diane Alt, former media center coordinator; what a sweetheart!
Art and Diane were terrific role models for me, great friends and, at times, a mom and dad for me away from home. They equaled the love I had for Track and Field Coach Bill Hinga '07H and helped make Central a very special place for me. We are friends for life, and I continue to visit with them almost every year since they relocated to central Florida.
— Brad Depke '82, Third Lake, Illinois
The Best Decision Ever
Aside from marrying my husband, Justin Fletcher '02, choosing Central College is the best decision I have ever made. It became the place where I met my best friends. Some of my favorite Central memories are studying in Leiden, Netherlands, the fall semester of my senior year; living in third floor Gaass three of my four years at Central; being an RA to the most amazing girls ever; late nights studying with Justin and friends in Weller Center; Symphonic Wind Ensemble and the awesome trips we took; Tulip Time; working in the alumni office; being thrown in the pond three out of four of my birthdays; walks and picnics at Lake Red Rock; Dutch letters; and so much more!
Justin and I have donated to Central each year since we graduated. I have spoken on panels for scholarship days on campus. I have served as a mentor to students. I have hired Central students. I have offered internships to students. I serve on the Economics, Accounting and Management Alumni Advisory Council. I am a member of the National Advisory Council. Justin and I have both made Central a beneficiary of our retirement plans. I adopt current seniors and touch base with them throughout the year to encourage them to make the best decision ever: to choose Central College as their home the next four years. I simply love Central and am so proud to be an alumna. So grateful for making the best decision ever 25 years ago!
— Amanda Hansen Fletcher '00, Norwalk, Iowa
What Forever Dutch Means to Me
Maintaining friendships since I moved into Graham Hall in Fall 1977. I was a shy, timid little freshman. I found lots of company. Muddled my way through that first college exam: Protestant, Catholic and Jew. Terrifying. Then there was that first-ever Lemming Race. Wish I had saved that historic T-shirt!
Having one of my best Third North Graham friends officiate my mom's memorial service in 2019.
When that Jaarsma aroma blankets my senses as I walk in that bakery door, I'm young again.
Remembering with joy my all-time favorite teacher, Bette Brunsting '56. We're talking favorite teacher since kindergarten. Still can't pinpoint that elusive quality that set her above the rest. But I would have moved mountains for that woman.
Having my daughter fall in love with Central after a campus visit, even though she was determined not to go there.
My daughter, Katie Phillips '19, will be getting married in the Central Chapel this July to Nathan Manchester '18. I am looking forward to it!
Life is grand. I am Forever Dutch!
— Ann Klann Phillips '81, Muscatine, Iowa
Home Away From Home
Central was my home from Fall 1977 through Spring 1981. So many great memories of the people and the places on campus and in Pella!
Playing golf for Coach Norman "Doc" Ryerson was a blessing. He loved his golf, and he loved his players. So many memories of meets, qualifiers and events with team members like Dan Dursky '81, Tim Esbeck '78, Greg Hawk '79, Marty Young '78, Jeff Austin '82, Randy Sikkema '82, Tony Carey '83, Jeff Simon '81, Ron Peterson '83, John Bermel '84, Mark Farmer '83 and many others. I loved my years at Central. They will forever be a part of who I am.
– Daniel Klatt '81
Happy Memories
It was a cold, wintery day in Pella. Must have been 10 below! That was normal for Iowa in the winter months. It was a struggle to get out of bed at 7 a.m. and make the trip across campus from Pietenpol Hall to Graham Hall for breakfast. But I always made it because breakfast was the best meal of the day. After meeting some classmates and having the usual conversations, off I went to the Chapel for a quick, required morning prayer. All the students gathered there to sing the doxology and scurry off to our classes. Thus began my average daily routine as a student at Central back in the 1960s.
Naturally, some days were better than others, depending on what classes I had. I chose geography as my major and history as my minor. The campus was smaller then. There was a lot more green and less stone and brick than there is today. During the summer months, we dallied along the paths, enjoying a brief sit down or lounging on the grass with friends in between classes.
For excitement, we gathered at the Ratskeller in the basement of the student union. It was especially crowded on Friday and Saturday nights. There was music with live performers and poetry readings from our local bards. I found myself taking trips with the boys in my 1949 Dodge Coronet to catch a movie in Des Moines or just drive around for fun. We had dances, clam bakes, woodsies and rallies before a basketball or football game. "Fire up!" was the rally cry followed by the old CUI battle hymn, "Oh CUI, oh CUI, may your glory never die." We were all Forever Dutchin those days.
The days never varied much, but I enjoyed those years — the walks on campus, the chill of the severe weather, the moments with friends and, of course, my classmates. The flood of memories, which come back to me this very day, the sense of melancholy and nostalgia that bring a smile to my face. I have my souvenirs — a Central pennant, a ribbon and a medallion given to those special few on their fiftieth anniversary as alumni. Civitas, the individual memory books and other items connecting me to that special time in my life where everything was carefree and happy, a time that I relish in those friendships and relations. A world that can never return.
To all my past friends and classmates: Happy memories and a hearty cheer, "Oh CUI, Oh CUI, may your glory never die!" Forever Dutch.
— Gregory Christiano '69

Enter to Win
Like What You See On the Cover? It Could Be Yours!

Like what you see on the cover of the Summer 2021 issue of Civitas? It could be yours!
We are giving away the Central athletics 'C' designed by Becky Hedges Pospisal '04 in her store, The Knotty Nail, which opened in 2016 in West Des Moines, Iowa.
To enter the drawing for this one-of-a-kind memory, please visit central.edu/stringart before Aug. 15, 2021.