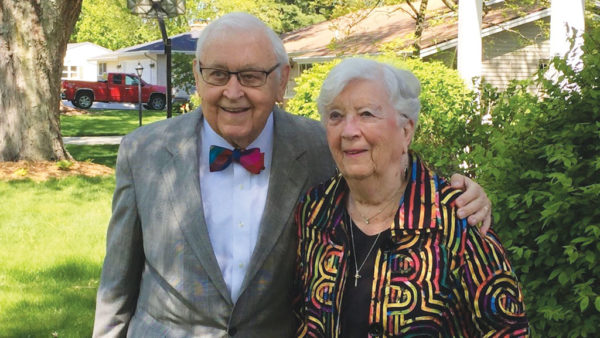 Central College always held a special place in the hearts of Rev. Edwin '51 and Luella Rozeboom Mulder '51.
The couple spent their lives serving churches across the country but left a gift of more than $113,000 to Central — the place they met — in their estate as part of a living trust. The gift helped establish the Edwin G. and Luella B. Mulder Endowed Scholarship, given to students interested in theology. It was first awarded during the 2018-19 academic year.
"We are grateful for donors like Ed and Luella, who kept Central close to their servant hearts throughout their lives," says Sunny Gonzales Eighmy '99, vice president for advancement. "Some of the most meaningful gifts are those that support and open doors of opportunities for students; scholarships certainly allow future students access to a Central education."
A history and philosophy major, Edwin Mulder graduated from Central in 1951. He was awarded an honorary Doctor of Divinity in 1979 and an Alumni Achievement Award in 2001 by the college for his service to the church and world. He graduated from Western Theological Seminary in Holland, Michigan, in 1954 and was awarded that institution's Distinguished Alumni Award in 2003.
A major figure in global Protestantism in the 20th century, Mulder served the Reformed Church in America as president of the General Synod, president of the Regional Synod of the Mid-Atlantics, minister of evangelism and general secretary. He also was chair of religion in American life and chair of U.S. church leaders. He served on the executive committees of the World Council of Churches, the National Council of Churches and the World Alliance of Reformed Churches. He also was interim president of New Brunswick Theological Seminary.
As a pastor, he served the English Neighborhood Reformed Church in Ridgefield, New Jersey; Marble Collegiate Church in New York City; Second Reformed Church in Hackensack, New Jersey; and founded the Christ Memorial Reformed Church in Holland, Michigan.
Mulder worked for women's ordination in the RCA, a conclusion of apartheid in South Africa and the Reformed Church there, nuclear disarmament and inclusion and respect for the LGTBQ community within the church.
Luella attended Central for one year and graduated in 1952 from Hope College in Holland, Michigan. In addition to being a homemaker, hostess and musician, Luella taught school for 20 years.
The couple was married for 66 years. They served churches in New Jersey, Illinois, Michigan and New York before retiring to Holland, Michigan, in 2005.
Ed died May 1, 2018. Luella died Sept. 23, 2018.