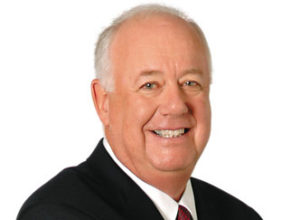 J. Barry Griswell, Central College trustee emeritus, died Friday, June 5, 2020. He was 71.
A native of Atlanta, Georgia, Griswell grew up selling newspapers, bagging groceries and loading trucks to help his family make ends meet. He graduated from Berry College in Rome, Georgia, and earned an MBA from Stetson University in DeLand, Florida. He rose through the ranks of MetLife to become president and CEO of MetLife Marketing Corporation. He then joined Principal Financial Group in Des Moines, Iowa, in 1988 and ascended to the roles of president, CEO and chair.
An accessible, well-liked, hands-on manager, he led Principal to invest heavily in its employees and in its community. Griswell was active in many Central Iowa nonprofit and economic development initiatives. Following his retirement from Principal, he became president of the Greater Des Moines Community Foundation. In the process he earned a long string of philanthropic, business, arts and community service awards.
A Central trustee from 1996-2008, Griswell served on the Campaign for Central, the Endowment Committee Cabinet, as a Central Connections Mentor and as a member of the Cornerstone Society and the Central Club. He contributed generously to the college over the years, including a gift of $1 million toward the building of the Roe Center, to the college's athletics facilities and by founding the Griswell Family Scholarship for students in business, psychology, international studies or foreign languages.
He was named an honorary alumnus at Central in 2004. In 2008, he presented "The Adversity Paradox — An Unconventional Path to Building Character and Leadership Skills" as part of Central's Mark and Kay De Cook Distinguished Speaker Series. He later cowrote a Wall Street Journal best-selling book titled "The Adversity Paradox: An Unconventional Guide to Achieving Uncommon Business Success."
Griswell leaves behind his wife Michele and sons John and Michael '02 and two granddaughters.