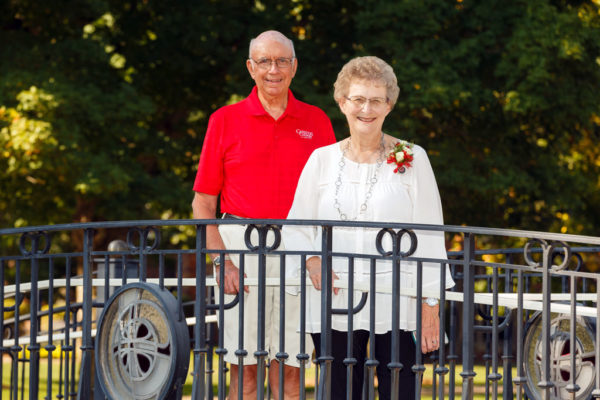 Richard '62 and Mary Roorda Glendening '62 have dedicated their lives to advancing Central's mission.
CAREERS: Educators
LOCATION: Pella, Iowa
SERVICE TO CENTRAL: Central RED Society, Central Club, EAM Advisory Council, Town & Gown Volunteer, Heritage Club, Heritage Roll of Honor, Cornerstone Society, Central Class of 1962 Reunion Chairs and Central Alumni Award recipients, 2017.
Rich and Mary Glendening graduated eighth grade, high school and Central College together — and they've seen all four of their children graduate Central, too: Eric Glendening '85, Mary Glendening Jaco '87, Kara Glendening Busker '89 and Erin Glendening '92. Rich's mother, Helen Vander Linden Glendening '35, began the legacy.
Rich is professor emeritus of economics who joined the faculty in 1966; Mary is a retired Pella first and second grade teacher. Together they have influenced many generations of students.
"I really enjoy getting kids interested in the world around them through literature and contact with people from around the world — schools in Australia, Mexico, Wales," Mary says.
Rich was a business major who initially wanted to go into banking but found he loved studying. Don Butler, former professor of economics, suggested grad school; teaching followed.
"THE INTERACTION WITH THE STUDENTS WAS INVIGORATING."

— RICH GLENDENING '62
At Central, "the interaction with the students was invigorating," Rich says. "I enjoyed the subject, my colleagues, the environment. The level of faculty commitment and interest in the student body was very high. I knew my students."
It is perhaps no wonder then the Glendenings have dedicated their lives to advancing Central's mission through their professions and their philanthropy.