"Due to Dubit's"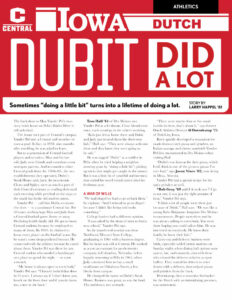 "Thank you for the article on Max and Judy Vander Pol. Dubit's was important to so many Central College students.
My wife and I met at Central in 1969 and married in 1971. Arriving back in Pella, we needed to find jobs to pay our $80/month rent. Max and Judy hired us. Charlene waited tables on Friday nights, and I made pizzas and washed dishes in the kitchen. 
On Saturday night, I drove the delivery van and, after getting off work from the movie theater, she would ride shotgun.
I always wanted to thank them once again. These were some of the best and most fun times of our lives. We've been married 51 years now and still try to find a way to make grinders that taste like Dubit's!"
— Roger '72 and Charlene Fiester Heubach '72
Wilmington, North Carolina
Write Us!
Civitas welcomes letters and emails from readers concerning the contents of the magazine or issues relating to Central College. Please include the author's name, city and state; anonymous communications will be discarded. Letters selected for publication may be edited for length, content, clarity and style.
Address letters to Civitas, Central Communications, Central College, 812 University St., Pella, Iowa 50219 or email Brittany Carlson Prokupek '16, Civitas assistant editor, at carlsonb@central.edu.