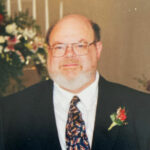 Longtime Central College employee Tony Bethards '72, passed away Dec. 14, 2022.
Bethards attended Central for a few years in the early 1970s. While studying at Central, he worked at Lil' Duffer Restaurant, where he eventually became the manager and owner. Lil' Duffer, located ½ block off the square in Pella on Washington Street, was known for its burgers and shakes.
Bethards joined Central's dining services staff in 1986. In 1997, he was promoted to director of catering and food service, where he provided the day-to-day vision of the college's catering and food service operation. He served the college in that role until his retirement in 2015.
Bethards is survived by his three children and their families: Jill Bethards Poindexter, Scott Bethards and Cari Bethards '99.