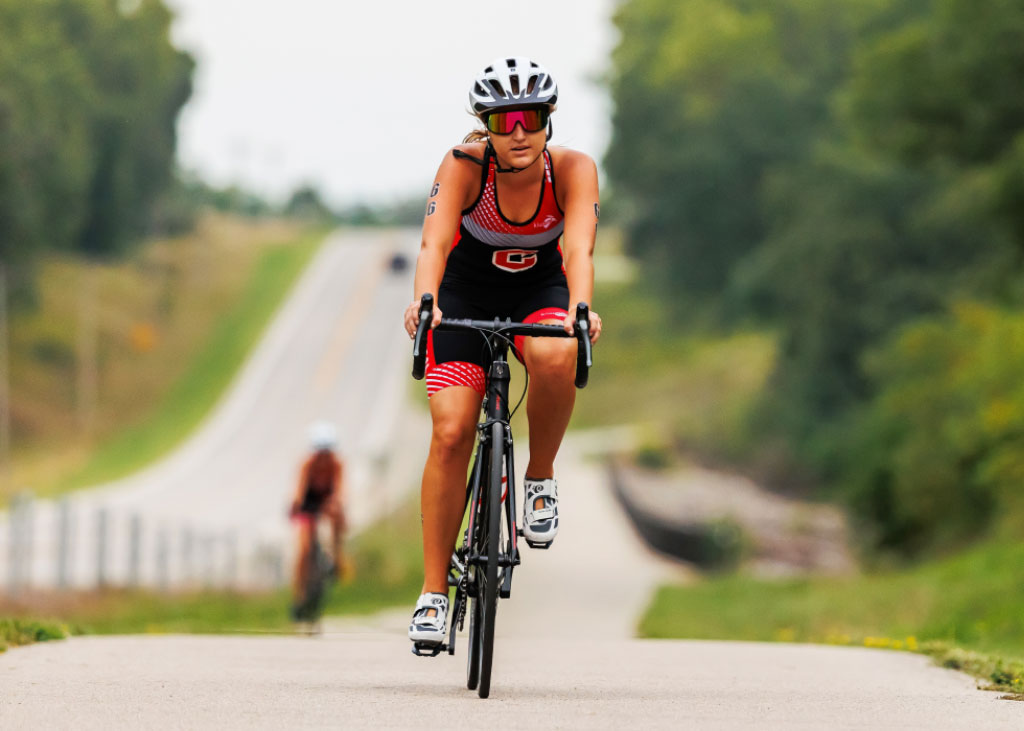 Because It's Fun
Thea Lunning '23 doesn't dig much deeper than that in answering the question she's routinely peppered with: Why? 
Why, indeed, would a Central College student voluntarily immerse herself in the dirt-brown waters of Lake Red Rock for a 750-meter swim, followed by a muscle-screaming 20-kilometer bicycle ride and 5K run? It's a question Dutch triathletes get a lot. 
Yet it prompts additional questions for Lunning because she tackles that endurance challenge as a side hustle to her career as an all-conference golfer for Central's own American Rivers Conference champion team, even though both squads compete primarily during the fall season. 
Two Is Better Than One
Central has a well-established tradition of two-sport athletes but taking on both in the same season unleashes all sorts of complications. Lunning somehow makes it work, even competing for both teams in a 72-hour span. She finished third in a Sept. 1 triathlon in Pella, then matched that finish at the Norse-Kohawk Invitational women's golf tournament in Dike, Iowa, Sept. 3-4. 
All while carrying a 4.0 grade point average as a biology major and spending 10 hours a week interning in a Pella optometrist's office as she prepares for optometry school. 
Lunning isn't just filling a roster spot. She was Central's third finisher at the USA Triathlon Collegiate National Championships in Tempe, Arizona, placing 29th overall in one hour, 22:33 minutes. And as a golfer, she was a national tournament qualifier for North Iowa Area Community College before transferring to Central, where she's a two-time all-conference honoree. Lunning finished second at the conference women's golf championships Oct. 8-10, helping secure her second national meet berth of the year as the Dutch travel to Howey-in-the-Hills, Florida, for the NCAA Division III Championships May 9-12. 
That's exciting stuff but it's the simple joy of sport that drives Lunning more than an all-consuming desire to be the best. Focusing on one sport, a decision American parents and overzealous youth sport coaches increasingly seem to think is best made in conjunction with choosing morning or afternoon kindergarten, might allow her to scale greater individual heights, yet that would deprive her of pursuing all she loves. 
"I obviously didn't do that," Lunning said. "I didn't go Division I and I'm not going to the Olympics. If those are the aspirations, then that's what needs to be done. But I enjoy the route I went. I think it's healthy to have a lot of options." 
Options Are Endless
Head Women's Golf Coach, Tabitha Schumacher, says options are integral to the Central experience. 
"I think in Division I, where there are scholarships involved, it's easy to say, 'No, this is why you're here, this is kind of your job,'" she says. "Whereas at Central, this is an opportunity to compete at a really high level while ensuring that you're getting your degree and setting yourself up for the future. I want players to be involved in other things, whether that's triathlon or like (teammate) Mackenzie Biggs '24, who is a music education major and is in the College Community Orchestra." 
Her pursuits fuel each other, Lunning acknowledges. 
"I like that I'm allowed to explore other passions I have along with biology and my education," she says. "Sports and academics both interest me and I enjoy spending time on and getting to explore them both. When I'm in one, it's like a break from the other." 
Schumacher and Jennie Hedrick-Rozenberg '06, head women's triathlon coach, recognize the trade-offs, yet don't pressure Lunning to choose. 
"I talked to both of the coaches, and they talked to each other, so I wasn't too worried," Lunning shares. "Both (sports) are for fun, so I knew it would be OK. I mean, I want to take them seriously, be competitive and go as far as I can in both, but at the same time, it's for fun." 
Lunning transferred to Central as a golfer but joined the triathlon squad after visiting with Schumacher, who was supportive. 
"You're going to play better when you're in a good mental space and when you are able to be yourself," Schumacher said. "Allowing players to do those things helps a lot." 
But she did have one request. 
"Really the only thing, I told her was, 'OK, you're good, just don't fall,'" Schumacher said with a smile. "We need you."
Tailored to Thea
The coaches tailor Lunning's practices to fit her schedule. 
"Her weakest part last year was her bike, so we made sure we switched our schedule around to work with golf's off day," Hedrick-Rozenberg says. "They had Monday off, so we moved our long bike day to Mondays. We have an app they can look at for workouts and I would just schedule her runs on other days. And then she was with us for two mornings each week that we'd swim." 
Likewise, Schumacher isn't rigid about when Lunning works on her golf game. 
"We all kind of show up to Ryerson Golf Practice Range at our own time," Lunning shares. "So, it's not like where you're all starting at 3 o'clock. Coach is going to be out there and whenever we show up, we work on whatever we need to work on that week and she's there to help." 
For a Lifetime
Lunning views her sports as lifetime passions. 
"I really like that about both of them," she says excitedly. "I like the idea of staying with them past college. I am competitive in nature, but I do really enjoy the sports that I do. I will golf when it's not competitive and I will do triathlon even when it's not in that kind of environment." 
Fun, yes, but Lunning's coaches see the fire that quietly burns within her.
Competing One Step at a Time
"If you were to just hang out with Thea at a race, you wouldn't think that she was super competitive," Hedrick-Rozenberg said. "But seeing her drive through nationals, there is a huge competitive force in her. She worked hard, especially to stay with that pack on the bike, which she knows is not her strongest (event). For her to stay with that group to draft with them was something I hadn't seen from her before. Before, it was more, 'I do this because I can.' But I could really see that drive to be more competitive this year." 
It all seems like a lot, yet Lunning shrugs. After all, she's only doing one thing at a time. 
"I definitely have a (day) planner but, yeah, you just kind of wake up and do it," she laughs. 
It's a mindset she developed on the golf course. 
"Golf is a very mental sport and I feel like I have improved my mental game," Lunning says. "Learning how to take one shot at a time takes time. My dad would always tell me that. It's easy to say that but it's hard to do." 
Lunning's ability to erase memories of a misread putt as she strides to the next tee box translates to the multi-pronged triathlon as well. 
"I take that one event at a time, too," she shares. "Right away, when they blow that horn to get in the water, I am in the water; all I'm thinking about is doing the best I can in that and when I get to biking, that's what I worry about. For sprint triathlons, you've got to keep the pace going the whole time so you have to go as fast as you can in each one. I don't save myself. When I get to the run, I hope that I can finish strong but I'm not going to slow down on my bike just so I can save my legs for the run."
Iron Sharpens Iron
Aspects of each sport can enhance performance in the other. 
"Golf requires more stamina than people think," Lunning says, a point driven home to anyone who's lugged a golf bag up and down the unforgiving hills of Pella's Bos Landen Golf Course. 
The mental strength golf requires can produce triathlon success. 
"Lots of times you're out there by yourself, especially in the water," Hedrick-Rozenberg says. "You don't have anything to look at in the lake. It's dirty. There are just bodies around you. So, you're all in your own head. Just having that positive mindset that she gets from golf is important." 
Hedrick-Rozenberg also loves the stay-in-the-moment approach Lunning brings to her squad through her championship experiences. 
"All of those high-level performances help, especially with the nerves and not letting it get to you," she shares. "We have to race, let's just go race. I love that mentality. We're going to try our best, we're going to race and whatever the outcome is, that's the outcome. We can have goals, but we're here to race. Don't overthink; just do it." 
Central dominated the 54-hole conference golf tournament in Ames, Iowa, with a 42-shot cushion, placing four players in the top five. Lunning shot 76-80-79–235 to finish three shots behind teammate Lydia Grond '25. Lunning wasn't bothered by placing second. 
"It wasn't my personal goal to get first," she says. "I wanted to help the team win. I've been to a lot of things individually in high school and NIACC so getting to experience that with the team was the main goal for me." 
The NCAA golf tourney is part of Lunning's overstuffed spring agenda that includes preparing for graduation, optometry school and an early summer triathlon wedged in on top of her internship and academic work. Yet she sees room for more as she looks to play cello in the College Community Orchestra and, at random times, Lunning can even be seen sneaking up the concrete steps to the Cox-Snow Music Center, for a few stress-free minutes playing piano in one of the second-floor practice rooms. 
No need to ask her why. 
"It's kind of fun."