"I think we should honor the people who influenced our careers or our lives," says Sally Anderson '69, of St. Paul, Minnesota. Anderson created two endowed scholarships in honor of Central College faculty who were dear to her heart. 
She created the Dr. Harriet Heusinkveld Memorial Scholarship in 2017, open to any student in good academic standing with first preference given to students who are interested in an off-campus experience for at least one semester.
Harriet Heusinkveld '39 served as a professor of geography from 1951 to 1985. She proposed and launched the idea for the Mérida, Yucatan, Mexico, off-campus program. 
Later, Anderson established the Alice Lammers Scholarship to honor the librarian's 32 years of dedication to the students at Central. Alice Lammers inspired Anderson to pursue her dreams. This scholarship has only one condition: It is designated for a student with financial need. 
"I felt that Miss Lammers didn't get enough credit for all the help she gave people all those years in the library," Anderson says. "I wanted to start a scholarship in her name and hope other alumni from our era will also contribute to it." 
Lammers was a fun woman and influenced a lot of students. She helped host and organize events on campus, according to Anderson.
"I worked as a librarian at Central. That was my work study position and, for a couple of years, Miss Lammers was my boss," Anderson shares. "I had all this experience in library science because I worked in my hometown library. When I was 13 I spent so much of my time in the library that they hired me at 50 cents an hour. That was good money back then!"
Giving Was Easy
"I heard that it would take me over five years to complete the first endowment for Harriet Heusinkveld; it didn't take five years," Anderson says. "When I got that one fully funded to the endowed level, I was having so much fun that I called the Central development team and said, 'I want to do another one for Alice Lammers.'" 
Anderson acknowledges that not everyone is in the same situation as her. She worked her entire life at one company and retired early from US West, which started as Northwestern Bell. 
The company was eliminating the management level that included Anderson's position. She accepted the buyout offer as a lump sum during one of the transitions. Fortunately, she admits that she wasn't scared about retiring at 50. 
"I'd saved throughout my career, and I had a financial planner who invested the lump sum and my 401K and rolled it into a self-directed IRA," Anderson says. 
Her financial planner advised her to donate the funds to charities — Anderson chose Central and her church. If the funds transfer directly to a charity, it doesn't register as income to the holder and it is not tax deductible. For Anderson, this was a win-win. 
"I've covered the minimum $50,000. I hope others will think about the influences of these women and choose to contribute to these endowments as a memorial to their service. It helps the college and honors these women."
Anderson wanted to acknowledge these two women for their dedication to Central and their positive influence on her experience. 
A Wonderful Central Experience
Anderson arrived at Central in the fall of 1967 from Clear Lake, Iowa. She attended the Northern Iowa Area Community College for two years, took a year off and transferred to Central. She graduated with a degree in sociology and education, but she didn't end up teaching. Upon returning to her hometown after graduation, she accepted at job at the local telephone company. 
Graduates of the late 1960s may remember Anderson as a sportswriter for The Ray. "I loved sports; I grew up watching my dad and brother, and they were really good. I liked writing and had been an editor for the Northern Iowa Area Community College yearbook. I started at The Ray because they didn't have anyone else," Anderson laughs. "Those were such fun times."
Anderson enjoys reminiscing about her college days when Central hosted many students from different countries and her summer playing ping pong with international students. She was in the first group of students to spend a semester in Mérida, in Fall 1968. 
As a sociology major, she spent eight weeks in Des Moines, Iowa, living in low-income areas and working in neighborhood centers. Her professors also took her class to Woodward Center. She admits those were eye-opening experiences and helped create the open-minded person that she is. 
Anderson's gusto for adventure has continued throughout her life. Now, she's honoring the women of Central who helped shape her success. 
To learn more about how to honor those who have influenced your own life or Central experience, visit: central.edu/endowment.
For more information on setting up an endowment of your own, please contact Michelle Wilkie at 641-628-5281 or wilkiem@central.edu. 
Harriet Heusinkveld '39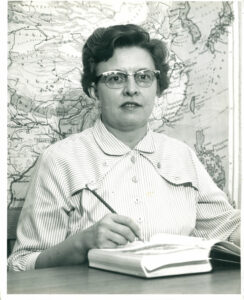 From Hull, Iowa, Harriet Heusinkveld '39 attended junior college in Orange City for two years before transferring to Central, where she graduated with a degree in English.  An opportunity allowed Heusinkveld to join the faculty at Central in 1944 as the instructor of typing and shorthand and the house advisor at Aschenbrenner Cottage. 
She worked with Central's administration and was able to earn a Master of Art from the University of Iowa while teaching at Central. In 1951, Heusinkveld began teaching geography and resumed serving as treasurer of the college, later earning her doctorate in geography. 
Heusinkveld created a scholarship to support students planning to study abroad.
Heusinkveld died in 2008, at the age of 92.
Alice Lammers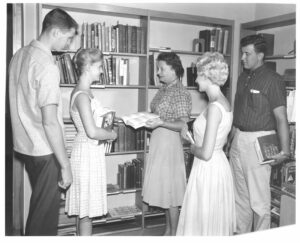 Alice Lammers, the late professor emerita of library science and librarian at Central, received her Bachelor of Arts from Hope College, her Bachelor of Liberal Studies from the University of Wisconsin and Master of Library Sciences degree from the University of Michigan. In 1942, she came to Central as head librarian and held this position until 1974 when she semi-retired. Lammers maintained her affiliation with Central and became the college archivist in 1976 and held this position until her passing. 
She was an active member of the Central College Auxiliary, a member of the Ladies Social and Literary Club, P.E.O. Chapter BU and a resident guide at Scholte House in Pella. In 1945 she was elected treasurer of the Iowa State Library Association and in 1970, she was listed in "Who's Who of American Women."
Lammers passed in 1992, at the age of 84.  
Both women are included in the Iowa archives of Plaza of Heroines created at
Iowa State University. Visit central.edu/plaza-heroines for more information.