Alumnus Henry Van Leeuwen Gifts Nearly $225,000 to Central
Hendrik G. "Henry" Van Leeuwen '50 bequeathed $224,787 to Central College to establish the Van Leeuwen Scholarship. 
Van Leeuwen is remembered for many accomplishments. While at Central from 1946 to 1950, he was a member of the tennis team, campus ministries, choir, BEAKES and served as the editor of "The Central Ray" from 1949-1950. 
In 1957, Van Leeuwen married Marie Van Hal Van Leeuwen '55, of Pella. They had three children, a daughter, Jacalyn, and two sons, Robert and Martin.
Following his Central graduation, he returned to his native California to earn his master's degree in philosophy from the University of California – Berkeley. He returned to Central in 1954 to brush up on French and German languages, required for a Ph.D. He postponed furthering his doctorate education in 1954 to fill the vacancy in Central's philosophy department. He led thought-provoking discussions, including the Koinonias where there was debate on the authority of the Old Testament. He continued his doctoral journey and graduated with a Ph.D. from the University of Iowa. 
After earning his Ph.D., he accepted a sabbatical replacement position as Hanover College's Holliday Chair of Philosophy and led students through philosophical debates for more than 38 years. 
Marie passed in 2008 and Henry passed in February 2022.
Journey Scholarships to All New Students
Central College officially announced in October that all new incoming students — first-year and transfer — received a donor-funded Journey Scholarship. This is the first time in the college's history that it committed a scholarship to all new incoming students, regardless of financial need. 
Central's generous donor base made it possible to offer all incoming students a Journey Scholarship. In 2021-22, the Central family generated $1.6 million for Journey Scholarships. 
"Our Central family of donors understands the importance of helping students attain a college degree," says Sunny Gonzales Eighmy '99, vice president for advancement. 
Iowa TRIO Conference at Central College
The Iowa TRIO Student Leadership Conference welcomed 200 high school and college students from across the state to Central College's campus. The conference featured leadership skill-building activities centered around the theme of working to make our world a better place. Conference attendees were most likely the first in their families to pursue or attend college. 
"Central has three TRIO programs — two pre-college services: Talent Search and Upward Bound and a collegiate program: Student Support Services. We sent 30 students from these programs," says Mollie Kingma '13, Central's TRIO talent search advisor and current Iowa TRIO president. "We have some outstanding pre-college students who are growing and achieving success in high school."
Making a Difference with Scholarships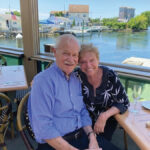 Two Class of 1960 Central College graduates have established an endowed scholarship in their names. The Harold Kolenbrander and Judy Grooters Scholarship is open to students with significant financial need and have both the desire and the capacity to be successful Central students. Harold Kolenbrander '60, left, and Judy Gosselink Grooters '60, right, decided to establish the endowment to support the next generation of Central students.
"It just seemed right," Kolenbrander says. "We have so many connections to Central and we both had children that graduated from there. We are very close to Central. We wanted to make this endowment to support students."
Curtis Bauer '92, Poet, at Writers Reading Series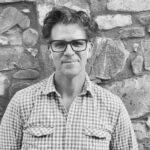 Central College welcomed Curtis Bauer '92, to the Fall 2022 Writers Reading Series. While on campus, Bauer read from his collection of works and visited classes. Bauer is the author of three poetry collections as well as a translator of poetry and prose from Spanish. The event was livestreamed and is available on the Central Dutch Network at central.edu/bauer.
Professor Papakonstantinidis Published
Stavros Papakonstantinidis, associate professor of communication studies at Central College, has co-authored a chapter in the newly released book, "Promotional Practices and Perspectives from Emerging Markets." 
The chapter, titled "Entrepreneurship in Emerging Markets: An Empirical Study on Digital Natives in Kuwait," decodes the entrepreneurial mindset of the digital natives living in the Middle East, particularly in Kuwait. It addresses the question of what needs to be done in an emerging market and a wealthy state such as Kuwait to enhance entrepreneurship.
Noel Cover Foundation Awards $50,000 to Central
Central College received a $50,000 distribution from the Noel Cover Foundation of Cozad, Nebraska, to support scholarships for students. Central is one of four colleges to receive regular distributions from the foundation and the only Iowa institution represented. Since the foundation was established in 1972, Central has awarded $1.386 million from the Noel Cover Foundation's distributions, creating 302 scholarships for 137 students.
"When looking back over the decades, so many Central students have been able to attend college and earn valued degrees because of the Noel Cover Foundation's distributions," says Sunny Gonzales Eighmy '99, vice president for advancement.
Central's Kid Captains
Central College welcomed six outstanding Pella area students from fourth to eighth grades for Kid Captain Day at the Central football game on Oct. 22. 
"These students model the ideals that Central values and we are proud to recognize them for being respectful, caring and inspirational leaders in their classrooms," says Eric Van Kley, director of athletics and head men's wrestling coach.
Kid Captains were nominated by their peers using a rubric of characteristics such as having a positive attitude, making positive contributions, considering the needs and wants of others, showing respect and accepting and tolerating the views and beliefs of others — all of which makes them a great teammate.
Nishimoto Awarded RISE Fellowship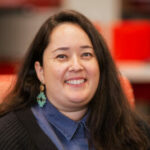 The National Association for Foreign Student Affairs awarded Phoebe Nishimoto, Central College's manager of international program logistics, a 2023-24 RISE Fellowship with the NAFSA Academy for International Education. 
NAFSA awarded just 10 RISE fellowships from more than 170 applicants. The two-year fellowship program develops personal and professional capacities in the field of international education. Nishimoto will participate in the NAFSA Academy for International Education and receive personalized coaching from international educators as well as knowledge and skill-building resources and a network of professionals.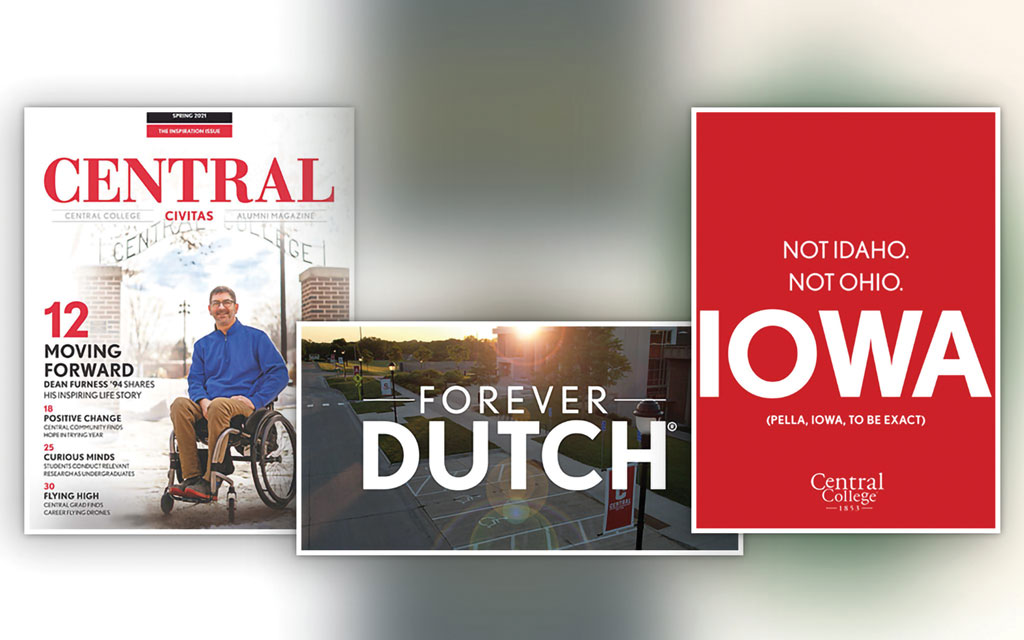 Central Earns Three Best of CASE Division VI Awards
Central received three Best of Class awards from the District VI Council for Advancement and Support of Education.
The District VI CASE Awards showcase best practices in alumni relations, fundraising, advancement services, special events and marketing and communications. 
Central was recognized for awards in: 
Best Magazine — Single topic/special edition: Inspiration, Civitas, alumni magazine, Spring 2021.
Best Publication — Student recruitment series or package: Central College viewbook suite.
Best Video — Fundraising and stewardship (short): Forever Dutch® Stewardship.
Central competes in Division VI with large state universities, who hire agencies to produce materials, as well as private colleges. This prestigious recognition is a testament to the challenging work by the admission, communications and advancement teams and dedication to Central's success.
"H.M.S. Pinafore" Set Sail from Central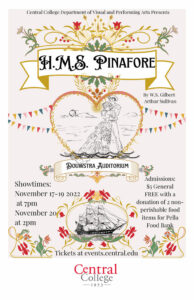 The department of Visual and Performing Arts presented Gilbert and Sullivan's "H.M.S. Pinafore," a comic operetta in two acts. This was a fully staged production with a pit orchestra.
Central College has a long tradition of performing Gilbert and Sullivan operettas. This was particularly true during the tenure of the late David Williams, choral director from 1979 to 2006 and a Gilbert and Sullivan scholar who spearheaded performances of nearly the entire Gilbert and Sullivan repertory as a joint venture between the music and theatre departments.
"To recapture some of the magic and memory of this great tradition, I put together a production that involved students, faculty, alumni and community members," says Sean Stephenson, assistant professor of music and director of the opera. "Many of those involved have memories of previous Central productions or have family members who were involved with these in the past. Douwstra Auditorium has historically been the venue for opera performances. With the recent renovations, we are delighted to utilize this wonderful concert hall once again."
Even before Williams grew this fine tradition, the Gilbert and Sullivan operetta was a mainstay of the Central performance schedule. Susan Kuyper '70, a bassoonist in the pit orchestra, knows of a "H.M.S. Pinafore" performance that took place in 1935. It featured her father — Hospers Kuyper '36 — as the villain, Dick Deadeye. It and many other productions by Gilbert and Sullivan have been performed since, though the most recent performance was in 1990. 
Logan Fehlhafer '24 played the role of Captain Corcoran. His mother, Heidi Houzenga Fehlhafer '93, was involved in another Gilbert and Sullivan operetta, "The Mikado," while she was a student at Central. 
Green Predicts End of Iowa's Bellwether Influence
Professor of Political Science, Andrew Green, offered political predictions to "Bloomberg News," prior to the mid-term elections. Published on Oct. 24, 2022, Green provided an opinion that Iowa may lose its swing-state status. 
Green served as one of several sources in the article and was cited as an independent voter. 
"If Republicans sweep the statewide offices along with the federal and state legislative races in 2022, Iowa's status as a bellwether is probably over," he said. "Iowa has always been known for having an independent streak."
Green serves as a political resource across the state and nation. 
Daniel Vos Presents at Biblical Society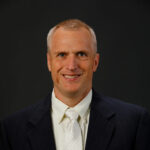 Daniel Vos, lecturer of religious studies, presented an academic paper at the 2022 Annual Meeting of the Society of Biblical Literature in Denver, Colorado, in November. 
The paper is entitled, "Praying as a Different Kind of Plaintiff in Psalm 39" and makes the case that Psalm 39 is an unusual kind of lament because it asks for divine distance instead of divine restoration. 
Women's Leadership Conference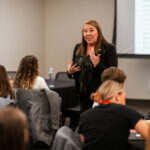 The fourth annual Women's Leadership Conference from Nov. 17-20 brought together 27 women to discuss women's leadership, knowledge, skill building and values. The keynote speaker was Kristina Stanger '00, attorney and shareholder with Iowa's largest law firm as well as a retired U.S. Army Lieutenant Colonel. She inspired young women during her presentation, "The Skills You Need to Lead Following the 2022 Great Breakup."
Nesbit Co-Authors Book Chapter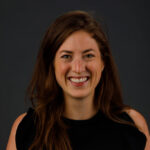 Central's Assistant Professor of English, Kate Nesbit, left, co-authored a chapter in the newly released book, "Writing the Classroom: Pedagogical Documents as Rhetorical Genres." It explores how faculty compose and use pedagogical documents to establish classroom expectations and teaching practices. 
Nesbit's chapter, titled "Toward the Learning to Teach Statement," considers the pitfalls and problems with traditional statements of teaching philosophy.
Faculty Talk About Bats and Bees
Faculty members created two educational videos for area schools as part of PEERS, a career awareness program made available through WorkSMART Connector. Videos include "Bats" by Russell Benedict, professor of biology, and "Bees" by Paulina Mena, associate professor of biology, with production coordination provided by Mary Stark, John and Anna Poole Professor of Humanities and professor of English.
"The modules introduce students to future career paths while also learning science content. We talk about conservation of bees and bats," Mena says. "The videos are formatted for teachers to use in the classroom. We also developed classroom activities for students in connection to the videos."
Giving Tuesday Success
The Central College family did it again, raising more than six-figures through Giving Tuesday donations on Nov. 29. Giving Tuesday, a special day of giving to nonprofits across the globe, generated $126,437 for Central scholarships and programs.