Kinsley Parrott '21 came to Central College excited and ready to prepare for a career as a teacher. While working with kids had always been a passion of hers, Parrott realized that teaching wasn't going to fulfill everything she was looking for — just in time for major declaration day in her sophomore year.
Major Overhaul
Parrot panicked in the days leading up to declaring her major in education. "I thought teaching was what you did when you loved kids, but even after completing my observation hours and a practicum experience and getting into the Central Teaching Academy, it just wasn't enough for me," Parrot says. "I needed some excitement and adrenaline that I was likely never going to see in a lower-level elementary classroom."
After extensive research and long talks with her mentor and advisor, Jen Diers, director of the education program at Central, the pair landed on an unrealized dream: the child life specialist profession. This was a new discovery for both Parrott and Diers — a profession they had both likely encountered but the career path hadn't crossed their minds.
Child life specialists are an integral part of multidisciplinary medical teams within pediatric healthcare. These professionals work with children and their families to help them understand what to expect, what processes and procedures entail and ensure the whole family has a positive hospital experience overall.
The Path There
Like most schools, Central does not have a child life specialist undergraduate program. But unlike many schools, Central has a self-designed studies major, formerly known as integrated studies. The self-designed, interdisciplinary major allows students to map out their own education at Central. So, Parrott had the freedom to build out a custom academic plan to meet the graduation requirements while also setting her up for success when it came time to apply for graduate programs.
The major is intended for students whose academic interests and goals can be best met by combining and integrating the work of two or more academic departments, making the 2021 graduate a perfect candidate.
Parrott's custom major focused on three academic areas: education, exercise science and sociology. "Education made sense to include, of course," Parrott says. "I loved the content and knew it would be a great help, especially on the developmental side of things. Now I use that information every single day.
"I chose exercise science because you learn a lot about the body and the way it moves, which is incredibly valuable when you're in the hospital working with a child. You won't know every single procedure or what every medical term means, but having the background goes a long way.
"Including sociology made a lot of sense to me, too. I knew learning how people interact, how to interact with others and why people interact the way they do would come in handy when in the hospital setting."
From there, Diers and Parrott lined up her course schedule for the remainder of her time at Central as well as advisors in the other two pieces of Parrott's unique- to-her major.
"As I got going, I remember thinking to myself, 'What if I did this for real?'"

— Kinsley Parrott '21
The Later Years
"As we prepared for her final year at Central, we knew she'd need to complete a capstone for her integrated studies major," Diers says. Parrott opted for a project over an internship, thus preparing the kindling for yet another dream.
She knew she wanted her capstone to focus on children — caring for their needs, whether they were in the hospital or another vulnerable situation. "When the audience and the focus became clear, so did my project," Parrott says. "I decided to create a hypothetical nonprofit that would provide kids with backpacks containing items just for them.
"As I got going, I remember thinking to myself, 'What if I did this for real?'" The thought consumed her. With the enthusiastic support of her parents and her academic advisor, Parrott rolled up her sleeves and got to work.
For those keeping track, Parrott was not only finishing up her senior year, she also was knee-deep in the graduate school application and interview process, working on the largest project of her academic career and making that project happen in real life. (Spoiler alert: Parrott chose the University of Iowa's Master of Health and Human Physiology with a sub-track in child life.) "It was a lot, for sure, but I knew it was the right thing to do," she says. "I was just too excited to let up on any one thing."
Parrott formed partnerships with previously held connections to kick things off. "I had great help from a lawyer in my hometown of Danville, Iowa," Parrott says. "She does pro bono work on the side and, with her help, Packs for a Purpose, Inc. was officially established as a registered nonprofit organization in the State of Iowa in May 2021. I couldn't have done this without her and her expertise."
Packs for a Purpose, Inc.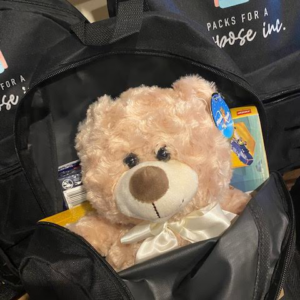 Packs for a Purpose, Inc. is working to address the need for more activities, games and educational materials for children — newborns through 18 years old — in vulnerable situations. And Parrott's nonprofit is doing exactly what she hoped. Each pack contains developmentally appropriate and beneficial activities specific to each child or group. The organization considers the child's age, gender and the condition of their environment when creating each pack.
The perfect pack formula:
One necessity item
One comfort item
One thing they can do by themselves
One thing they can do with others
"More than anything, we want to enhance the child's well-being," Parrott says. "So, we include things they can do while they're in bed, but also provide them with necessary items like toothbrushes, body wash and things like that. I love that we're able to provide them with support to fill in the gaps and bring them some of the comforts of home while in an extraordinary circumstance.
"A lot of the packs we deliver to schools focus on different self-care needs or things to help promote self-regulation. So, including fidget toys in a pack can help kids work toward controlling their emotions and behaviors during the school day. There really is a lot of thought on the developmental side of things."
Since launching in May 2021, more than 300 packs have been distributed to hospitals, schools, churches, orphanages, foster care facilities and youth organizations in Iowa.
Close to Home
There's certainly a lot of excitement and variety in hospitals but choosing to become a child life specialist wasn't just about the adrenaline for Parrott. She's grateful to be able to help kids like her. As a child, she was diagnosed with cancer and spent a good deal of time in the hospital.
"I'm so glad to be here: I feel like this is what I was made to do," she says. "I had a positive experience in the hospital and that time influenced me and my path to a child life career and Packs for a Purpose.
"It's an honor to serve these kids, just as my amazing medical teams helped me over the years. If I can be even just a small source of light in their experience, I'll have done my job well."
"Kinsley's work is right in line with what we're trying to do for our students.We arrange for food, school supplies, personal care products and even some Pella Dutch gear to be available for our students and families who need it. We're very grateful she thought of us."

— Josh Manning '03
Pella Middle School principal
Better Together
Parrott's team is packed with members of the Central family, including board members Jen Diers, Karleigh Schilling '21, Megan Van Brocklin '21, Morgan Van Maanen '21 and Sydney Rants '21, who also serves as vice president. The board also includes friends from her graduate program, Rhini Angel and Katie Freund, as well as Parrott's supportive parents: Karie, who also serves as treasurer, and Adam Parrott.
"I couldn't have done this or continue to do this without the help and support of my amazing board," Parrott says. "They help make everything happen — product purchases, events and fundraisers, packing parties, pack drop-offs, etc.
"I'm excited for where we're headed. I hope to expand Packs for a Purpose, Inc. to someday have a presence in every state, so we can help more kids and their families."
The Central Journey
Here at Central, students are challenged to be their best. The Central experience is an epic journey of self-discovery. Students may come in knowing exactly what they want to do or may change their major multiple times. But here students have the freedom and support to follow their dreams — even if it's never been done before.
"Central has truly amazing professors who deeply care about you and your education," Parrott says. "You're able to really throw yourself into your work and your classes and you know they'll be there for you through your whole Central journey — just like Jen has been for me."
"Kinsley's Central journey is the epitome of a liberal arts education," Diers says. "She was able to make it her own, and she's using what she learned here at Central every single day. It's awesome."
Like so many before her, Parrott forged a path all her own with a network of supporters cheering her on and guiding her along the way.
"I did everything I wanted to and more: Dance Marathon, mission trips, volunteer work and service learning. I even got to work in the admission office and education departments," Parrott says. "My plans changed along the way, but I wouldn't trade my experience for anything."
Interested in learning more? Visit packsforapurposeinc.squarespace.com.
---
Full Circle
By Degrees Foundation in Des Moines, Iowa, works to provide all K-12 students with resources, educational programming and the support they need to graduate high school on time and be prepared for their post-secondary paths. The foundation partners with Findley Elementary, Harding Middle School and North High School.
Heather Burr Isaacson '97, director of programs, and Billy Kirby '00, Findley Elementary program manager, are both Des Moines natives who have worked with kids — and in the realm of college access — for most of their professional lives. Both come from low-income, first-generation college student backgrounds, so the pair strongly relates to the population they serve.
Their Central journeys began with Upward Bound. The things they learned through Upward Bound, during their time at Central and in their professional lives empower them to help others. By Degrees Foundation begins talking about college, careers, financial literacy and the future from the very beginning of their program. They even establish 529 college savings plans for the students while they're in elementary school.
"We're helping students earn scholarships and navigate the sometimes foreign and scary process of making their dreams come to fruition," Isaacson says. "Students thrive because they know they have support systems, and it was the same for us. We had amazing support systems at Central in our professors, the Upward Bound family and all over the Pella and campus communities."
In many ways, the pair has come full circle, and because of Central's partnership, they still get to be part of the campus community and visit often.
"Upward Bound planted the seed for the work we're doing today," Kirby says. "It absolutely changed the trajectory for me as a low-income, first-generation college student. It's the enthusiasm for learning, discovery and caring for others that happens at Central that makes it so unique. And that's the stuff that still inspires me to do my work. We love that we get to pay it forward for these students. Who knows how far that Central ripple effect will go!"
Isaacson and Kirby encourage all to get involved in their communities, to give of their time, talent and/or treasure to causes that speak to them. To get involved or learn more about By Degrees Foundation, visit bydegreesfoundation.org or contact Isaacson at heather@bydegreesfoundation.org or Kirby at billy@bydegreesfoundation.org.
The Perfect Fit
In August 2021, Youth Homes of Mid-America and Youth Emergency Services and Shelter merged to create Ellipsis. This merger brought two strong youth and family service nonprofits together to create a powerhouse organization — and brought two Central College alumni together to do amazing work for the youth and families in Central Iowa.
Serving people, especially adolescents, has always been a passion for Chris Koepplin '96, CEO of Ellipsis, and Rusty Johnson '03, training manager at Ellipsis. Ellipsis provides access for youth and families to counseling and therapy, social workers, residential programs, community programs, behavioral health intervention services, care coordinators and much more.
"We help kids and families sit in the space between what their life is like and what their life can be like, then we help them figure out how to get there," she says.
Johnson came up in the foster care system and knowing the continuum of care the kids receive means the world to him. "In the foster system, you age out," he says. "So, at some point, the services and resources available to you stop. At Ellipsis, we don't just want to get our kids on their feet, we want to get them on their feet and running — and keep them running."
The pair recognize their journeys at Central laid the groundwork for where they are and where they'll continue to go in their professional lives.
"The support and caring relationships I found at Central are a large part of the person I am and the work that I do," Johnson says. "I absolutely love Central College, and I was thrilled to see Chris was a Central alum when I was applying to work here!"
Johnson's and Koepplin's experiences also taught them to set goals, but to dream, too.
"My dream for Ellipsis is that some day we can cease to exist," Koepplin says. "And that sounds kind of crazy coming from me. But the reality is, if we're not working toward that, then we're really not serving our mission."
The duo knows it likely won't happen in their lifetime, but they're thrilled about the potential and the future of Ellipsis. "We couldn't do what we do without help from our communities," Koepplin says.
With Johnson training the direct care staff on the frontline and Koepplin leading the way, the future indeed looks bright.
To learn more about the organization or to get involved, visit ellipsisiowa.org or contact Koepplin at chris.koepplin@ellipsisiowa.org or Johnson at rusty.johnson@ellipsisiowa.org.