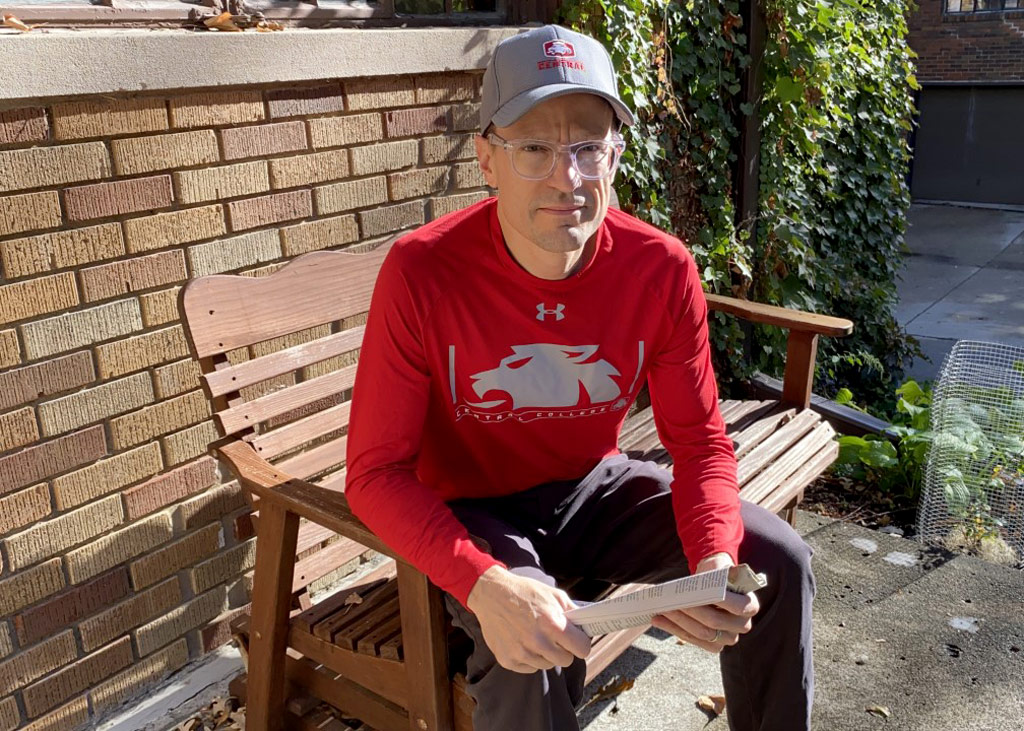 I first dabbled in journalism with my elementary school's "Sixth Grade News Flash." I reviewed prime-time TV and — for whatever reason — picked Lionel Richie in our class poll of favorite pop stars.
In high school I thought I might pursue editorial cartooning. I managed to get one frame published in the local newspaper as the extent of that career.
At Central College in the early '90s, I reported and wrote for the student newspaper "The Ray" under the guidance of the late Marty Feeney, former associate professor of communication. I also interned at a free tabloid overseas in London and wrote for this alumni magazine.
Looking for a career where I could write daily and craft narratives, I forged ahead with journalism: I spent 24 years in daily news in a variety of roles with the Des Moines Register. Once I was in the news business, I fell in love with the thrill of chasing a story and the mission to comfort the afflicted. My path wound along backroads, through city council chambers and all the way to China. The basic premise of journalism is simple: Go out and seek compelling stories and solid facts on behalf of the public good, under the protection of the First Amendment.
In practice, it's a craft full of pitfalls where you sweat every mistake, endure public criticism and always look forward to the next crushing deadline.
It's also a noble calling: If we care about the future of our communities, accurate reporting by professional journalists still wields tremendous cultural power. Numerous studies have shown how quality local journalism promotes voter turnout and other signs of a healthy democracy.
But the business model for local journalism is broken. "Since 2005, the country has lost more than a fourth of its newspapers (2,500) and is on track to lose a third by 2025," writes Penny Abernathy of the Medill Local News Initiative.
A distinguished private liberal arts college, international manufacturers and Dutch tourism qualify Pella as a thriving small town compared to most across the Midwest. Yet in 2020 the Pella Chronicle merged with the Oskaloosa Herald — one of just hundreds of communities to lose their local news source in the pandemic.
The internet and social media have given us dazzling new creative tools. But they also divert local journalism off course with an ultimately empty promise to woo a lucrative, mass digital audience. The revenue from all those extra eyeballs poured into Silicon Valley.
I left the newsroom in 2018 for another fulfilling career in content marketing in financial services for Principal. But news ink never quite leaves the bloodstream, so I joined the board of the Western Iowa Journalism Foundation, a nonprofit dedicated to helping pioneer a new, sustainable future for independent local journalism.
Publishers in western Iowa — Doug Burns in Carroll, Art Cullen in Storm Lake and Lorena Lopez in Denison — had the brainstorm for the foundation. An experienced grant writer and trained journalist in rural Breda, Becky Vonnahme forged the founding documents and became our executive director. Our independent board came together in 2020 and received the stamp of approval from the IRS in 2021. In less than two years, we've made significant progress in a region arguably most threatened by encroaching "news deserts": rural and small-town America. If we can build new, sustainable models for community journalism here, we'll learn valuable lessons to apply to all communities.
But we'll need all the help we can get as we escalate our work. In fall 2023 we're launching a specific campaign dedicated to combating misinformation and disinformation as we move through the midterm elections and into the 2024 presidential race. Please visit westerniowajournalismfoundation.com and sign up for our newsletter.
This looming deadline is existential: the fate of local news itself.