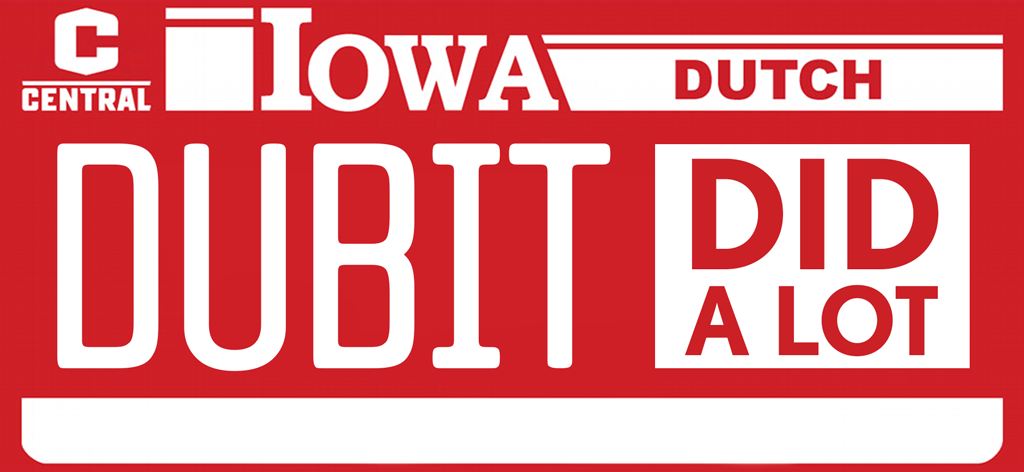 The back door to Max Vander Pol's two-story brick home on Pella's Idaho Drive is still unlocked.
The house isn't part of Central's campus. Vander Pol isn't a Central staff member or even a grad. In fact, in 1958, nine months after enrolling, he was asked to leave.
But to a generation of Central football players and wrestlers, Max and his late wife Judy were friends and sometimes even surrogate parents. And to countless other Central grads from the 1960s-80s, the two establishments they operated, Dubit's Steak House and, later, the near-iconic Cleats and Spikes, were as much a part of their Central existence as reading their mail each morning while perched on the steps to the snack bar in the old student union.
Vander Pol — call him Dubit, everyone else does — is a passionate Central fan. For 50 years, nothing kept Max and Judy from a Central football game, home or away. Declining health finally did. He got to know Central students because he employed so many of them. By 1969, he claimed to know every player on the football team. But he wasn't some deep-pocketed booster. He connected with the athletes because he cared about them. Vander Pol was there for any Central student who needed a hamburger or a place to spend the night — or even a month.
"My house is always open to everybody," Vander Pol says. "I haven't locked that door in 55 years. I always say if I don't know you, knock on the front door and if you do know me, come in the back."
Tom Hall '61 of Des Moines met Vander Pol as a freshman. Close friends ever since, each stood up in the other's wedding.
"Kids just felt at home there and Dubit and Judy just treated them like their own kids," Hall says. "They were always welcome there and they knew they were going to be safe."
He was tagged "Dubit" as a toddler in Pella when he tried helping a neighbor mowing grass by "doing a little bit": picking up sticks that might get caught in the mower. But it was a little bit of youthful stubbornness that ended his own Central career after his freshman year.
A War of Wills
"We had chapel we had to go to back then," he explains. "And I refused to go to chapel because I didn't like being told to do something."
College leaders had a different opinion.
"I was asked by the dean of men to find a new school," Vander Pol says.
So, he transferred to what was then Northwest Missouri State College, graduating in 1961 with a business degree. But his heart was still at Central. He worked as a cost accountant for an electronics company in Columbus, Nebraska, before happily returning to Pella in 1965, when Judy convinced him to buy a small steakhouse on Oskaloosa Street, a few blocks from campus.
He changed the name to Dubit's Steak House. Business was great, as was the food. The ambiance, not so much.
"There were maybe four or five small booths in there, that's about it," says former Dutch Athletics Director Al Dorenkamp '75 of Polk City, Iowa.
But it quickly developed a reputation for made-from-scratch pizza and grinders, an Italian sausage and cheese sandwich Vander Pol first encountered in Des Moines when visiting Hall.
"Dubit's was famous for their pizza, which I still think is one of the greatest pizzas I've ever had," says Jason Vines '82, now living in Mesa, Arizona.
Vander Pol had a special recipe for the spicy grinders as well.
"Bob Gray '69 said if it took two 7-Ups to eat one, it was just the right amount of heat," Vander Pol says.
"I think a lot of people went there just because of Dubit," Hall says. "He was like a young Babe Bisignano (longtime Des Moines restauranteur). People went there and he was always talking to everybody. You went there hoping you could talk to him. He was interested in everybody. He knew their family, he knew their kids."
Carry-out and delivery business were brisk, especially with Central students on Sunday nights when dining hall options were sparse, but, unfortunately, also with those who viewed the delivery vehicles as open buffets. They waited for drivers to enter dorms with a delivery, then swiped pizzas and grinders from the back.
Dorenkamp, then a muscular linebacker for the Dutch with an intimidating presence, was summoned.
"Max wants to talk to you," he was told.
Vander Pol figured with Dorenkamp as a delivery driver, his food was secure. He offered 30 cents a delivery, with as many as 100 deliveries in one night.
"I did the math and I made 30-35 bucks on just a Sunday night," Dorenkamp says, in an era when minimum wage was $2 an hour. "The first few times, I saw somebody kind of peeking out from behind the trees. And I just said, 'Hey, I wouldn't even try it. You don't want to get hurt.' After a couple of Sunday nights, I never had anyone try to steal pizzas from me."
Vander Pol also partnered with former Central All-American running back Dennis Descoteau '68 in starting a Christmas tree farm on land south of Vander Pol's home. Over 25 years they grew 35,000 trees. It was a labor-intensive business that broadened Vander Pol's Central network even further.
"We had 20 kids a year planting trees for us," he says.
Current football coach Jeff McMartin '90 was among the students hired.
"I enjoyed working there," he says. "You knew he loved Central and athletics and he talked to us about that a lot. He was a really good person to work for. He treated his employees really well."
The Business of Success
In 1978, former Central offensive lineman Doug Clapp '73, now living in Montgomery, Alabama, convinced the Vander Pols to open Cleats and Spikes, with an athletics-themed restaurant upstairs — grinders remained on the menu — and a disco bar downstairs. Max stayed in the kitchen and cooked while Judy managed the downstairs.
Cleats, as it was known, quickly morphed into Central students' top off-campus gathering place. For many 1980s grads, the Central stories they now retell typically begin with the same five words: "We were at Cleats and …"
Vines worked there as a DJ and said it was the go-to spot even for students who consumed nothing stronger than orange juice.
"There was no peer pressure, it was just a place to have fun," he says. "When I was there, it was near the end of the disco era, and it was a disco place. There was even a disco ball hanging from the ceiling. That dance floor was always full."
Cleats even got the green light for football players from teetotaling Coach Ron Schipper, who knew Vander Pol would keep an eye on them.
"I said, Coach, if I see them drinking, I'll tell them no," Vander Pol says. "He respected that. He let them come out there, so they'd have a place to go. And my wife hired all the wrestlers to bartend for her, so we'd never have any trouble with fights or anything. She didn't have one fight out there."
It was a rendezvous spot for returning alumni, with crowds so thick on Homecoming weekend that it was easier to get to the back room by going outside and entering through the back door than trying to wriggle through the mob inside.
The wrestlers working there had one request.
"They told Judy if we're going to work for you, we think you should go to wrestling matches," Vander Pol says. "She'd never seen a wrestling match in her life. She started going and she ended up going to three national tournaments. She even went out to one in upstate New York."
End of an Era
A Central era ended with Cleats and Spikes' closing in 1991. Judy took a job with a local printer while Max became a card dealer at a casino in Tama, Iowa. But their support was never forgotten. Judy died in 2016 and, in her final days, she was showered with cards from former Dutch wrestlers scattered across the country, many of whom attended her funeral.
Former employees speak fondly of Max as well.
"He was a teddy bear," Vines says. "But a teddy bear who knew how to run a restaurant."
Vander Pol's health keeps him home alone most of the time now. The Volksweg bicycle trail crosses his front yard, but Vander Pol prefers sitting at his kitchen table and gazing out his back window at the pond and thousands of pines once destined to be Christmas trees. It's one of his favorite patches of land on the planet, second only to the 120 yards of green turf at the center of Ron and Joyce Schipper Stadium.
He's no longer able to attend the games, yet the Central connections endure. Descoteau lives just down the road and other longtime friends often visit, like Hall and former basketball scoring record-setter John Carle '60 of Des Moines.
"I've known John since I was in junior high," Vander Pol says. "He used to ride a bicycle all the way from Knoxville to see me."
He talks by phone with so many others, such as Brian O'Donnell '69 of Madison, Wisconsin, and Vern Den Herder '71 of Sioux Center, Iowa.
And one sunny morning last June, Alex Glann '69 of Runnells, Iowa, rounded up more than a dozen grads, showing up at Vander Pol's back door to salute the boss who became their friend.
"Dubit is so unassuming," Hall says. "But that meant quite a lot to him. It was quite an honor."
Vander Pol's daughter, Terry, even fixed grinders. After decades of preparing them, Vander Pol claims he can't even stand looking at them, although he did notice that Glann ate three.
"You smell 20 pounds of sausage cooking, it just permeates the room," Vander Pol says with a wince.
Yet to Vander Pol, the familiar aroma also provides a whiff packed with Central memories. Memories that bind him forever with the school he was long ago asked to leave, but whose students and graduates he'll always love.