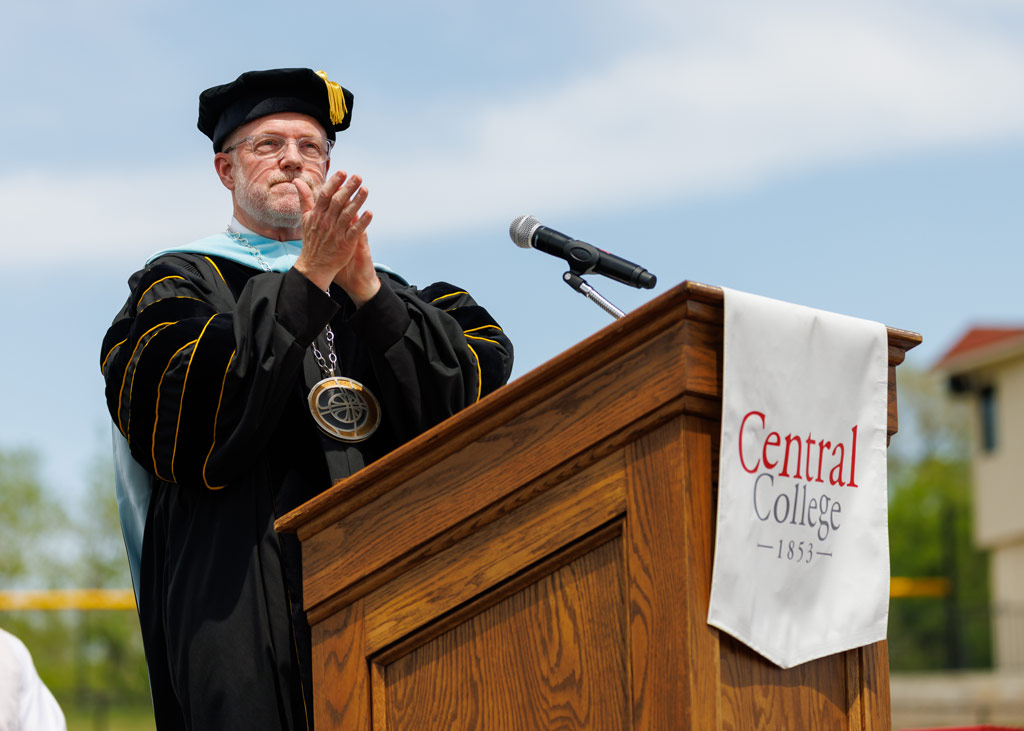 Forever Dutch
Dear Members of the Central College Community,
Central College has evolved over the past year. To meet the needs of our students and communities in more strategic and specific ways, the college introduced several new and reimagined majors and reopened the door to the world via off-campus experiences. In addition, the college and its community have celebrated many exciting wins, one-of-a-kind experiences, new leadership, beautiful community partnerships and outstanding fundraising accomplishments. Relive the phenomenal achievements from 2021-22:
New Majors and Reimagined Experiences
The show starts at Central — and musical theatre majors are the stars of the show! Musical theatre, a new major offering, exposes students to artistic development through a broad and comprehensive curriculum, including courses in acting, dance, directing, history, literature, music, theatre management, stagecraft, design and technical production. No matter students' career paths, when the curtain goes up, they must be ready. A musical theatre degree at Central — one of several new major installations — ensures proper preparation! Several other Central majors also have been reimagined, including art, history, business management, computer science, kinesiology and religious studies to best prepare Central students for the future.
A Winning Culture
Winning may not be everything, but we believe winning is indicative of a competitive spirit embedded within a healthy and thriving campus culture.
Dutch Triumphs
Last fall, Central's record-setting football team captured nine NCAA Division III football statistical titles. Central topped Division III in:
Total offense.
Passing offense.
Scoring offense.
First downs.
Individually, Gagliardi-winning quarterback Blaine Hawkins '21 led the nation in touchdown passes with an all-divisions NCAA record of 63, in total points responsible for and points responsible for per game. Receiver Tanner Schminke '21 was the champion in receiving yards and touchdown receptions.
Athletics wasn't the only arena folks in the Central community experienced wins. In addition, students, faculty and staff have earned numerous noteworthy awards.
Student Leadership Awards
Central students are known for their leadership prowess in addition to their academic, cocurricular and extracurricular accomplishments.
When the student development office released the 2022 student leadership awards, it was no surprise to see 56 nominations from students, faculty and staff for nine award categories.
External Faculty Awards
Terence Kleven, Dr. Jacob and Gela Schnucker Sessler Chair in Philosophy and Religion and professor of religious studies, received an extension of the Fulbright U.S. Scholar Program award to conduct research in Arabic political philosophy at the University of Jordan in Amman, Jordan. This is his second Fulbright award.
Paulina Mena, associate professor of biology and faculty fellow for diversity and inclusion, earned the Presidents' Civic Engagement Leadership Award for 2022 from Iowa Campus Compact. This award recognizes a member of faculty, administration or staff or a group that has significantly advanced their campus' distinctive civic mission by forming strong partnerships, supporting others' civic and community engagement and working to institutionalize a culture and practice of engagement.
Sara Shuger Fox, associate professor of kinesiology, received the 2021 Research Mentor Award from The Organization for Tropical Studies for her mentorship of underrepresented students through the National Science Foundation's Summer Research Experience for Undergraduates Program. Shuger Fox trained students in Costa Rica in designing and conducting independent research; collecting and analyzing data; writing a research manuscript; and preparing an oral presentation delivered at the OTS REU Research Symposium.
External Staff Awards
Central frequently wins top honors in the catering category of the Best of Red Rock Area Awards. These awards honor businesses and organizations throughout Marion County in 55 categories based on votes from area residents.
This year, Central took home the title of Best of Red Rock Award for Best Caterer. In addition, Steffanie Bonnstetter, senior content strategist – marketing and project management at Central, was recognized as one of the 10 outstanding individuals under 40.
The college also received silver recognition in the Council for Advancement and Support of Education's annual Circle of Excellence awards. The national higher education group recognized Central for its work on student recruitment publications. The award application included data showing that national undergraduate enrollment sank by 3.2 percent for the fall 2021 semester, according to the National Student Clearinghouse Research Center as reported by Higher Ed Dive. However, Central experienced no dip in enrollment and, in fact, enjoyed a modest increase despite national trends and a global pandemic.
Congratulations, one and all, for these fantastic successes — and the many more unlisted accolades and accomplishments our campus community celebrated in the past year.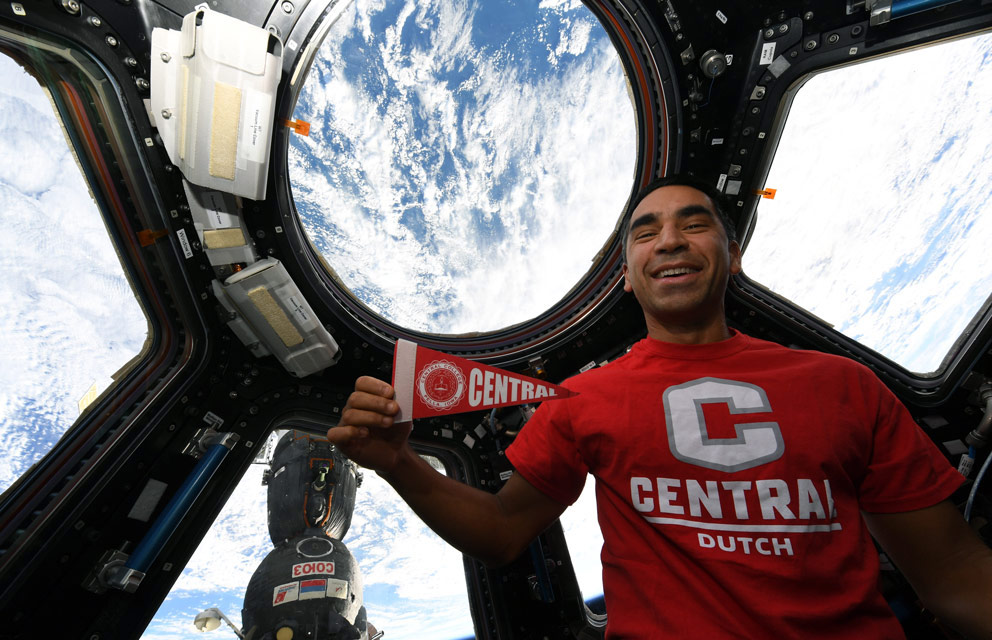 Central Is Out of This World
Central presented "Space Station Central" Feb. 24, which gave those in attendance — and those tuning in online via Central Dutch Network — the unique opportunity to hear from Raja Chari, husband of Holly Schaffter Chari '99.
At the time, Raja was aboard the International Space Station as a National Aeronautics and Space Administration astronaut and was the commander of the NASA SpaceX Crew-3 mission, which launched Nov. 10, 2021.
The once-in-a-lifetime event allowed attendees to see an astronaut in space in real time, which included insightful information, amusing anecdotes and even anti-gravity humor.
Bella From Pella
Bella Van Gorp stole the hearts of Iowa just after Valentine's Day during an interview with KCCI reporter and anchor Eric Hanson. Bella, with the support of her parents David '93 and Jennifer Vander Werf Van Gorp '95 and Carol Williamson, vice president for student development and dean of students, helped pilot a residential experience and developmental independence achievement program (Central READY). Thanks to Bella's hard work and eagerness to become independent, this innovative program was wildly successful … and is in the early stages of becoming a more permanent installation on campus.
Embracing New Leadership in Finance
Please join the college in extending a warm welcome to Karen Tumlinson, Central's new vice president for finance and administration and treasurer. She joined the Central family in May.
Since 2019, she served the University of North Texas, overseeing all finances and administrative functions for digital strategy and innovation, which was responsible for academic information technology, online programs, digital growth and enterprise programs for the institution.
Karen's expertise includes budgeting, compliance, hiring, payroll and strategic financial analysis, including forecasting and modeling. She has professional experience outside of higher education and more than 20 years of experience in higher education related to human resources, risk management, technology, business systems, finance, accounting, analysis, facilities, the spirit shop, postal service, study abroad, conferences, dining, student life and more.
Scholarly Pursuits
Arthur J. Bosch Endowment
The Arthur J. Bosch Endowment provided six Central students the opportunity to undertake summer research projects as Bosch Undergraduate Summer Research Fellows:
Brandon Annegers '23 applied to conduct research with Russ Benedict, professor of biology.
Layken Bytnar '24 conducted research with Paulina Mena, associate professor of biology.
Rachel Daniels '23 worked with Sara Shuger Fox, associate professor of kinesiology.
Alora Nowlin '23 did research with Cynthia Mahmood, professor of anthropology.
Gabriella Petruzzello '24 conducted research with Randy Renstrom, associate professor of psychology.
Summer Sterrenberg '24 did research with James Shriver, professor of chemistry.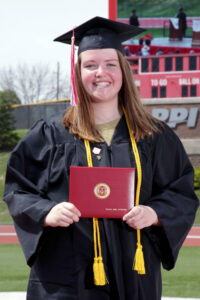 Fulbright Scholarship
Olivia Svoboda '22 earned the prestigious Fulbright Scholarship to study in Spain next year. She received an English teaching grant and will teach elementary students in the Canary Islands. Svoboda earned an elementary education degree from Central with a minor in Spanish.
Journey Scholarships
Central enjoyed incredible fundraising support for student scholarships this year. In fact, every new student admitted for the 2022-23 academic year received a Journey Scholarship, thanks to the college's generous donors.
Community Partnerships
Central Little Dutch Academy
Central's education department has partnered with Pella Community Schools to create Central Little Dutch Academy, an early out program for third and fourth grade students focused on social emotional learning and STEM education.
The goal of the program is to provide an opportunity for students to develop social and emotional learning skills through activities in science, technology, engineering and math in a fun, engaging way. Upper-level education students at Central plan and implement all activities for students under the direction and supervision of Jen Diers, director of the education department, and other faculty in the department. Students in introductory education classes can serve as assistants in the program.
BIPOC+ Coalition
Central has partnered with Drake University, Grand View University, Simpson College and William Penn University to form the BIPOC+ Coalition.
The coalition seeks to foster a sense of community, cultivate leadership and provide mutual support for Black, Indigenous and people of color. The coalition is a safe space for BIPOC+ students to discuss and reflect on their college journeys.
Fundraising Efforts Break Records … Again
Generosity runs deep in the Central community. The proof is in the giving: For the third year running, the college exceeded the previous year's total giving — this year up 2.4% from the previous year. The impact on Central students will be direct and powerful.
So much has happened in the past year. There is much to celebrate and even more to look forward to in the 2022-23 academic year. As we reflect on the past year and look forward to the next, I can't help but be overwhelmed. We get to enjoy a community in which success is prevalent and support is inevitable.
Each person in our community has a unique role that is integral to our collective prosperity to teach, mentor and guide. It is the Central way. We are committed to magnifying our unrivaled network of support for our students.
Thank you for who you are and the place you hold in our Dutch family. Grateful is an understatement.
— Mark Putnam, Central College President
2021-22 Annual Report and Honor Roll of Giving
See the full 2021-22 Annual Report in the Fall 2022 print issue of Civitas, and view the 2021-22 Honor Roll of Giving online.