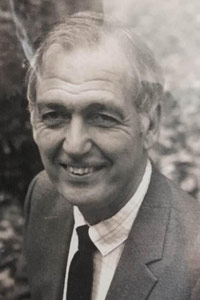 Richard "Dick" Ernest Whitaker passed away on Aug. 4, 2022, at the age of 87.
Whitaker joined the Central College faculty in 1967 as assistant professor of bible and religion.
He was born in Oklahoma City, Oklahoma, in 1935. He married Anita Sherman and the couple had four children, Rich Whitaker, Sheri Whitaker Krumm '86, Lori Whitaker Thomas and the late Meri Whitaker.
Upon moving to Pella, he and Anita purchased the Boardwalk House, formerly located at 300 Broadway Street in Pella, Iowa. Whitaker sold the home to Central in 1989.
At Central, Whitaker served as chair of the bible and religion department. He participated in two archaeological digs in the Middle East and served on the Senior Honors Committee. Whitaker also led a summer term studying in Israel, Jordan and Syria. He monitored a panel discussion on campus in the 1970s focused on the Arab-Israeli dispute in the Middle East. Whitaker was passionate about supporting the refugees of Southeast Asia and Thailand.
During the late 1960s and early 1970s, Whittaker became a national authority on computerized biblical research. In 1968 he led early development of a concordance using a computer after he analyzed the texts. Harvard University Press published his work, "A Concordance of Ugaritic Mythological and Epic Literature." In 1971 he played a major role in creating a computer program to substantially increase the effectiveness of biblical and related ancient literature research.
Whitaker remained on Central's faculty until 1981 when he retired as professor of religion.