It was a decision that Matt Glockel '21 never expected to make, yet one he's forever grateful he did. 
When he arrived on campus for preseason football practice in 2017, remaining for a fifth year wasn't even on his radar. But, then again, neither was dealing with a global pandemic. 
Hundreds of Dutch athletes were — and still are — faced with the same decision after the NCAA granted a blanket extra year of eligibility for all 2020-21-year athletes due to a blizzard of COVID-19-related scheduling postponements, cancelations and adjustments. Baseball, softball and men's and women's track and field athletes were previously granted an additional season of eligibility after their spring campaigns came to an abrupt halt March 12, 2020. 
Glockel wasn't immediately concerned back then. Football season was still five months away. He and his teammates, coming off an American Rivers title share and NCAA Division III playoff berth, had even higher expectations for 2021, with a large and talent-rich senior class returning. Even after students were sent home at spring break and access to training facilities was cut off, Dutch players refused to give up on a fall season, finding creative ways to prepare, hoisting water jugs and flipping car tires. 
But as the slow drip of cancelations intensified, the picture darkened. By early August, reality was setting in. 
"We were holding on to hope as long as we possibly could," Glockel says. 
Then Glockel received an email for a team Zoom meeting. 
"You didn't have to say it in that email, but I think we all knew exactly what was happening," he says. "That was a hard email to get." 
Conversations pivoted to a spring football season in 2021, but that unleashed a new flurry of questions including what health and safety protocols would be required, the number of games, spectator attendance, the inclusion of nonconference games and the possibility of conference championships and playoff competition. Athletes were reluctant to burn a year of eligibility for a compromised season. 
But returning for a fifth season wasn't an easy alternative. For many, there were financial implications, major requirements and complications with the timing of course offerings, not to mention putting the brakes on launching a career or delaying graduate school. 
Players turned to each other in attempting to sort it all out. 
"I think one of the hardest parts of going through that whole process and deciding was — we had a couple of different Zoom calls, just as players-only — and we all kind of said, 'Hey, what's everybody want to do?'" Glockel says. "Hearing the guys that were thinking about playing and the guys who were sitting out really divided the team, almost into two halves. That was really hard because you'd been playing with these guys for four years and had worked your tail off to get to play with them. No matter what happened, that was really disheartening." 
The anticipated 2020 season could never be replaced. But was a shortened spring campaign a suitable career capstone? 
"Some of the guys said, 'Hey, if we can play six, seven or eight games, that's enough for me,'" Glockel says. "'I can play those games and then hang up the cleats and be happy with that.' And the other guys were saying, 'Well, if there're only six games and there's no title, what am I playing for? I'd rather come back in the fall when there's a higher chance of playing for a national championship.'" 
The NCAA granted the extra year of eligibility that fall. Some students had reason to return anyway, such as a semester for student teaching, but for Division III schools that prohibit traditional forms of redshirting and don't have graduate programs, a fifth season was new ground. 
Senior Associate Athletics Director and Associate Head Women's Softball Coach Alicia O'Brien, the athletics compliance director, teamed with Senior Registrar Leslie Keuning Duinink '90 to help athletes navigate a complicated path. The NCAA helped smooth the way, removing the requirement that graduates must enroll in graduate school to compete. Instead, students must take a six-credit load with coursework deemed "meaningful and educational," as determined by someone outside of the athletics department, a role handled by Duinink. 
Athletes must weigh the academic benefit to returning but O'Brien says that needs to be their decision and notes that in the Division III philosophy former Central President Ken Weller authored, athletics competition is seen as a critical component of a student-athlete's education. 
"Because of COVID-19, they feel like they were cheated out of that part of what they thought was going to be their four-year college experience," she says. 
It's a more seamless process for fall-sport athletes. But those competing in the spring must decide whether to work off campus in the fall while winter-sport athletes have to enroll for both semesters in the fifth year, like men's basketball forward Caden Mauck '21 did. 
After a less-than-satisfying two-game spring season in 2021, Glockel and 14 of his classmates decided to return for a fifth football season. 
"Even though we had somewhat of a spring season, the games didn't quite feel right," Glockel says. "I think that was part of what drove me to come back. I wanted a little bit of closure." 
Having so many classmates return made his decision easier. 
"Yes, it did, I'm not going to lie," Glockel says. "I had a lot of extremely good friends who decided to come back. COVID-19 messed up a lot more about college than just athletics, obviously. My true senior year not only did I miss out on a season of football, but for most of it we were kind of by ourselves. You didn't get to really enjoy the dorm room, hanging out with your friends and all that other stuff. So, the opportunity to come back and hang out with 20 of my best friends for another six months was kind of hard for me to pass up." 
The 10-0 regular season that followed was among the most dominant in Central football history. The Dutch advanced to the NCAA Division III quarterfinals, finishing at 12-1 overall and shattering 62 school records. 
"It's hard to put into words," Glockel says. "Winning the conference title like we did, walking off that field after we beat Buena Vista the way that we did (65-6 in the Nov. 13 regular-season finale) is something I'll never forget." 
Yet Glockel's return yielded more than a trophy. 
"Yes, we can talk about how great that season was, but there were a lot of other things that made it worthwhile to me," he says. "Just to get to spend quality time with that group of guys was worth quite a lot. I made some really good friends and memories that will last forever."
A Different Decision
The memory of March 12, 2020, still stings for all-conference softball shortstop Daria Parchert '21. The Dutch were coming off a 2019 league title and had generated some national buzz with a 5-1 mark at the NFCA Division III Leadoff Classic in Arizona the previous weekend. Expectations were skyrocketing as the team prepared to leave on a spring-break trip to Florida in less than 48 hours, until Parchert glanced at her phone. 
"I was getting ready to go into a class and I saw a tweet that NCAA spring championships were canceled," Parchert says. "I remember crying, just bawling in the hallway." 
Parchert raced back to her room after class and then to a hastily called team meeting. 
"First, they told us we weren't playing non-conference games," Parchert says. "And then our entire season was canceled. It seemed like it all went down within 20-30 minutes. It was so shocking. I remember the feeling we had when we left Arizona that this is our year and then it was all gone within 24 hours. I can't even explain the feeling." 
Softball returned with an abbreviated 2021 schedule. But that campaign was shut down for 10 days when Parchert tested positive for COVID-19. Shortly thereafter she was blindsided by a baserunner, suffering a concussion that diminished what was left of the shattered season. 
Unlike Glockel, Parchert didn't have a dugout full of classmates also thinking about returning. Still, as she staggered through her senior season, there was a pull to return. 
"When you've played this game since you were 4, the last thing you want to do with your very last season is either spend it home because you have COVID-19 or on the bench because you can't even go out in the sun because your head hurts so bad," she says. "As soon as I got a concussion, I wanted to just get better and play. I thought, 'I don't want to take this uniform off.'" 
But then Parchert landed a job with Mid-American Energy in Des Moines, where she was recently promoted to operations specialist. As her post-Central ride was picking up speed, she was hesitant to jump off. 
"I was already starting my life," she says. "I think it would have been a whole different story if softball was in the fall, but I was moving fast with the company and making relationships. To have to put a stop to the life I started after college would have been really hard." 
She also felt a financial pinch and, after already completing her major, to spend more tuition dollars for coursework she didn't really need wasn't appealing, either. 
Exhausted from months of indecision, Parchert was left with emotionally letting go of softball after losing most of two seasons of a promising career. 
"I finally came to terms with my senior season," she says. "It was out of my control. Hopefully, someday I'll be able to coach and kind of hand my glove off to somebody else and they can take what I left there." 
The lessons she learned under NFCA Hall of Fame coach George Wares '76, head women's softball coach, event management and lecturer in kinesiology, that have made his teams so successful, ironically left her more prepared to leave. 
"Seeing the people who are coming into this Central program that I can still help, watching them grow, watching them have the time that we got to have and learning everything I did through the program, that makes everything OK," she says. "It is OK when you have to put your glove down and it does take a little bit to figure that out. There are times where I'll sit here and miss it 110%, but everything you take away from that program helps you every single day. I don't think I'd be where I am right now — be able to talk to the people I'm talking to, be OK with moving at a fast pace, just being thrown into situations where you have no clue but you need to figure it out right then and there — if I didn't go through any of that for four years." 
Parchert often marvels how diving for grounders in the dirt supplemented the education she gained immersed in course lectures and textbooks. 
"I never had confidence in myself and my decisions, or I would always freak out if I was just thrown into situations without a black-and-white answer," Parchert says. "Coach Wares and I have had many talks about how it's OK to have some gray area there. And I really am realizing that. You soon learn how much the program has shaped you."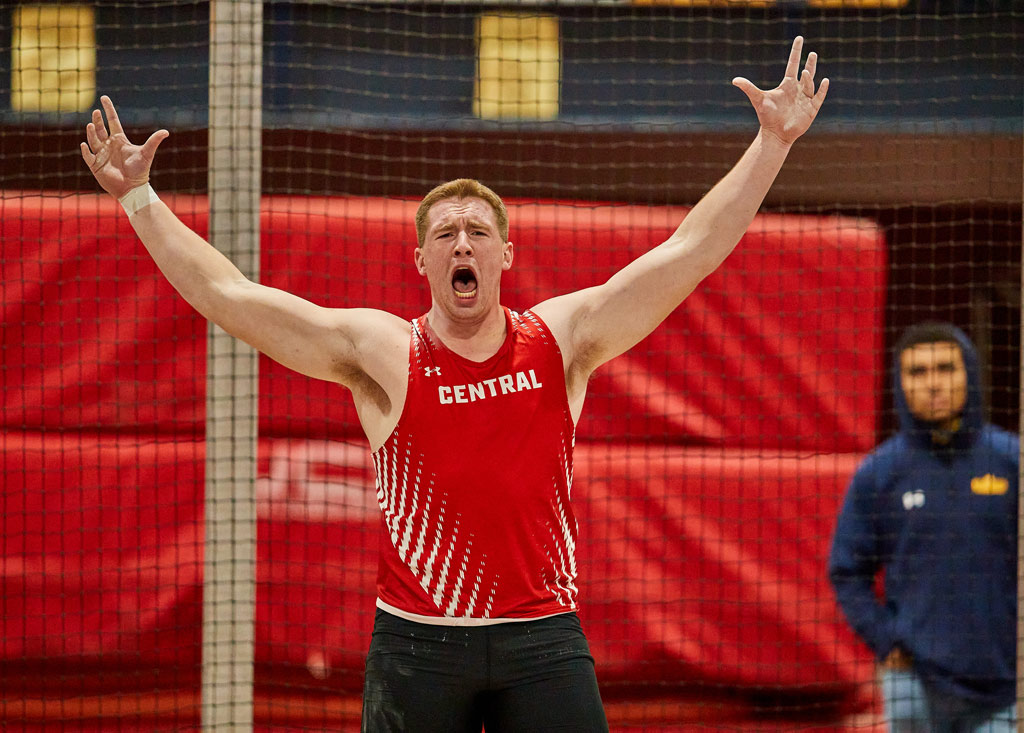 A New Opportunity
Thomas Spoehr '22 was left searching when a concussion ended his college basketball dreams early in his sophomore season. Prodded by Associate Head Men's and Women's Track Coach and Lecturer of Kinesiology Jim Fuller, Spoehr developed a new passion, competing in the weight events. Learning the intricacies of throwing techniques on the fly, he emerged as a conference place winner. But his Central career didn't have the ending he had scripted: standing on the podium at the NCAA Division III Championships. Spoehr longed for another chance in a fifth season at Central, especially after getting a late start to his career. But as an honors student with a mathematics major, it didn't make sense. It took Allen Walz, Central's men's and women's track and field throwing coach, to convince him of that. 
"We had a tough conversation because he wants to compete," Walz says. "He doesn't feel like he's achieved what he wants to in track and field. So, he was talking about coming back again next year but he also had an opportunity to go to Minnesota State Mankato and start a master's program there. My recommendation was to go to Minnesota State. I told him he's got to have his goals beyond competition. I said if he could do both, get his master's and compete, that would be the best thing for him. It wouldn't be the best thing for me as a coach or for our program but that it would be the best thing for him."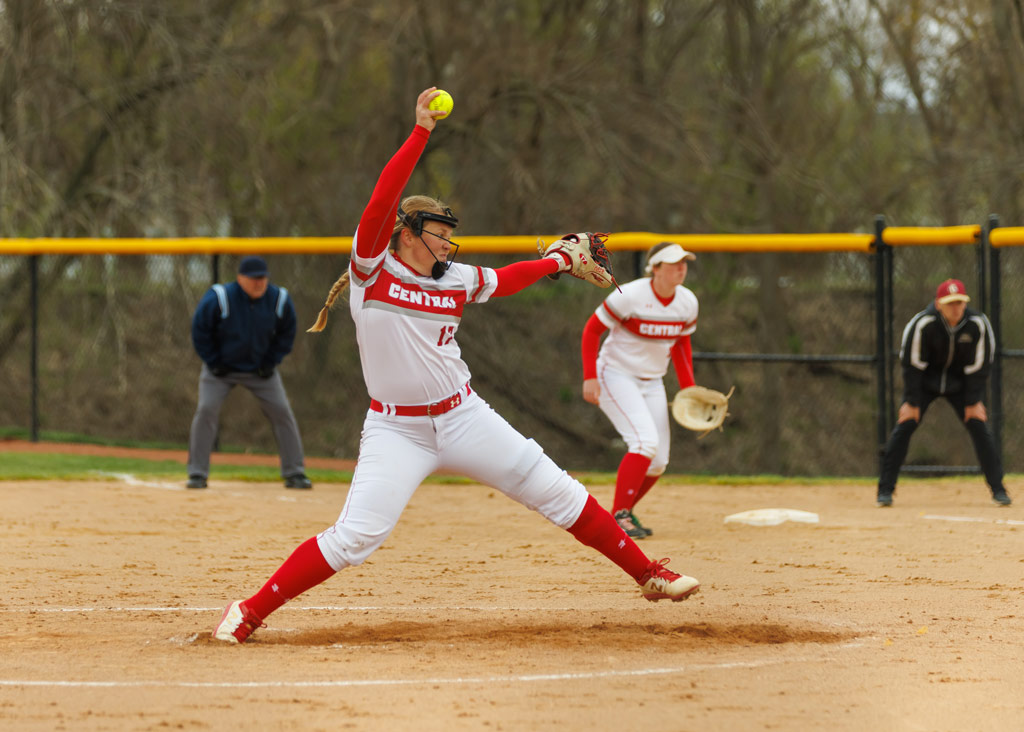 A Decision Ahead
Decisions still loom for other Central athletes. After seeing her first softball season quickly end in 2020, then playing a modified schedule in 2021, the career of pitcher Sydni Huisman '23 took another face-plant as the 2022 season launched. Minutes before the opener, while warming up, she suffered a major injury that left her with a long off-season of rehabilitation. 
"For me, personally, I haven't had a normal season," she says. 
Huisman has known for two years that she has the option of an extra season. This year's injury makes using it even more appealing — especially after seeing others' careers come to such an abrupt finish. 
"I think for some of them, the reason they didn't come back is they felt they hadn't prepared for it," Huisman says "It was never an option until it was an option. But I've known since freshman year. So, it's always been in the back of my mind. It won't be such a big change to my life path." 
She's thought about her career and the cost of returning. But even more, she's pondered the cost of leaving. 
"The biggest factor for me is I have the rest of my life to work and do those things, but softball is my true passion, so to come back and play for one more year doesn't seem like I'm putting my life on hold," Huisman says. "I don't think that in 20 years, I'll regret that decision. I want to play for as long as I can and I kind of want my full four years of experience more than anything." 
Huisman intends to work in Pella prior to her fifth year, then return to school in January. She knows that just as this year took an unexpected turn with a serious injury, her fifth season could be derailed as well. It's a chance she wants to take. 
"I'm not going to regret it," she says. "I don't really see any downside other than you can argue there's a downside financially, but that's going to work out in the end." 
For others the sometimes-anguishing debate continues. But among the most grateful for the chance to return is Parchert, the one who turned it down. 
"I think it was great that we had a choice," she says. "I think it opened up your brain and made you really think and at least gave you an opportunity to say, 'Hey, I'm not done,' or 'My chapter is over, it's time to give my jersey to someone else.'"