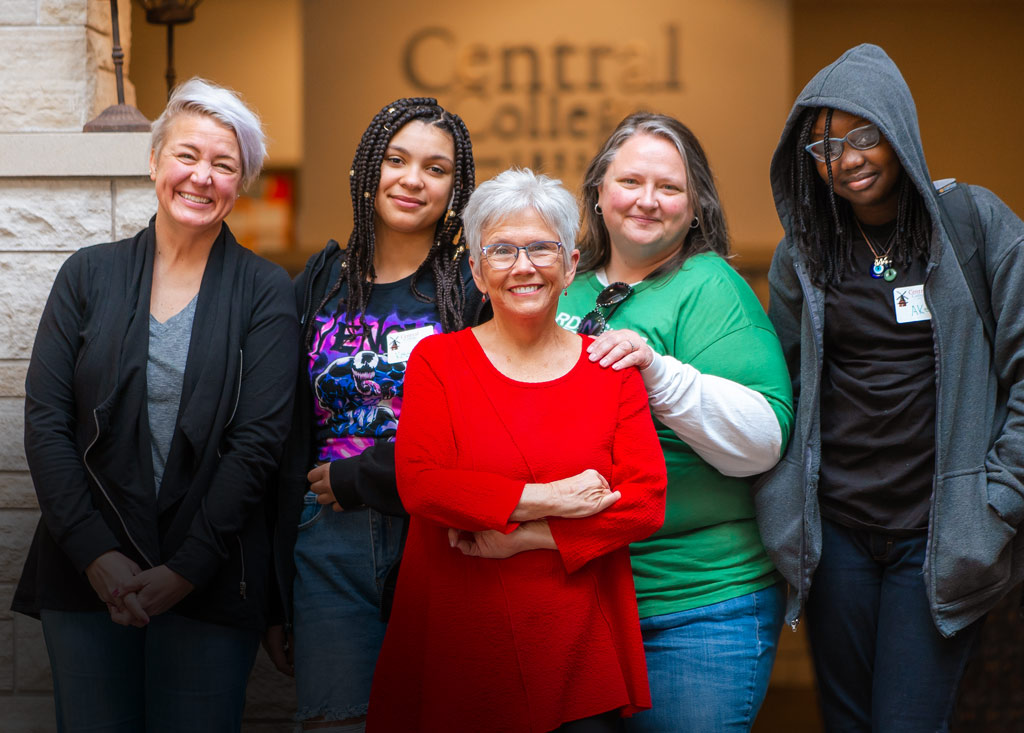 No one has loved their job more than Cheri Trout Doane '98.
Doane, recently retired director of community-based learning and civic engagement at Central College, has connected thousands of students and faculty to more than 100 community agencies and grassroots organizations across the state since 1999.
Throughout her career, she has fostered meaningful relationships to bridge the gap between higher education and the greater community through the college's Center for Community-Based Learning.
And for Doane, being an advocate for the college and its community partners for 23 years wasn't just a job. It was a calling.
Service and civic engagement are the core of a Central education. Doane has always understood the assignment — and it all started for her when she was a nontraditional student at Central.
Humble Beginnings
As a resident of Newton, Iowa, Doane has always been an engaged citizen. Before enrolling at Central, Doane was active in her community as a mom and wife of a small business owner. Her husband, Marty, owned Iowa Bike and Fitness in Newton and Pella before retiring.
"I was always an engaged citizen in my hometown. I was active with the PTA, the hospital board, children's issues and other organizations," Doane says. "But as my children got older, I wanted to do more." Doane enrolled at Des Moines Area Community College and received her associates degree in business. In 1996, she transferred to Central as a nontraditional student.
"The faculty were really happy to have a nontraditional student in the classroom because I could offer a different kind of voice," she says. "I got to know my professors very well."
One such professor was Walter Cannon, professor emeritus of English.
At the time, Cannon was teaching the class Service-Learning Writing — a class Doane almost didn't take.
"I look back and think of the 23 years of bliss I could have missed," she says.
John Miller, now professor emeritus of English, suggested Cannon's class to Doane.
"He said, 'I know how involved you are in your community, and I think you'd like Service-Learning Writing.' I was flattered that my professor thought I would have a lot to offer in that class, but I didn't think I'd have the time in my schedule," she says.
Doane decided to attend the first day of class to let Cannon know she was appreciative of his work with nonprofit partners with the intention of never returning.
The rest is history.
"I didn't care what it would take, I knew I had to take that class," she says.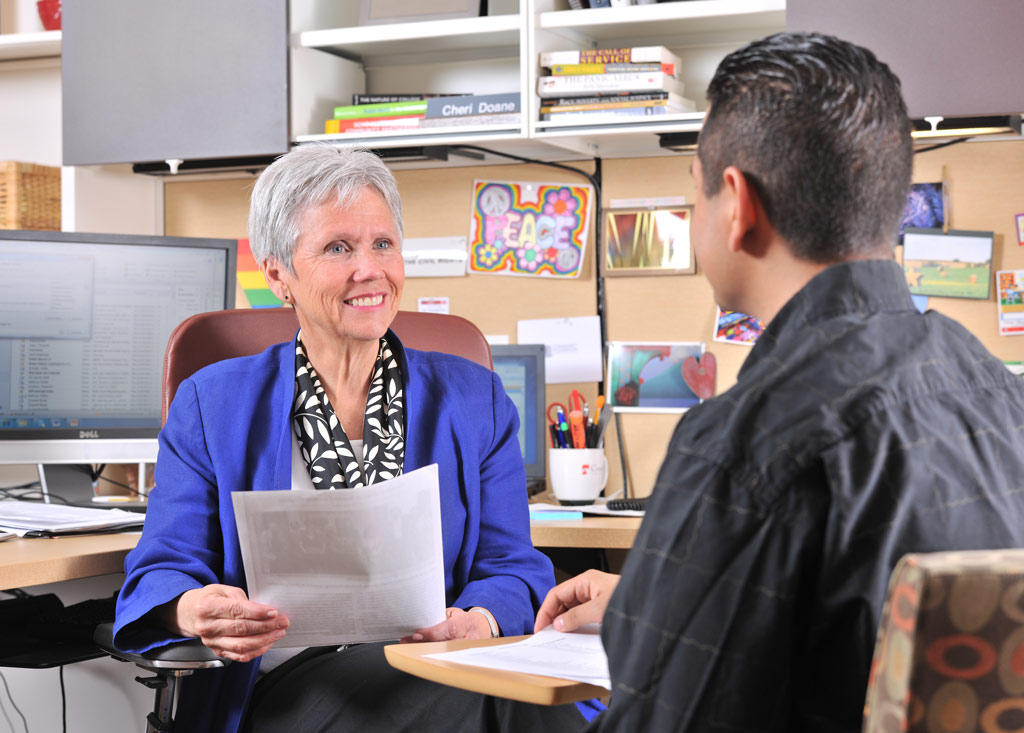 Answering a Calling
In 1994, Cannon was instrumental in obtaining a grant from the Council of Independent Colleges for Central to develop a series of service-learning courses.
"We wanted to get students out into the community," Cannon says. "It was a way to connect students with the outside world and to help the various nonprofit organizations throughout the area continue the good work they were doing."
Service-Learning Writing, now called Writing for Nonprofit Organizations, teaches students to write brochures, press releases, grant proposals and more for a nonprofit organization or agency. As a student, Doane wrote donor solicitations, designed brochures and completed other assignments for Newton Community Education Foundation.
"I fell in love with the idea of acknowledging that expertise can be gained in something other than the classroom setting," she says.
Doane became good friends with her professors — and her classmates. As a nontraditional student, she wasn't quite old enough to be the mother of her peers, but they certainly saw her as a motherly figure.
"They knew they could share information with me they couldn't share with their mothers," Doane says. "So, I became friends with a lot of my peers with whom I stay in touch with to this day."
Doane invited her peers to her home for study sessions and good food. Lasagna, chili and enchiladas were often on the menu.
While fun was certainly had, studying and learning class material was always the main priority.
"My children, who were younger, saw firsthand how hard college students study," she says. "My experience as a nontraditional student is what caused me to fall in love with higher education."
Doane was recruited as an intern in her last semester to help Central make connections with community partners.
"The burden of developing courses that got students engaged with the community was to find organizations that met the goals of our classes while also being helpful to those organizations," Cannon says. "We wanted to have a relationship with them without being a burden. Cheri really understood that dynamic.
"She was a very careful and helpful connector for us. I can't imagine how we would have developed all of this without somebody like Cheri who understood the dynamic from both sides so it was a win-win for everyone. She had the rare gift of understanding people at all levels and walks of life and was able to find ways to connect us so that we all became better."
Fostering Relationships
Doane's first office was in a closet big enough for a classroom-sized desk. Now, the Center for Community-Based Learning is housed within Global Experiential Learning in Geisler Library.
"In a way, the progression of offices tells the story of the college's recognition of how valuable community-based learning truly is," she says. "But I would've worked in a basement if I had to. I loved my job that much." After interning for a semester, Doane became a part-time employee of the college. It was her job, and her mission, to develop relationships between the college and community partners to incorporate meaningful community service with course learning. She did this while also attending graduate school and doing her master's thesis on Central's international education programs and the cultural awareness impact of service learning.
Service and responsible citizenship have always been core ethos of the college. Doane understood this. And she knew how to help students live up to these principles.
"In the late ̓90s, Central recognized that it's not just a matter of saying 'Our students are learning to be good citizens.' It recognized that service learning could serve as a vehicle to advance our mission about preparing students to serve their communities and to develop intercultural competence and more," she says.
Doane's research showed that students who had the opportunity to learn outside of the classroom in a community setting were achieving academic outcomes at a higher rate.
"What I began to understand early on is that if we let community well-being drive us, that those goals, those outcomes for students, would be attained," she says.
As Doane and the college continued to tweak the program, they began emphasizing community voice.
"We didn't look at community partners as just a placement site. We looked at them as co-educators," she says. "We recognize that there is expertise that resides outside of our institution, and that's what sets Central apart from other institutions. Our community-based learning program is shaped in ways that emphasize community participation." Doane recognized that fostering relationships with community partners was key for the community-based learning program to be successful. Relationships cannot simply be transactional.
"We need to let community partners identify their own needs rather than the college telling them how they should do things," she says. "The latter is not how you create meaningful relationships." Doane also recognized that faculty support was crucial for the program to grow and become sustainable.
"I knew that if I worked hard enough, the professors would see the results of this impact on their students and that it would catch on," she says. "Our professors are willing to be vulnerable, to allow another expert in the community, to teach students things they simply cannot learn or truly comprehend in the classroom alone. As long as our faculty continue to support our work, it's always going to work."
"One of Cheri's greatest contributions to service learning and civic engagement at Central has been through faculty development. Generations of faculty have been supported to develop courses and learned how to design reflection assignments that truly enhance students' learning from their service experiences," says Peggy Fitch, professor emeritus of psychology and Title IX coordinator and equity officer.
Leader, Mentor, Colleague, Friend
Today, Central is a leading institution of community-based learning. The college has been named a national top five institution for community service and is one of the few institutions that has a designated community-based learning office and program.
Each year, 400 students participate in academic service-learning, and hundreds more get involved through other volunteer opportunities like Central Service Day.
The college has partners in Pella, Newton, Knoxville, Ottumwa, Oskaloosa, Des Moines and other surrounding communities.
The college has been regularly recognized on the President's Higher Education Community Service Honor Roll for distinguished community service in recognition of extraordinary volunteer efforts by the school and its students.
In 2015, Central achieved the prestigious community engagement designation from the Carnegie Foundation for Advancement of Teaching. Central was one of six Iowa colleges and universities to receive the Community Engagement Classification.
"It's very difficult to truly express Cheri's impact on community-based learning and civic engagement at Central," says Jessica Klyn de Novelo '05, associate dean for career development and civic engagement. "Over the past 20-plus years, Central's community-based learning program has grown from a mere idea into a robust, holistic, nationally recognized and award-winning program benefiting thousands of students."
Katie Zellmer Sylvis '14 participated in service learning all four years at Central. Her experience volunteering for refugee programs through AmeriCorps changed the trajectory of her career — and her life.
Sylvis came to Central with the goal of working for a museum. Now, she's the AmeriCorps program director for Habitat for Humanity in Des Moines.
"Community-based learning is a great way for people to learn about different careers that are in the nonprofit sphere. You don't have to be a successful scientist or a businessperson or a broker. You can be successful at a nonprofit. This is a great way to learn how to better your community but also be successful yourself," Sylvis says. "Because I had that experience with Cheri, she continued to mentor me throughout my career, and she still does. I still turn to her whenever I have issues or I want to change jobs like, 'How do I handle it? What should I do?' She's always a great person."
Carmen Zeitler Lampe, former executive director of Children and Family Urban Movement in Des Moines, worked with Doane for 15 years. Together, they brainstormed and had impactful conversations with other organizations. Lampe always referred to Doane as the "guru of community-based learning and civic engagement."
"I just had a friend say the other day there are so many great ideas, but not enough energy. But Cheri seemed to really be able to come up with the energy, and there is a vitality and vibrancy about her as a person. It fueled her personality; who she is at her core fueled this work in a way that you really couldn't plan or prepare for," Lampe says. "It was just this great coming together of many gifts and many needs and trying to come out on the other side with everybody more whole and engaged and compassionate and smart."
Kate Nesbit, assistant professor of English, had never encountered a program like Central's. During her job interview, Doane persuaded Nesbit to teach at the college with her unmatched enthusiasm for the work she did in community-based learning.
"Cheri is just a presence. There are few people who can shift the energy in the room in such a positive way. When she's excited about something, which she often is, she makes you excited about it. I tend to be kind of cynical and a bit downtrodden about the state of affairs, and she is someone who really challenges me to step out of that because she's realistic," Nesbit says. "She encounters, in a really serious way, the challenges we face in our communities here in Iowa and in the nation at large. She does so in such a solution-oriented way that takes real hope and inspiration from the activists and partners who are doing the work in our communities.
"She's really challenged me to look at social justice in a different way. I will miss that. I will miss the way that she energizes me and my students to care about issues and to become involved in our communities," Nesbitt adds.
An Unforgettable Impact
Like any professional who is truly passionate about their work, the thought of retirement can be difficult. Doane knew it was time to pass the baton on to someone else.
Many students, faculty, colleagues and community partners say superseding her won't be easy. Central President Mark Putnam knows Doane's work was so much more than organizing volunteer service.
"The measure of one's success is not what happens during their time, it's what happens after their time," he says. "Because if it can be built on, and it can be strengthened and grown, then the work is the worthiest work that was done here. Cheri will be succeeded in some form, but she'll never be replaced."
The impact Doane had on service learning and civic engagement at Central is immeasurable.
"Even as we plan for the future, Central's engaged citizen curriculum model has Cheri's fingerprints all over it. Her impact is not about the program alone — as that will change and evolve over time — but the imprint of Cheri's work has manifested itself into our DNA," Putnam says. "In the most positive sense, we've mutated to a place where the notions of sustainability have converged with civic engagement and the discourse about social justice — and all of this is represented in Central's core curriculum."
Her position is a big seat to fill, but she knows the program is in good hands.
"I will miss it terribly, but I do not regret leaving the program in the hands of the people who are going to continue it," Doane says. "It will carry on without me with no hiccups.
"Nobody has ever had a job they love more than I do, unless maybe it's Oprah. The intersection of community and education, that overlap, was the sweet spot for me. I have loved my 23 years at Central College."
Erin Kamp, content specialist — editorial, and Denise Lamphier, executive director of communications and marketing, contributed to this story.