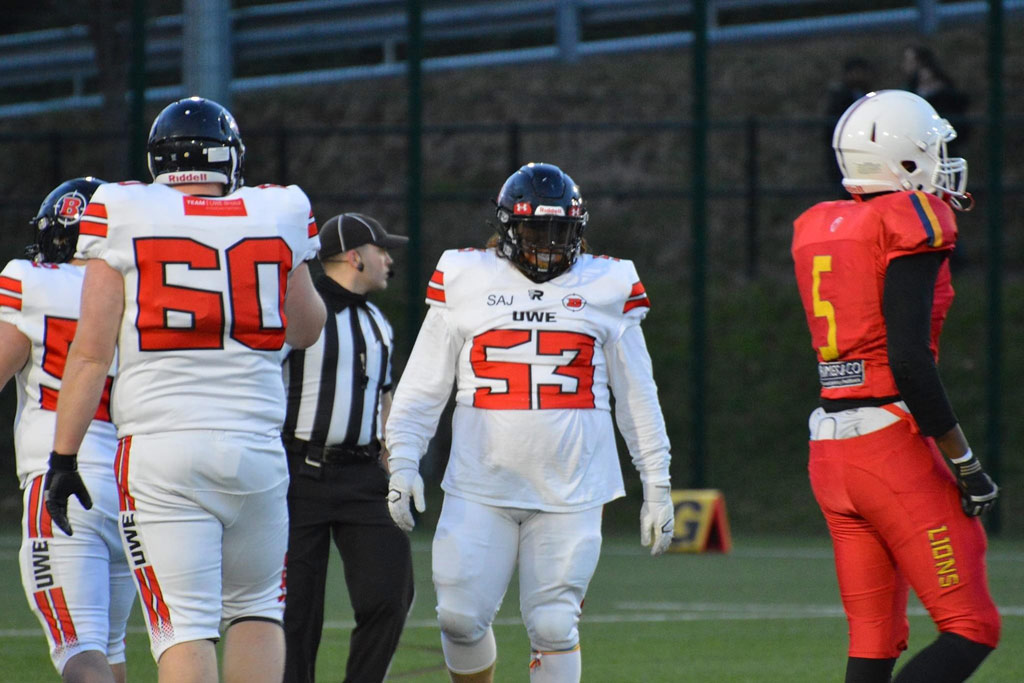 As he began pondering life after Central when 2020 dawned, the logical side of Jake Suggett '20 conceded it was probably a good thing that his football career was over, having spent more than his share of time in the athletic training room.
Nonetheless, football at Central for Suggett was a ride to remember as the Dutch rallied to win a share of the American Rivers title in 2019, his senior season, when he served as a team co-captain. Central then staged the biggest rally in school history by coming from 24 points down in the second half to overtake the University of Wisconsin-Oshkosh in the NCAA Division III playoffs. But the Dutch were unceremoniously ousted the following week at Wheaton College (Illinois) 49-13.
Suggett completed his degree in engineering, yet his fire for football still flickered brightly. He spent the 2020-21 year completing coursework and volunteered as an assistant to Dutch offensive line coach Eric Jones '87 during the pandemic-modified season. A future in coaching seemed like the next-best option to competing. As he spent part of his winter break searching for graduate assistant coaching positions, an ad popped up for Play Overseas, an organization that facilitates opportunities for pursuing graduate degrees in the United Kingdom while also playing American football.
Suggett's eyes froze on the ad. A new postgraduate possibility flashed onto his mental list of options as quickly as the ad had jumped onto his computer screen: He could play football.
"I thought football was done forever," he says. "And here I am now."
Where he is now is the University of West England in Bristol, a harbor town about an hour away from Cardiff, Wales.
Put Me In, Coach
The coach in Bristol liked what he saw on Suggett's Central film and contacted him. The former Dutch offensive lineman is now pursuing a master's degree in engineering management while also playing football. Unlike in the U.S., there's no limit to the length of a collegiate playing career in the United Kingdom.
"As long as you're in school, you can play," says Suggest, who started the 12-month master's program in September 2021.
Suggett isn't even the first in his family to play football in Europe. He made his first trip there as a youth in 2010 to watch his stepmother, Melissa Gallegos, play in Sweden for Team USA. The team won a gold medal in the International Federation of American Football Women's World Championship.
"I was pretty young, and it was before I really got into playing football," Suggett says. "Yeah, that was a blast going to Sweden, but I was young and don't think I really appreciated everything as much as I should have."
The talent level for British collegiate football sometimes exceeds the intensity. Because both graduate and undergraduate students compete, the players' ages often range from 18-30. Many of the British students are new to the sport and they play next to experienced, former American collegiate players. Suggett is among 17 American players on the UWE squad, which numbers less than 50 players, less than half of a typical Central squad. The UWE quarterback played at the University of New Hampshire, Suggett says, and a defensive back played at Iowa State University.
What's It Like To Play Overseas
"It's kind of everywhere on the spectrum," Suggett says. "It's anywhere from players who have been playing the sport for three months to playing against a professional who has just come back to school."
The year-round training and practice obsession is chill compared to American standards.
"It's definitely not what I'm used to," Suggett says. "It's a little bit laid back. If I had to guess, it doesn't seem like they get in the weight room a lot. And a lot of time we only practice out here twice a week. I'm only practicing for four to five hours a week with a little bit of film here and there. They don't put as much time into it. The biggest difference is the football IQ level."
University teams are placed in two levels. UWE is among about 10 teams in the top tier, the Premiership, playing in the South Division. All home games are livestreamed on YouTube so family and friends in the U.S. can watch. Few of the game fields have seating, so around 200 fans engulf the benches and sidelines.
"It's a little different experience with having the fans on the field right next to you," Suggett says. "On fast-change turnovers, you have to run between people."
The schedule also differs from those in the U.S. Games start in November before taking a break in early December. Play resumes in late January, with the national title game in late March.
But it's football, and that's all that matters to Suggett, who also appreciates the proximity to the rest of Europe and the opportunity to travel as COVID-19 restrictions ease. "It's been a blast so far," Suggett says.
Savoring the Moment
The location for resuming his football career after two years was dramatically different — but so was Suggett's perspective as he returned to the field for his first British game.
"I was putting on that helmet and I think that is when it really first hit me," Suggett says. "I thought that was a feeling I was never going to get again. It makes you rethink everything. I definitely have great appreciation for the game. At Central, I really don't think I took every rep (practice repetition) as potentially my last. I don't think it hit me until that clock hit zero at Wheaton that, hey, you're done. I took it a little bit for granted. But now, every rep and every game I get to play is something extra that I wouldn't be having without this opportunity."
It's a feeling his American teammates at UWE are savoring as well.
"I'm out here with a lot of other people who really didn't know what we were getting ourselves into," Suggett says. "And we all had that moment when we thought football is done. I kind of just take the approach every single time to go out there and have some fun."
And now that he's there, he's not ready for the ride to end.
Since UWE used a last-minute score to capture the national championship in late March, a couple of European professional teams have contacted Suggett, offering housing and a small paycheck to play in a league in Germany, Finland, Spain, France or elsewhere.
"Right now, Germany's considered at the top with the German Football League," Suggett says. "It's starting to get a little bit bigger. And there's the European League of Football and they have teams from all over."
The professional season launched in April and Suggett's professors would have allowed him to complete his degree remotely, but he decided to decline the professional offers for now. He'll remain in the U.K. and continue working out, keeping the door open to playing professionally next summer.
Travel and Academic Plans
Even if Suggett doesn't play professionally, a perspective-altering 2018 trip with the Central football team to Germany, Austria and Switzerland left him eager to return to the European mainland.
"I want to go back to Germany," he says. "That trip to Munich was eye-opening. There was something about it. I absolutely loved the city. And I want to get up to Sweden. There's a whole bunch of countries I have on my watch list. I just have to sit down and figure out everything with flights and all that."
Suggett is in Europe for more than sightseeing and football. He values his academic work, which differs from what he experienced in the U.S.
"It's hard to compare," he says. "I'm doing papers and presentations rather than calculations and written exams."
Cultural differences ramp up the degree of difficulty.
"Even though we speak the same language, there is a language barrier, I've learned," he says. His unfamiliarity with the British business world creates barriers as well.
"We're presented with these case studies about companies that are like our Walmart, and I raise my hand constantly, saying I've never heard of this," he says.
It parallels the adjustment Suggett made in journeying from his Chula Vista, California, home at age 18 when he enrolled at Central.
"Going pretty far away from home in San Diego all the way to Central really helped me build a foundation to be OK from here," he says. "Even though I know I'm a lot farther away from home than I was at Central, I still feel like I've been prepared because I couldn't go home every weekend.
"And then obviously everyone at Central just welcomed me with open arms. That was huge. There are a lot of life lessons that I can take away from Central and from football and coaches. Central has definitely prepared me for taking on this life adventure."
Magic
Even from six time zones away, Suggett took special satisfaction in Central's undefeated season and NCAA playoff run in 2021 — and perhaps the completion of some unfinished business from his own playing career. His memorable 2019 season ended with a thud, with the trouncing at Wheaton.
Consequently, Suggett shared his younger Central teammates' feelings of redemption when the Dutch staged an epic 30-28 walk-off second-round playoff win over Wheaton at Pella. He watched every stomach-churning snap from a dormitory in Great Britain.
"I was in my room screaming," Suggett says. "My housemates were wondering what the heck was going on. I was jumping off the walls. I was going crazy, just watching that last drive. But I just knew there was a little bit of magic left on that field after we did it against Oshkosh (in 2019)."
Some of Suggett's Central teammates are already launching careers and drawing salaries, but he wouldn't trade his European adventure for a minute.
"I know a lot of the guys are doing what they love and I'm happy for them," he says. "But getting to still play this sport that I love is definitely a dream. If the body didn't get old, I wish I could play forever."