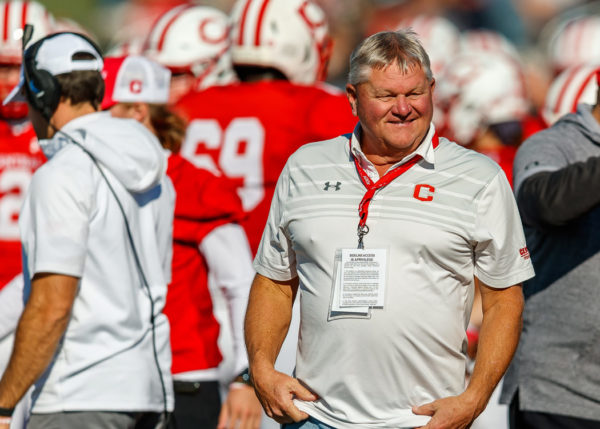 Jean De Waard didn't even want to discuss it.
After a semester at Dordt College, Don De Waard '82, above, had lost interest in studying and returned to work on the family farm near Kanawha, Iowa. A few years later, the De Waards had two young children, were established on the farm and their future was seemingly set.
But in 1978 Don made a couple of visits to Pella to see his younger brother Bob '82 at Central. Witnessing a come-from-behind Dutch football victory in the season finale sparked memories of playing the game he loved, and notions of a new life path began stirring in his mind. As he watched a Friday night game back at Kanawha High School, De Waard's vision started taking shape. Afterward, as his car's headlights pierced the darkness down the quiet country road home, he finally floated the idea to Jean: He thought he needed to go back to school because he wanted to coach.
Jean's response was quick and firm.
"I said, 'I don't think so and don't ever bring it up again,'" she says.
Jean's immediate thought was of caring for their two children.
"My mom and dad lived right across the section from us," she says. "And his mom and dad lived about five miles away. And we had just built a brand-new house on the family farm. And we had just had a baby. I thought, 'Oh, no, we can't do that.' But we did."
The Football Conversion
De Waard enrolled at Central in 1979, moving from the new house on the farm to a double-wide trailer in Pella. To help support the family, three days after the move, Jean, who had attended Iowa Lakes Community College, began working an overnight shift at a care center as a licensed practical nurse.
She gradually began to embrace De Waard's dream, developing a shared passion for Central and Central football that spawned a multi-generation connection. Jean was too busy taking care of her young family in 1978 to even ponder the idea of De Waard eventually coaching football at Central for 35 years. Telling her that her husband would someday serve as Pella's mayor likely would have met the same have-you-lost-your-mind stare he received for his idea about returning to college.
De Waard's Central football playing career was a short ride. He won a starting spot at center but the night before the 1980 season opener, Coach Ron Schipper delivered bad news. Because De Waard had started college in 1974, by 1980 he had exhausted his eligibility. Schipper's last-ditch appeal was unsuccessful. The NCAA rule was amended shortly thereafter, but De Waard's playing career was over.
Instead, Schipper welcomed him as a student coach and after graduating with an accounting degree, De Waard remained on the staff as linebackers coach. He took a hiatus when he and fellow certified public accountant Jeff Van Maanen started an accounting firm in 1983. He returned in 1984 because he missed coaching so much. He rearranged his office schedule and eventually became defensive coordinator. He remained on Central's coaching staff until 2015.
On the Defense
It was a remarkable run, energetically prodding the defense as Central posted a 302-75 record in that span with 18 Iowa Conference titles and NCAA Division III playoff berths, 19 playoff victories and two NCAA title game appearances. In 2000, the American Football Coaches Association named De Waard the Division III Assistant Coach of the Year.
"He has a great football mind," says longtime Dutch assistant Jeff Bollard '89. "He could come up with a scheme against the opposing team without much effort, it seemed. I think the other thing is his ability to evaluate talent. After three or four practices, he was probably 90-95% sure what kind of a career a kid was going to have."
Despite his accounting background, De Waard doesn't dwell on the numbers. Others should. De Waard's defenses posted a remarkable 57 shutouts, with five in 1985 and 1994. That 1985 defense surrendered just 173.1 yards per game. De Waard's teams recorded 20 or more interceptions in 10 seasons, including 29 in 1988. Four times the Dutch picked off six passes in a game. And Central posted eight safeties in 1992 and 1994.
Players appreciated both De Waard's knowledge and his passion.
"He's a super-intense coach, obviously, but the guy is a student of the game," says Ron Saak '90, an all-America linebacker for De Waard. "Defensively, he was a mastermind. He would put us all in an excellent position and be prepared for the opponent and what they're going to do against us."
De Waard was quick to give a voice to that intensity, and everyone on the field heard it. Bollard's press box headphones were on the other end of the line from De Waard and his ears were filled with unfiltered assessments of Central's play as well as the officiating. But De Waard never let frustrations hinder his focus.
"He knew how far he could go," Bollard says. "But he always kids me that I had to listen to him yell all those years."
Heart Behind the Heat
Players knew there was a caring heart behind the heat.
"That's why he could yell at them and then turn around and put his arm around them, just like Skip (Schipper) did," Bollard says. He recalls the first time his son Ben '07, an Academic All-America defensive back, was on the receiving end of a De Waard outburst.
"I said, 'Well, Ben, you've arrived now because Coach De Waard wouldn't yell at you if he didn't think you were any good.'"
De Waard concedes he doesn't mask his feelings.
"I'm competitive and I love that part of it," he says. "But it was the relationships with the guys that was the real joy."
Central was a part-time job but a full-time commitment, not only for De Waard but also for his family. Jean has served as secretary-treasurer of the Central Club since 1988. Their son Shawn '02 was an all-conference defensive lineman for the Dutch while daughters Sherri '00, Amy '04 and Angie '04 rarely missed a game.
"Our whole family got involved," Jean says. "We went to all the games and it was good family time. Don would go on the bus to games and we would travel either that night or the next day."
Their grandson, Cole '25, is now a Central freshman.
"This place is very special to me, obviously," De Waard says. "I think kids get treated well here and I just think it sets them up for success later in life. I hear Cole talk about some of his professors, the things they say and how they help him. I just think that people at Central have kids' best interest in mind."
The Dutch players are more than jersey numbers to the De Waard family.
"I had lunch with Don not long ago and there are some lasting impressions on me, even from his family," Saak says. "I've seen his son recently, I've seen his daughter, and they remember way back when I was playing and I remember them as young kids. And Jean, what a special person. They've always treated us so much like family and even brought us into their home. Those relationships are extremely deep and still important to this day."
A Winner on and off the Field
There's so much more to De Waard than football, which is why he was never interested in chasing a full-time head coaching job. Beyond helping run an accounting firm, De Waard also owned a tire business for nine years and has quietly been a guiding force behind countless real estate and business development projects, most notably the Molengracht plaza — a Dutch canal, hotel and business complex in downtown Pella.
Less widely known but even more impactful are the fiery football coach's quiet acts of charity and compassion, such as working one-on-one with elementary school children on reading skills or lending support to former players in need. He has frequently accompanied Jean on medical mission trips to Honduras and other Central American countries doing work for Partners Worldwide, a Christian organization that promotes business development as a means to end poverty.
He also helped promote football internationally, accompanying Schipper in coaching a team of Division III all-stars sponsored by the American Football Coaches Association each December at the Aztec Bowl in Mexico. De Waard remained involved when that game morphed into Tazon de Estrellas (Bowl of the Stars) without AFCA support, serving as U.S. head coach for the final six seasons.
De Waard's entrepreneurial work often required interacting with local governments and when the Pella Area Community and Economic Alliance was formed, he volunteered to serve on an economic development committee. Like a defensive coordinator dialing up a safety blitz, De Waard moved boldly to spur housing development efforts.
"I started going to these meetings and all everybody was talking about was our need for housing in this community," De Waard says. "There was a housing study done that said Pella was going to need 966 housing units by 2025. Well, I sat in on these meetings and people talked and nobody did anything. So I started making some phone calls and obviously had some relationships built up through some of my other development work. Pretty soon we had plenty of private investors that were ready, willing and able to help address this need.
"In the meantime, I guess people that are on that committee appreciated that I got something going so they said, 'You need to run for mayor,'" De Waard says. "I think I told them no at least a dozen times but finally in 2019, I said, 'OK, I'll give it a shot.'"
The criticism the position inevitably attracts doesn't concern him.
"Well, for 35 years every Saturday somebody was mad at me, so I'm very used to that," he says with a laugh. "I was well-prepared to have people not like a decision I made.
"I'll take the heat for bad decisions. So many decisions you make, whether it's in coaching or as mayor, at the time you make it, there's no guarantee that it's exactly the right thing to do. Hindsight always makes it easier. But you've got to take risks and make those calls."
He makes more good calls than bad, according to Karen Eischen, PACE executive director.
"I have never seen a mayor that has more passion and a more optimistic outlook for a community than he does," Eischen says. "It's just awesome to work with him. He's always willing to find a way to make things work. It's pretty easy to just say no, but he usually thinks about it and, if it's right, and it can work, he usually finds a way to do it. He really takes time to listen to people and find out what they're feeling and thinking and dreaming about."
On the Goal Line
Unforeseen obstacles routinely arise, ranging from the global pandemic to controversy over library books. Nevertheless, many major initiatives are surging ahead, including Pella Fiber, a city-wide fiber-optic network, as well as a proposed indoor sports complex and, of course, a flurry of housing construction.
"In order to do a project where you're trying to get (housing) volume rapidly, because the demand is there, you need builders that can handle that," De Waard says. "We've gotten two Des Moines builders to come in and they're building lots of houses in a hurry. And the word is out there. We're getting a lot of inquiries about more development. So we'll be a little over halfway to that 966."
It helps to have eager partners.
"Pella is a pretty good place to be mayor because we can accomplish a lot of things that a lot of communities can't, just because of the support we get here," De Waard says.
He's open to remaining in the job as long as it leaves fall Saturdays free. He serves as an analyst for KRLS radio football road game broadcasts. But home games find him firmly planted in his favorite spot on the planet, on the Central sideline, positioned near the goal line.
His Forever Dutch® status endures.
"When I gave up coaching, I said I wasn't leaving the program, but changing my role," he says. "I'm just a fan. But fortunately, Jeff (McMartin '90) allows me to come down on the sideline. In my life, there's nothing quite like being on the sideline during a football game. I look forward to Saturdays now almost as much as I did when I was coaching."
On the sideline, but as always, in the middle of the action.