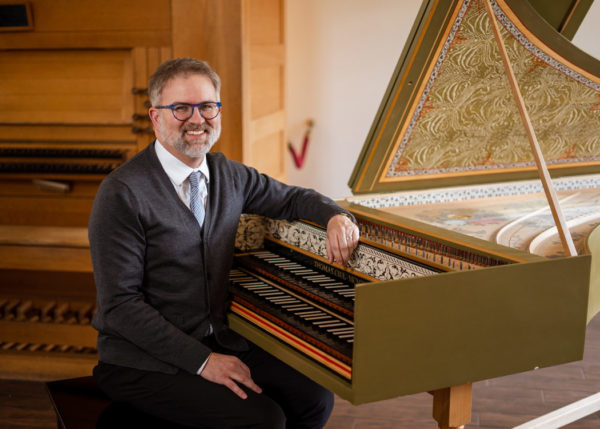 Back in the fall of 2017, when I began my job as a new Central College music faculty member, I was delighted to discover the music department housed some marvelous treasures. With its spectacular Fazioli concert grand piano and the beautiful Chapel organ, the college is a treasure trove for lovers of keyboard music.
But it was two different instruments at Central that particularly intrigued me. Alongside the Chapel organ sits a two-manual Flemish harpsichord. In Cox-Snow Music Center is a fortepiano, the 18th-century precursor to the modern piano. These two gems are exquisite, hand-crafted replicas of 18th-century keyboard instruments. The college acquired both instruments in the 1990s, and I was sad to learn that they had been sitting unused and in a state of disrepair.
Luckily, I was able to consult with one of my distinguished predecessors, Carol Lei Breckenridge, professor emerita of music, who was responsible for selecting these instruments for the college. In addition to giving me a crash course in early keyboard tuning, Carol Lei advised me to look up Edward Kottick in Iowa City, who agreed to repair the instruments. Ed enjoys an international reputation as a historian of early keyboards and as an instrument builder and technician. By the fall of 2019, both instruments were back at Central and in good working order.
So, of what use are these (replica) relics of the Old World to a 21st-century college student, anyway?
Well, as it turns out, a fairly significant chunk of the piano teaching repertoire originates in 18th-century Europe. That means many of the composers we study today wrote keyboard music that was intended not for the piano, but for the harpsichord or fortepiano — including harpsichord masters such as Johann Sebastian Bach, George Frideric Handel and Domenico Scarlatti, as well as fortepiano maestros such as Joseph Haydn, Wolfgang Amadeus Mozart and Ludwig van Beethoven.
Whenever my piano students are studying music from that era, I always give them an opportunity to experiment with these beautiful instruments. One of the first things students notice when trying out the harpsichord or fortepiano for the first time is how very quiet the sound is. It is a striking reminder of the sound world of a pre-industrial culture in which hearing music of any kind was a special and fleeting experience. Students often are enamored of the unabashed intimacy that such quietness requires — you cannot make extraneous noise, or you completely overshadow the instruments!
Students are fascinated by the differences in tone when compared with a modern piano and are sometimes curious about the inner workings and mechanics of the instruments. We often disassemble portions of the instrument for a "behind the scenes" look at the craftsmanship that makes it all possible.
Playing these instruments opens a window for students into the original sounds the composers heard when writing their music. And when introducing the basic concepts of technique needed to play these instruments effectively, students often come away with a fresh idea in their minds about the stylistic elements of this music, resulting in more convincing and enjoyable renditions for player and listener alike.
These instruments bring Central students into direct contact with the creative past through the high-impact learning environment of private music lessons, and lead them to create richer, more contextualized artistic statements for the present.