Question: What do you get when you add a pinch of adventure to a dash of destiny?
Answer: A buffet of life experiences zested by Central College! (Things are about to get corny.)
If life can change in the blink of an eye, it's safe to assume a lot can happen in 23 years. So, it came as no surprise when Iwan Williams, director of dining services at Central College, took on an air of astonishment while recollecting the journey to his current seat at the table.
Coming to America
Williams first made his way to America — and Central — in January 1999 when the college had a connection with the University of Wales Trinity Saint David in Carmarthen, United Kingdom. He was studying theatre, music and media, and was given the option of completing media-related work experience in Wales or taking courses at Central for a semester during his second year at Trinity.
It was a no brainer for Williams, and he took his first-ever flight out of the U.K. when he and eight of his classmates boarded a plane at Heathrow Airport in London, England, bound for John F. Kennedy International Airport in Queens, New York.
"I had no idea what Iowa was," Williams admits. "At that time, the internet was there, but you would never think about Googling something to find out about it. So, I came here totally blind."
Mercifully, arriving to a snowy January in Iowa didn't put a damper on Williams' Central experience.
"We had a blast. I lived with the Thetas in Poling Townhouse — that was an experience," he chuckles. "I remember going through my first tornado warning, and when I was here, I met my wife."
Once Williams departed from the states in May 1999, he and now-wife, Jessica TerLouw Williams '99 took turns traveling between the U.K. and the U.S. before they married in 2001. However, their back-and-forth relationship didn't end after marrying.
"We had to file paperwork, and 9/11 happened a couple of months after we got married, which slowed the process down," Williams explains. "Our first 10 months of marriage, I was over there, and she was over here."
When the dust settled, Williams moved to the states — on the Friday night of Tulip Time in 2002, no less. From there, he began working in a restaurant.
"I did theatre, music and media in college. Obviously, that's why I got into the food industry," he jokes. "I joke a lot about doing theatre and then going into the restaurant world, but food is everywhere. Wherever you go in your life, there's going to be food.
"If you need a stopgap job for a couple of months, there are going to be restaurants, cafeterias and those kinds of places; that's what happened for me."
This wasn't Williams' first trip to the buffet. In fact, it was familiar territory for him.
"I'd been working at a restaurant in Wales when I was growing up," he says. "And I needed a job when I got here. So, I thought, 'I'll just do food for a while.'"
Williams worked for a restaurant in Pella before the couple moved to Des Moines, and he transitioned into food service at MercyOne Des Moines Medical Center. He stayed there until Jessica got a teaching position in Pella about five years later.
International Cuisine
Williams had a relationship with the Greek owners of Kaldera Restaurant & Lounge — which has since been sold and turned into a Mexican restaurant — and worked there during the inaugural year of service until a position opened at Central.
"The hours are better than restaurant hours," Williams explains of his decision to work at Central. "My first year I was a night cook, then I applied for a job to manage Grand Central Station, which is where Fred's is now."
He was hired as the manager of Grand Central Station in the summer of 2010, which he successfully managed for three years prior to being asked to apply for a position with more responsibility.
"I was asked to apply for an assistant director of catering position, because Tony Bethards '72, the director of catering at that time, had been here for a long time and he was in his last few years before retirement. He wanted somebody to try and learn with him before he left," Williams recalls.
Bethards spent the next two years mentoring Williams, who focused on maximizing the impact of Bethards' expertise before taking over as the director of catering.
"It was a huge learning experience before entering the director of catering role," Williams says. "I was able to do the catering for two years, so I knew a lot about the operation coming into the director position in 2017."
A New Pear-a
The best leaders impart a growth mindset as a legacy. Naturally, Williams' approach to leadership over the past five years as director of dining services reflects the progress-focused leadership that came before him. He monitors other restaurants and businesses in the food service industry to stay abreast of best practices. One thing he noticed while browsing menus was the inclusion of kids' menus.
"I thought, 'I wonder if we could do something with that,'" Williams muses.
And he cooked up the idea of creating a kids' buffet at Central Market. Macaroni and cheese, chicken nuggets, mini corn dogs, smiley face fries and cut fruit — all the comforting foods of childhood served up on a nostalgic platter.
It wasn't a flip decision. And Williams hoped it wouldn't be a flop.
"The first day we put that on the menu, I was nervous," Williams confides. "I had only been in this position for a semester before that, and this was the first menu I had influence on. I wondered, 'How are these college kids going to feel about me putting a kids' buffet on the menu?'"
He didn't have to wait long to find out. Williams had an email from a student waiting in his inbox the same evening the menu debuted with the subject line "Kids' Buffet."
"It said something along the lines of, 'I just want to congratulate you on the best meal I've had; it took me back to my childhood!'" Williams says. The kids' buffet has held the title of most popular menu selection since its introduction.
Top Chef
Though Williams now occupies the corner office in Central Market — complete with a former Grand Central Station sign as wall décor memorabilia — he doesn't desire to sit behind a desk all day every day. Instead, Williams finds himself in the center of the action multiple days a week.
"When I got the job, one of my main things was I did not want to be the focal point of this unit," Williams explains. "I'll run it, I'll manage it, but I don't want to be stuck in the office. I do the cook-to-order stuff on the grill. I'm usually out there at least three times a week."
The cook-to-order menu has built-in variety from student favorites like brisket quesadillas and Burger Bar to the college's attempt at joining the pop culture "chicken war" by offering a flock of chicken options like the grilled chicken, breaded chicken and spicy breaded chicken bars. Central Market staff also regularly serves crowd-pleasers like cook-to-order Mongolian on Fridays and the always-popular chicken tender wraps.
Feeding the campus community — which is the equivalent of a small city — three square meals a day is no small feat. And the menu options require both variety and flexibility to accommodate for student preferences and needs as well as consistency for ordering and preparation purposes. "We have a four-week cycle of a menu, and we run that for a whole semester," Williams says. "We review the menus before the beginning of each semester to take off menu items that didn't work and put some new ideas on there.
"We're always looking for feedback. It's the students' place — they eat here every day of the week, multiple times per day. We want to know what they want."
You Want It, Iwan's Got It
Central Market has stand-out food service for a collegiate institution. In years past, students with special dietary concerns like needing gluten-free or dairy-free options would reach out to Jenna Youngblut, assistant director of dining services, to go through menus and determine options moving forward. And they still can … but not many are.
"We have noticed over the years, the usage has declined," Williams says. "The number of students with dietary needs isn't going down; it's going up. We are just doing a better job of having more options available to cover dietary needs."
There was always a vegan/vegetarian station in Central Market, but about three years ago, a gluten-free station was implemented.
"The gluten-free station stemmed from a student request for a gluten-free station to give gluten-free students more options," Williams says.
Now Central Market also has a cooler with yogurt, snacks, ingredients to make sandwiches and more to better fit students' needs. And if students are still anxious about dietary restrictions; getting too much or too little food; or other general concerns, Youngblut is always available for consultation.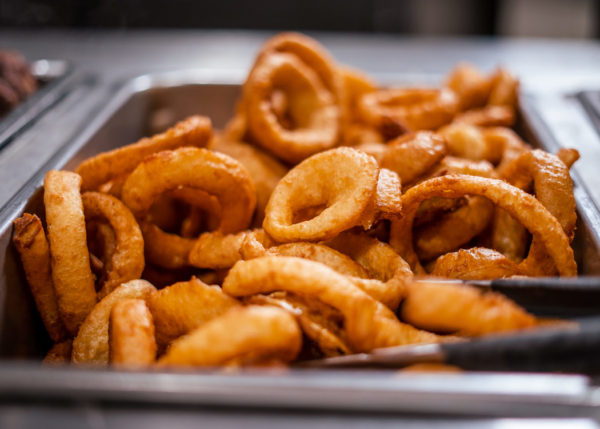 It's all about balance … balancing a plate of hot, crunchy onion rings in one hand and a crisp, fresh salad in the other!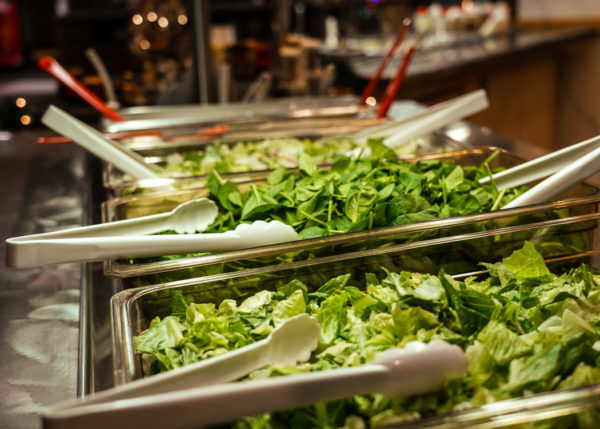 The Main Courses
Central Market is the college's primary dining facility. But it isn't the only dining facility on campus, and it's not Williams' only management responsibility.
Central also has Fred's — formerly Grand Central Station — and the Global Café at Geisler Library, a traditional coffee shop with coffee, tea and fountain drinks as well as baked goods, fresh fruit, salads and sandwiches.
"Fred's has fast food and grab-and-go items," Williams shares. "Fred's is open when Central Market is closed, and when Fred's closes, the market opens back up."
In addition to other on-campus food service locations, Central also offers on- and off-campus catering. Big campus events are catered onsite by Williams' team. They also cater to many companies in the Pella community.
"We do a lot of catering for Vermeer, Pella Corp., Precision Pulley and Idler," Williams says. "We're lucky we have a lot of big companies here in town; it definitely keeps us busy."
Central women's golf; Lowell Olivier-Shaw, conference coordinator; and Central's catering staff teamed up to provide supplies for the inaugural Kerstmarkt, Pella's Dutch Christmas Market, in December 2021.
"They did all the legwork for the event, and we provided the batter for the olibollen (Dutch doughnuts) and hot chocolate," Williams shares. "We also provide all the batter for the Kiwanis poffertjes stand, which is busiest during Tulip Time. Last year, we did about 500 gallons — and you get a lot of poffertjes out of a gallon!"
Williams also supplies Central Dutch concessions stands, with the main job being the football concessions stand. Though athletics teams manage the concessions staffing needs, Williams and his team still process and fill supply request orders.
It's the Little Things
Central Market is a self-operated facility, unlike most other collegiate institutions.
"There are so many organizations run by consulting groups," Williams says. "Being self-operated gives us the ability to listen, operate on a smaller scale and adjust."
Waste reduction and sustainability also play a role in the self-operational equation.
"If we have something left over from catering, like prime rib for example, we've made the choice to shave it up for prime rib sandwiches in the market."
But that doesn't mean quality goes down the drain.
"I'm going to push whatever I can on my budgets to give the best," Williams explains. "Vendors show us things they won't show other places because the price point is higher. I'm willing to spend the budget on that and cut back on other things. The little things make a difference."
It Takes a Village To Feed a Village
Williams and the dining services team aren't under any illusions that all 1,120 Central students love every menu. That doesn't mean they won't try to make it happen.
"We try our best to find that balance," Williams says. "We are going to give students the best options we can that our budget will allow."
Williams is grateful for the strong team he oversees and is hopeful he'll find more employees and students who want to work in dining services.
"I'm very fortunate. We have great people who take ownership and share goals," he says. "Again, I don't want to be the focal point of dining services; I want it to be about our team — we couldn't do this without all of them. I want to lead the department with compassion and empathy — putting people and their families first."
How Many in a Year?!
Central Market
140,000 eggs
266,000 transactions
30,000 chicken breasts
6,004 pizzas
14,000 burgers
13,000 caramel bars
68,000 cookies for Fresh Cookie Tuesday
270,000 takeout containers during COVID-19
Fred's
11,000 chicken strip combos
7,000 Smucker's Uncrustables
Global Café at Geisler
Central Market Fan Favorites
"The food here is homey. Everything is always so fresh and good! I like the tacos; those are the best. The mini tacos I got — SO good."

— Jacob Harris '25
Chicago, Illinois

"My favorite food here at Central is the onion rings."

— Anna Bonnett '25
Pella, Iowa

"My favorites are Fresh Cookie Tuesday and the fried pickles."

— Cally Gibbs '25
Sully, Iowa