This Is Central To Everything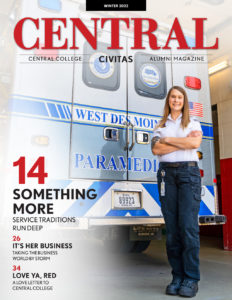 I really enjoyed the Winter 2022 Civitas magazine. It was very enlightening about what Central women alumnae have accomplished after graduating in their professional life. I agree with the statement that we all got a well-rounded education from Central that prepared us for the outside world. As a business/economics major, I ended up in the accounting field my whole career and enjoyed it.
As a former male cross country and track participant in the late 1960s and early 1970s, I never knew that the women's programs were so successful, and that Coach Schipper and Dr. Weller were a big part of their success story. As a graduate of 1972, I am more thankful for my Central years now than I was back then. A lot of good memories were made. Keep up the good work Central.
Sincerely,
Richard A. Plys '72
Colorado Fire Support
My wife, Melissa Kell Overboe, is a 1998 graduate of Central College. She is now an assistant principal at a K-8 school in Superior, Colorado. A month ago (December 2021) fires ravaged over 1,000 homes near where her school is located. She is helping to lead efforts at her school and surrounding schools to support the children and their families who are trying to overcome such unforeseen destruction and damage to their homes and neighborhoods. I am proud of all she is doing to help the fire victims.
Sincerely,
Jon Overboe
Giveaway Winner
Karen Morkin-Van Dyke '94 is the winner of the Winter 2022 Civitas Central gear giveaway! Congrats, Karen!
Refer a Student!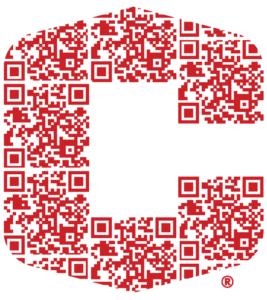 You're the college's best ambassador. As a friend of the college, you're in a position to make a transformative difference in the lives of deserving students by connecting them with Central. We make it easy — just scan the QR code shown here and fill out the form online. You can refer up to two students at a time. And come back often — there's no limit to the number of students you can refer. We'll send you some Central gear as a thank you — first when you refer a student and a second time if a student you refer enrolls.
We welcome nominations of students at any point during high school. The earlier you refer them, the more consideration they can give to Central!
Write Us!
Civitas welcomes letters and emails from readers concerning the contents of the magazine or issues relating to Central College. Please include the author's name, city and state; anonymous communications will be discarded. Letters selected for publication may be edited for length, content, clarity and style. Address letters to Civitas, Central Communications, Central College, 812 University St., Pella, Iowa 50219 or email Denise Lamphier, Civitas editor, at lamphierd@central.edu.