As a health care services provider for the United States Olympic and Paralympic Committee, I've seen firsthand what it takes to be a top-tier athlete while living out my dream of working in elite sports.
This summer, my job took me to the Tokyo 2020 Paralympic Games, where I worked closely with the United States Paracycling Track and Road teams to support them in their efforts for gold. Despite what you see on television, there is a LOT that goes on behind the scenes. Leading up to competition, most days consisted of training sessions twice a day, followed by rehabilitation and recovery treatments. It was during this time my role matched what you would typically expect of an athletic trainer.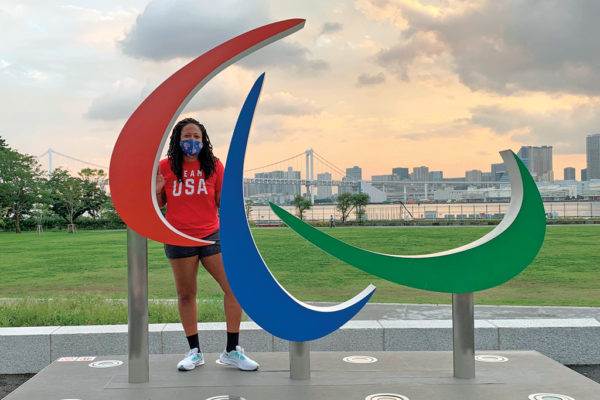 Once competition began, it became all hands on deck, and my role shifted from just "athletic trainer." Throughout the course of the day, you could find me escorting an athlete to the starting line, making recovery shakes, evaluating an injury, helping in the feed zone, or even "catching" athletes as they cross the finish line. One of my favorite roles to play when working with our Team USA athletes is cheerleader. It's an absolute privilege to work with these athletes and witness how far they've come. Seeing firsthand how hard they work daily makes it even more rewarding to see them achieve their goals and live out their dreams in real time.
Over my career, I've worked with a variety of sports and a variety of athletes at varying levels. From high school volleyball to collegiate wrestling and elite boxing, every athlete has their own needs based on what's best for their bodies. Working at the Olympic & Paralympic Training Center, I could work with a Paralympic swimmer in the morning, a fencer in the afternoon and a gymnast in the evening, and the training and recovery plans for each are all different. Being willing to take the time to learn and understand every athlete's needs has been an eye-opening and rewarding experience — on and off the field.
When I first came to Central, my mind was set on becoming a physician, but I also had an interest in sports medicine. John Roslien, associate professor of exercise science, encouraged me to take athletic training classes to combine my two interests. He took the time to listen and was incredibly supportive of my ambitions. He strongly believed in Central's athletic training program, and he believed in me.
My junior year, I participated in the Chicago Semester program where I interned at a physical therapy clinic working with professional dancers (all dancers are most definitely athletes). It was a wonderful experience. I was constantly in awe of the hard work and dedication each dancer put into their craft and the deep understanding they had of their bodies. From that point on, I knew I wanted to work with athletes, and I was grateful I had the opportunity to participate in the internship. If I hadn't, I might not be where I am now.
Central also helped me discover my love for travel. I studied abroad in the Netherlands and had the opportunity to learn about and experience different cultures throughout Europe. I loved my experience abroad so much that I even considered attending graduate schools in different countries.
The unique relationships I made and the experiences I had at Central opened doors to revelations and opportunities I never would've unlocked anywhere else. I get to do what I love every single day and am proud to represent the Dutch — even if it is behind the scenes. I've learned that the real work starts there.
Go Dutch!
---
Dreams Do Come True
Opportunities abound in athletic training at Central. Like Taryn Pennington '13 can attest, it will take you places — even to your dream job!
Read more about and her work at the U.S. Olympic and Paralympic Training Center.