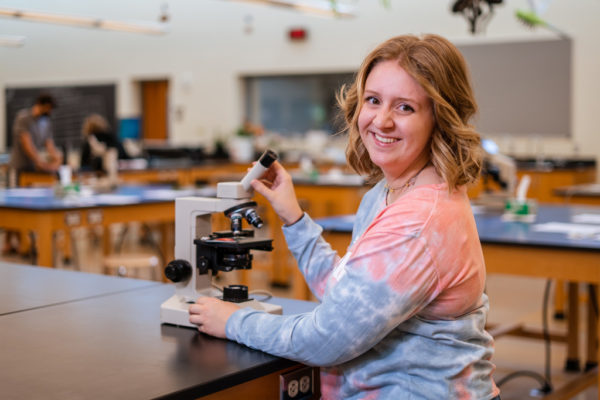 Amber Reysack '25, above, reportedly dropped the phone when she got the call that would change her life.
Reysack was totally shocked when Chevy Freiburger, dean of enrollment management at Central College, told her she was the first recipient of the college's Thomas Ross Smith Scholarship.
The scholarship, generously funded by the Fred Maytag Family Foundation, is an annual full-tuition scholarship program for Central students from Iowa pursuing a career in a STEM-related field.
Reysack is the inaugural recipient. "I'm in awe that this happened to me," Reysack says. "I can do what I want to do with my Central education without worrying about student loans."
The Donation
In 2021, the Fred Maytag Family Foundation donated $2.25 million to Central to fund the scholarship as well as the Thomas Ross Smith Scientific Instrumentation Initiative to help with scientific instrumentation needs at the college and the Journey Scholarship.
Through both Thomas Ross Smith funds, the Maytag Family Foundation honors an inspirational friend of the Maytag family.
Thomas Ross Smith was a Newton, Iowa, native who became an electrical engineer and began working at Maytag in 1934.
Fritz and Ken Maytag, sons of Fred Maytag II, and directors of the foundation, are pleased to be able to honor their former mentor and family friend and make a difference for future students pursuing careers in the sciences.
The Smartest Guy in the Room
"The Maytag Company and I were both born in Newton, Iowa, in 1909," Smith once wrote. "In the years that followed, Newton became the washing machine center of the world."
Smith was the second Eagle Scout in Newton (his brother was the first). He liked cherry blossom and crème soda and graduated from Newton High School in 1926.
In 1932, Smith graduated from the Massachusetts Institute of Technology, first in his electrical engineering class. After graduating from MIT, he had no job lined up because the country was in the grips of the Great Depression.
"My professors at MIT told me that my scholastic standing was such that I would have won the Gerard Swope Scholarship for advanced study at MIT, but in the depths of the Depression, there was no income from investments to finance the scholarship. If there had been money available, I would have probably taken graduate work at MIT and would never have come back to my hometown." (Swope, by the way, was president of General Electric Company.)
Smith returned to Newton and took a job in Maytag's machine shop to get by. A year later, E.H. Maytag would offer him a job in the experimental department.
"That was the first Maytag gift," says Charlotte Smith, Tom Smith's daughter.
Later Smith would be invited to come back to MIT for a year's study with a scholarship. He considered it, but Fred Maytag asked him to stay as he was needed at the company.
He did.
During his 40-year career at Maytag, Smith was involved in the design of many successful Maytag appliances, including the Model E washer, which went into production in 1939. Its revolutionary design, advanced styling and performance were so advanced, the machine was produced by Maytag for almost 45 years.
"I knew it would have to be good because the Maytag washer that was in production at the time was the best in the world," Smith wrote.
Nevertheless, he nailed it, creating a washer that was more modern and pleasing in appearance, less expensive to produce and quieter and easier to operate.
Smith retired from Maytag in 1974 as vice president of research and development. He held more than 250 U.S. patents and many foreign patents and was named Iowa Inventor of the Year in 1979.
He also co-founded Thombert, a polyurethane wheels and tires manufacturer, and Pyramid, Inc., which manufactures polyurethane drive belts. Both companies are still located in Newton.
"Tom was always the smartest guy in the room," says Walt Smith, Tom's nephew and immediate past chair of Thombert, the company his uncle co-founded more than 75 years ago.
Smith died at age 91 in March 2001.
Boyhood Friends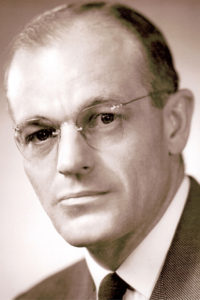 Smith also was a childhood friend of Fred Maytag II, a friendship that would transcend decades and generations.
"When I developed a deep interest in motion pictures and their machines, I asked the manager of the Strand Theater on the north side of the square, if Fred Maytag and I could go into the projection booth after school just as the matinees were ending and learn to run the machine," Smith wrote in a small book called "Yesterdays" in 1982. "Joe Eyerly, the manager, agreed so Fred and I spent a great deal of time up there and learned to run things fairly well. I went on to become the assistant to Whitey Russell who was running the projectors for school movies. By watching Whitey and learning more, I was appointed chief projectionist when Whitey graduated. Fred Maytag became my assistant and together we got out of quite a few study periods."
Fritz Maytag says Fred and Tom "were just buddies. They just trusted each other. If Tom had an idea, Fred would say, 'Let's do it!' They were very different but pushed each other as a team."
Over the course of their childhood, Smith and Maytag tried several businesses together, including building bird baths, printing stamps, mowing, selling advertising and making a product they labeled Sunny Boy Hair Oil.
"As a co-worker, Tom's genius was empowered by Fred Maytag — as a best friend and head of the Maytag Company until 1962," Walt Smith says.
Curious Minds
The similarities between Tom Smith and Amber Reysack resonate, despite the fact they never walked the planet at the same time.
Reysack, of Ankeny, Iowa, plans to major in biochemistry with a pre-medicine track. Her fascination with science and discovering the way the world works stems back to her childhood.
"I was an outdoorsy child, and I've always had a fascination with science," Reysack says. "My dad was a corn pathologist at Garst Syngenta and across the hall were these entomologists. They would have a bunch of really cool bugs all pinned up, and anytime I went to his work, I would always be there looking at the bugs."
Fast forward from catching bugs to send to work with her dad and weekly baking soda and vinegar volcano experiments with her mom to dissecting animals in her high school AP biology course. Reysack was hooked on the exploration and discovery of the world around her.
"Figuring out how things work — how the world works — and identifying things in nature was so cool to me," she says. "I knew I definitely wanted to do something in science because that's what I was always drawn to."
In her first year at Central, Reysack already is enjoying the freedom of pursuing all her interests at Central. In addition to a STEM major, she is a member of Central's A Cappella Choir and Dutch Brigade. She also aspires to get more involved with Campus Ministries and is pumped the Toothbrush Club was freshly reinstated for the Fall 2021 semester after a gap year due to the COVID-19 pandemic. Any opportunity to meet new people and make friends energizes Reysack.
"I was so excited to come to Central because I didn't know anyone," she says. "I love meeting new people. I'm very extroverted and meeting new people is one of my favorite things."
Smith also was a curious soul.
"Tom had broad interests and was curious about many things," Ken Maytag says, including nuclear bomb shelters, hydraulic cylinders and belt manufacturing.
"At family gatherings, he was a leader in intellectual discussions, and he would always be encouraging us kids to solve equations," Walt Smith says. "He was an encourager and enthusiast of thinking."
The Maytag Company was famous for reliability, quality and dependability — much of this because of Smith's focus on superiority.
"His vision of simplicity was integral to Maytag's success," Fritz Maytag says. "Tom's genius was behind the whole thing. He was an amazing and lovely man."
Charlotte Smith recalls her childhood home being filled with experiments.
"We were part of the test field. My mother would trial things that weren't ready for the public yet," she says. "Some things went wrong. It was just part of the deal. The only time I remember her getting upset was when one of the washers shed oil all over our clothes."
In a booklet, titled "Farewell to Maytag Research" that Smith wrote at his retirement, he said: "In a Research and Development Division, many ideas will sprout which have no relationship to the job at hand. If not too much time and effort are involved, sometimes investigation into unusual fields of activity are undertaken if only to satisfy curiosity."
Sometimes, too, he found necessity was the motherhood of invention.
During World War II, the Maytag Company was not allowed to produce any washing machines or any other consumer products and was engaged entirely in the production of war materials. That was when Smith redesigned aircraft hydraulics for B26 and 187 bombers.
Among his other work was redesigning the mouth piece of the oxygen mask used by the U.S. Expedition in 1963 to climb Mt. Everest so that the mask would not fog over.
"He was always thinking about things. He lived in his head," Charlotte Smith says. "After retiring, he was still creating things. His last patent was granted when he was in his 80s."
Marveling at the Maytags
Reysack was amazed at her receipt of the inaugural Thomas Ross Smith Scholarship. Female influence in STEM-related fields is crucial to future inclusion and success initiatives.
"I'm grateful I get to represent females in the STEM community at Central," Reysack marvels. "Empowered women empower women and I love being someone who can actually do that. It's a very cool thing to get to do what I love and hopefully inspire others. I can't believe I get to be the first one!"
In addition to funding the Thomas Ross Smith Scholarship, which will eventually have four recipients each year receiving the renewable funding, the Fred Maytag Family Foundation also created the Thomas Ross Smith Scientific Instrumentation Initiative at Central. The initiative will be used to purchase scientific equipment at the college — equipment that is critical to effective teaching and learning.
Reysack will be the first Central student to benefit from both areas of funding.
"It's crazy how much the Fred Maytag Family Foundation really did for our community here in Pella," she says. "Supporting STEM fields and getting new equipment for students to enhance learning makes Central a really great place to explore."
Central's President Mark Putnam couldn't agree more. He says the gift recognizing Smith's innate curiosity will be passed on to future generations of students and faculty as they collaborate on learning and discovery.
"The incredible generosity of the Maytag Family Foundation will have a permanent impact at Central. Scholarships play an increasingly important role in making a Central education accessible to all. Along with this new commitment, the Maytag family continues its long tradition of annual support of the college's Journey Scholarship Fund. This new scholarship support, now for both Journey and endowed scholarships, gives us more opportunities to change the lives of even more students," Putnam says.
"In addition," Putnam says, "the instrumentation initiative allows the college to purchase, renew, replace and maintain the scientific equipment that will inspire future generations of scientists and engineers like Thomas Smith."
The partnership between the Maytag family and Central dates back nearly a century. With this current donation, the foundation has donated more than $10 million to Central over just the past three decades. In 1990, the foundation helped fund the construction of Maytag Student Center. The building was named for Fred Maytag II, grandson of F.L. Maytag, who founded the Maytag Company. In 2016, the foundation also funded renovations to the student center. Fred Maytag was president of Maytag from 1940-62 and was the creator of the Fred Maytag Family Foundation.
"The Maytag family's new commitment to Central extends our partnership and will be a lasting legacy," Putnam says. "All of us at Central are so very grateful to the foundation for its very generous support. I cannot overemphasize how much we appreciate the Maytag family's support and confidence in our mission."
Looking Back To Look Forward
Growing up, Reysack remembers having Maytag appliances at home. In fact, her family still uses Maytag appliances. Receiving a scholarship funded by the Fred Maytag Family Foundation was a full-circle moment for her.
"When I called my mom to tell her about the scholarship, she said, 'We need new appliances; I'd better get some more Maytag!'" Reysack recalls.
Appliances aren't the only things Reysack, Tom Smith and the Maytag family have in common. There's a thread that runs deeper and connects them all to the core of the Central community: friendship.
Fred Maytag and Tom Smith enjoyed a close friendship for the majority of their lives.
Reysack also has a friend who has been by her side for as long as she can remember.
"Her name is Maya and she's my favorite person ever," Reysack gushes. "I found her in second grade, and I already know she'll be one of my bridesmaids. I don't know who the groom will be, but I know she'll be a bridesmaid!"
Reysack confirms Maya is to her who Tom was to Fred.
"If I ever get to Fred Maytag's level of fame, I'm definitely naming a Central scholarship after Maya."
The Maytag Difference
The funds in Smith's name are a true demonstration of how life loves on.
The Maytag family says this new commitment to Central is about offering the students of tomorrow the same kind of opportunities that opened the world for Smith.
"Tom was extraordinary," Fritz Maytag says. "His vision and creativity were integral to Maytag's success. He was a brilliant and critical thinker — an idea guy who created solid things. We see this gift to Central as a chance for Iowa students to follow in his footsteps."
The Maytags selected Central for the scholarship because "when students at Central learn science, they learn it well and then can be creative."
Smith's family is amazed at this generosity.
"We are thrilled and so very grateful to the Maytag Family Foundation for this wonderful gift to Central College honoring my father's legacy," Charlotte Smith says. "I think he would have thought it was fabulous."
What would Tom Smith have said about the legacy he has helped make possible at Central?
Perhaps one only needs to look to the past for that answer.
In 1924, when young Tom wanted to go to summer camp, his parents determined they could not send him because it was too expensive.
"Mr. Maytag offered to pay my way. I was the happiest kid in Newton and never forgot the wonderful and unexpected gift bestowed upon me."