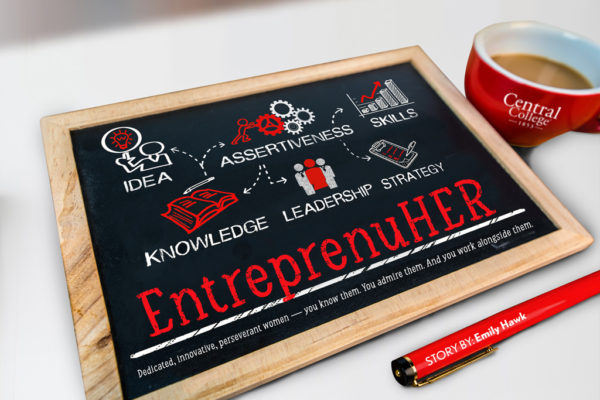 For decades women have been blazing a trail in the male-dominated world of business. Over the past 20 years, the number of women entrepreneurs has increased by 114%, according to Inc. Magazine. In 2019, there were nearly 13 million women-owned businesses in the United States.
Since 1853, Central College has opened doors for women in business. Whether it's positively transforming the workplace, providing exceptional veterinary care or healing hearts through music, these Central alumnae are paving the way for the next generation of women entrepreneurs.
The possibilities are endless — and it all began at Central.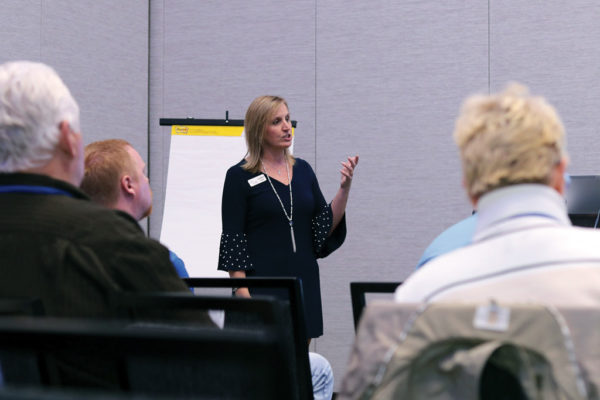 Hometown: Indianola, Iowa
Majors: English and French
Campus Activities: InterVarsity Christian Fellowship, Campus Ministries, A Cappella Choir, Chamber Singers, Study Abroad (Paris)
Business: Your Clear Next Step, LLC, Indianola, Iowa
Sinikka Wainionpaa Waugh '96 has a genuine heart for making things better than she found them. At Your Clear Next Step, LLC, Waugh helps people have better workdays.
"What's a better workday? A day in which communication flows freely and effectively, leaders have the skills and capabilities they need to lead well, team members have the tools and skills they need to execute well on their day-to-day work and people, in general, interact with each other with grace, even through periods of change," says Waugh, who also serves on Central's National Advisory Council.
Waugh and her team provide training and coaching for individuals, businesses and organizations in areas of leadership, communication and collaboration, project management, finance and emotional intelligence. Clients range from solo entrepreneurs, small mom-and-pop businesses to higher education and Fortune 500 companies.
"We want people to come home after a long day at work, and instead of being grouchy and miserable and bringing that negative energy home to their families, we want them to walk a little taller. Be a little kinder. Maybe even tip the pizza guy a little more generously when he shows up with dinner," Waugh says.
As one could already guess, no day looks the same for Waugh. She even laughs at the question.
"Significant portions of my day are spent working with my team," Waugh says. "I help lead, grow and support them with whatever they need."
"Being a strong, effective leader and public speaker requires authenticity. Both speak and read from the heart with our authentic selves. I bring 100% of who I am to work every day. It's a genuine desire to help people in their own journeys."

— Sinikka Wainionpaa Waugh '96
But her work doesn't stop there. She cultivates sales and business development. Builds relationships with current and new clients. Speaks at conferences with audiences of 100-750 people at a time. Trains new clients. Waugh does it all, and she leads with authenticity.
"Being a strong, effective leader and public speaker requires authenticity," Waugh says. "Both speak and lead from the heart with our authentic selves. I bring 100% of who I am to work every day. It's a genuine desire to help people in their own journeys."
Waugh wakes up every morning knowing she is fulfilling her true purpose in life: to help others be the best version of themselves.
"I know the hand of God has been with me on my journey, and this is who I am supposed to be," Waugh says. "I'm able to use the gifts, talents and resources I've been given to help and serve others."
One of the most important resources for Waugh was Central.
Grounding Foundations
Waugh grew up in a tight-knit, military family, which means she moved around — a lot. Every nine to 18 months, her family packed everything they owned and moved to a new home. She didn't always know where she would end up next, but Waugh was sure of three things:
Sundays were for church, no matter the location — or language — they found themselves living or learning.
Family will always be there.
If you have more than you need, you should share.
"When I was choosing what colleges to go to, I was deeply analytical at that point in my life," Waugh says. "I had a spreadsheet organized by each college, and Central was always at the top of the list because of the characteristics I was looking for."
Waugh was looking for a Christian liberal arts college with a specific size and distance from home and the nearest metro area. She also knew she wanted to study abroad in Paris or London and receive a teaching certification. There weren't many colleges that could meet these criteria — except Central, Waugh says.
"I wanted to see if I could be my own person without my family so close to me, and Central allowed me to do that," Waugh says. "It was an environment that reinforced the core values I held but allowed me to grow and challenge some of my beliefs and things I took for granted."
Walter Cannon, professor emeritus of English, was the first to challenge Waugh's assumptions of gender equality. "As a woman, I believed I lived in a world where I could do anything I set my mind to because that's how my parents raised me," Waugh says. "But Professor Cannon opened my eyes and challenged me to realize there was a glass ceiling that was still there, and there is still a difference between the way women and men are treated in the workplace."
Without this realization, the male-dominated industry of project management would have been a shock to Waugh.
"There are organizations I've worked for or presented to where I had to wear a pantsuit instead of a skirt to be taken seriously," Waugh says.
Working in a male-dominated industry has its challenges, but Waugh is committed to building a more inclusive, positive work experience for all.
"Much of what I teach is foundational to the culture I experienced at Central," Waugh says. "As I teach communication, leadership, critical thinking and emotional intelligence, I find I'm sharing with people (many of whom didn't get the benefit of a liberal arts education) the softer skills of drawing connections, interpersonal interactions and problem solving. Whether it's the core values that inform who I am or the skills I teach, most of it was reinforced and strengthened through my Central education here and overseas."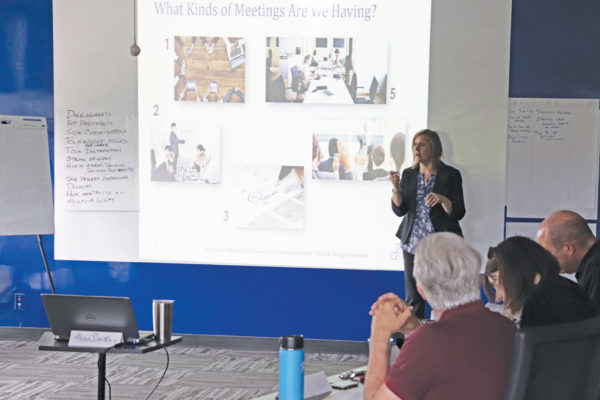 International Influence
There's no doubt Waugh cultivated some of her most valuable skills as an entrepreneur at Central. However, it's her two experiences abroad in Paris that are essential to the person she is today.
Waugh studied for a year in Paris as an undergrad at Central. Post-graduation, she returned as an English teaching assistant in the prestigious U.S. Fulbright Student Program, again with the help of Central. The program facilitates cultural exchange through direct interaction on an individual basis in the classroom, field, home and in routine tasks, allowing teaching assistants to gain an appreciation of others' viewpoints and beliefs.
"While abroad, I learned independence and city living," Waugh says. "I grew up traveling with my family but having the opportunity to travel abroad without them helped me discover who I am as a person. My time in Paris is such a huge part of who I am. If you walk through my house, you can see evidence of Paris and its influence. I am forever grateful for those experiences."
Finding Community
Waugh is proud of the work she gets to do every day, thanks to the support she's received from friends, family, colleagues — and even Central — along the way.
"The essence of Central that I still love so much is the sense of community," Waugh says. "People at Central genuinely care about each other, and I'm so grateful for that. It fostered a sense of care in the work that I do and in the community that I serve."
With more than 10 years of experience as a woman in business, Waugh's biggest piece of advice for young entrepreneurs is to find that support system, that community.
"There really is a lot of hard work that goes into being an entrepreneur. Sticking with it and following through with ideas can be challenging," Waugh says.
"Understanding how to play to your strengths and to bring people alongside you is so important. Stay true to yourself and surround yourself with those who encourage and support you. Entrepreneurship can be a lonely business, but if you bring others along who have different strengths than you do, you will see success."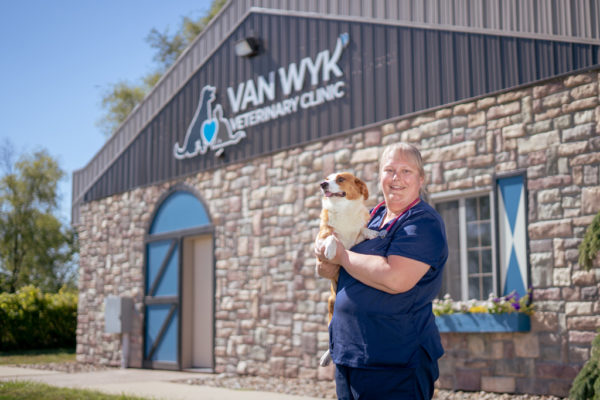 Hometown: Pella, Iowa
Major: Biology
Minor: Chemistry
Campus Activities: BioChem Club, Beta Beta Beta Biological Honor Society Charter President, Catholic Campus Ministries, Study Abroad (Kenya)
Business: Van Wyk Veterinary Clinic, Pella, Iowa
Glenda Henle Van Wyk '02 is a firm believer in the human-animal bond.
"I cannot imagine my life without animals," Van Wyk says. "Animals can be very therapeutic for people and can help them get through rough times, or even just life in general. That bond is so important to me."
Van Wyk has been working with animals nearly all her life. In elementary school, her Girl Scout troupe visited a local veterinary clinic. From that day on, Van Wyk knew she wanted to be a vet.
"My family didn't have very many pets growing up," Van Wyk says. "We had a cat and a dog, but once I stepped foot in that clinic, I knew that's exactly what I wanted to do in life. From that day on, I always told my parents 'I'm going to be a vet,' and never wavered."
For 15 years, Van Wyk has taken care of thousands of animals as a vet. And in January 2021, she fulfilled her dream of opening her own clinic: Van Wyk Veterinary Clinic.
"I spent most of my professional career working at Tri County Veterinary Clinic on the other side of Pella," Van Wyk says. "But I was ready to do my own thing. I wanted to create my own atmosphere."
Her clinic offers services for small animals, including preventative care, wellness and sickness examinations, surgery, hospitalization, in-house diagnostics, radiology, dentistry, grooming and boarding. Her clinic is also Pella's city pound, and there are a few strays who have stuck around: Terrance, a cat who is also known as the clinic's FEO (Feline Executive Officer), and Lilly, a Corgi mix who was abandoned at the Pella airport.
"Terrance and Lilly definitely have their own personalities, just like every other animal," Van Wyk says. "They are like family here."
And Van Wyk knows every animal that comes through her clinic is someone's family.
"I want people to know that I care about their pets like they're my family," Van Wyk says. "I want people to feel that, to know that I truly care about them."
A Family Affair
Van Wyk grew up in Pella. Her mother, Connie Henle '95, earned her degree from Central while working in the college's billing department, where she stayed for 30 years before retiring in January 2021. So, when it came to choosing a college, Van Wyk couldn't picture herself anywhere else.
"I've always had strong ties with Central," Van Wyk says. "Because my mom went to school and worked there, my siblings and I basically grew up on campus. I would pick my mom up for lunch and made so many connections before I had ever even thought about college. It just felt right."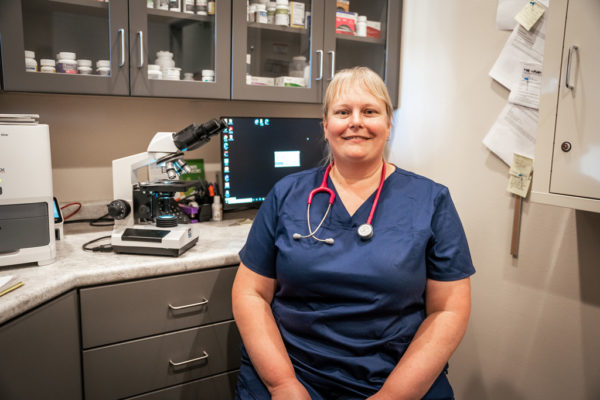 As a student, Van Wyk continued to foster meaningful relationships with faculty, staff and fellow science majors.
"The smaller class sizes mean you are a student and not just a number," Van Wyk says. "I developed strong relationships with my professors, and they had a genuine interest in helping me achieve my goals. I am still in communication with many of them today."
Van Wyk credits these relationships, as well as the academic opportunities afforded to her at Central, for her acceptance into veterinary school at Iowa State University.
"I had an academic advisor who really went to bat for me in making sure I had all my classes lined up to go to vet school," Van Wyk says. "She took me to a veterinary conference my senior year to see what the profession was all about. I felt very prepared compared to other graduate students, from my writing and communication skills to even using PowerPoint for presentations."
Making Dreams a Reality
Running your own business is hard. Opening one during a global pandemic is harder.
"COVID-19 was a real struggle," Van Wyk says. "Rolling with delays and not being able to get what you need to start a business was difficult."
Despite these challenges, Van Wyk was able to open her doors with the help of family and friends — especially her mom.
"It has always been a dream of mine to have my own clinic," Van Wyk says. "When I would talk about it, my mom would always say she would come and work for me and help me out. I am so thankful for all her help and her expertise. We get to spend a lot more time together, and it is great having someone at work who always has your back."
"Obtaining her goal of owning her own veterinary clinic has proven she can also be a strong business woman," Henle says. "I am very excited and proud that Glenda is successfully living her dream! Isn't this what all parents want for their children?"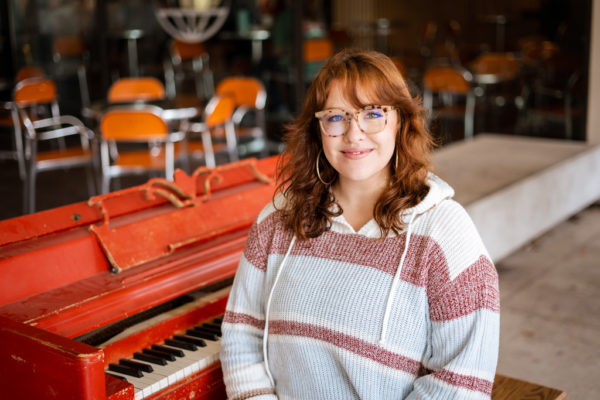 Hometown: Winterset, Iowa
Major: Music — Vocal Performance
Minors: Psychology and Sociology
Campus Activities: ALMA, A Cappella Choir, Symphonic Wind Ensemble, Jazz Band, Handbell Choir, Women's Soccer, Mu Gamma Pi
Business: Sam Moss Music
Sam Moss '18 was ordering coffee in a Dunkin Donuts drive-thru on her way to work when she learned she had gotten the call back to audition live for American Idol.
"I started crying as I was ordering a pumpkin spice latte," Moss says. "I called my mom and cried on the phone with her, too. I knew this was going to be a big opportunity."
Katy Perry. Luke Bryan. Lionel Richie. The more she thought about it, the more Moss couldn't believe she would soon be singing in front of some of the most iconic musicians in the industry. But she knew she could do it.
"Four years ago, I would have not been this confident in myself or my abilities," Moss says. "Singing in front of an audience is very vulnerable. Singing in front of famous musicians for the entire country to see is a whole other level of vulnerability."
Overcoming Obstacles
Moss has always loved music, but she never considered pursuing it professionally. Instead, she wanted to be just like her big brother, Zach Moss '17. That meant following him to Central.
"My brother was a wrestler, but I remember him trying out for our 4th grade football team and not making it," Moss says. "So, I tried out for the football team just to prove that I could make it, and I did. I wanted to be a part of every club and participate in every sport and prove that I could do everything." At Central, Moss could do it all. She participated in women's soccer, Symphonic Wind Ensemble, Jazz Band, ALMA, Handbell Choir and A Cappella Choir. Although Central provided and encouraged active participation across all disciplines, her soul gravitated toward music.
But her soul was struggling. While her peers saw her as the brave girl who wasn't afraid to perform on stage, Moss's perception of herself was much different.
"I found myself drawn to music, but I suffered from performance anxiety," Moss says. "I wouldn't sing to feel good — I would sing just to survive through the song. I would doubt myself, and that self-doubt would physically expose itself in my quivering voice."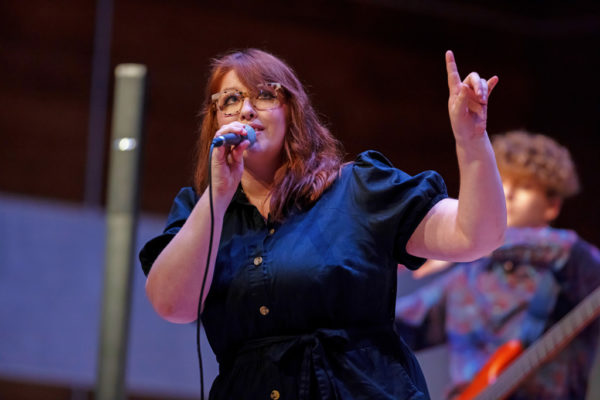 Moss began spending hours in the practice room on campus, where music slowly started to become her therapy. She didn't sing for others, but for herself.
"If I could have just moved into the practice room and practiced piano and sang myself to sleep every night, I would have," Moss says.
It was during this time that Moss learned to play piano. She switched her major to music with an emphasis in vocal performance. She was slowly but surely gaining confidence in her abilities. Gabriel Espinosa '79, associate professor of music, saw her potential.
"Having professors who had their own styles and inhabited different spaces of music allowed me to dabble in different genres and fields to see what I truly liked and where I thrived," Moss says. "I was always accepted at Central, even when I was struggling. Gabriel really taught me to see my worth."
"I hope my music will be an honest reflection of whatever hard things someone may be going through so that it will either liberate or hold them. I want my music to heal."

— Sam Moss '18
In Full Bloom
Three years later, Moss has grown into the musician she's always wanted to be. She emulates the strength and openness of Lady Gaga and the lyrical intimacy of Sia.
For Moss, the lyrics are the most important part of a song.
"I want to write lyrics that are empowering and meaningful," Moss says. "I want to emulate honesty and connection. I hope my music will be an honest reflection of whatever hard things someone may be going through so that it will either liberate or hold them. I want my music to heal."
Moss is currently working on her first EP, but she is also very much an entrepreneur. She writes and sings personalized songs and memoriam music; performs at weddings, nursing homes, celebrations and other private events; and mentors aspiring musicians.
"Traditionally, if you wanted to be a musician, you had to figure out how to get people to notice you to sign a record deal," Moss says. "That's still true today, but you get more exposure with the internet and social media. You have to market yourself and keep showing up."
On top of being a full-time musician and entrepreneur, Moss teaches young children piano at Red Cloud Studio in Chicago, Illinois, owned by Molly Lehr '08.
"Teaching has been so important in my music journey," Moss says. "Music changed me, saved me and made me step up and be the person I want to be. And it's the same as being a teacher. I have to show up for these kids, no matter how I feel. They're smart, and they can feel if I'm actually there for them or if I'm faking it just to make it through the day. So, I make sure they know they can fully be themselves when they're in my space."
Like she does every day for her students, Central showed up for Moss when she needed it most.
"The way I was treated within the music department helped me grow, not only as a musician, but as a person," Moss says. "So many seeds that are blooming now were planted at Central."
This spring, Central might just have its first American Idol winner.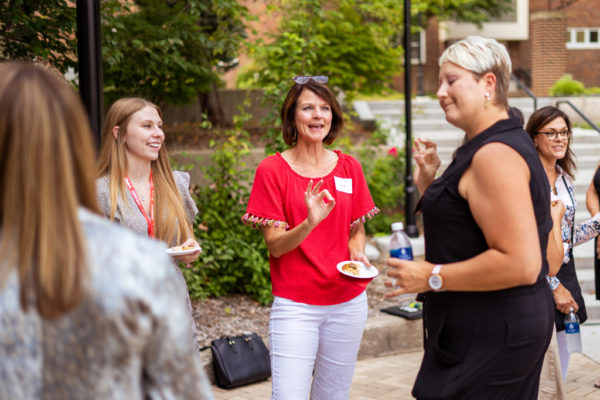 Central Women's Leadership Conference
For three years, Central College has hosted the Women's Leadership Conference, an event designed to bring women from the region, state and beyond to discuss issues in women's leadership, knowledge, skills and values.
The event has provided opportunities for upperclassmen at Central who were nominated by faculty and staff members. They met with experts in their fields whose character sets an example for women scholars and future leaders. Jessica Klyn de Novelo '05, assistant dean for career development and civic engagement, organized the events.
Amy Dietrich Eilers '88, executive clinical account manager at Organon and Central Board of Trustees member; Jann Freed '77, professor emerita of business management and former Mark and Kay DeCook Endowed Chair in Leadership and Character Development at Central; and Susan Elder '16, human resources generalist at Equifax, are among those who have shared their wisdom and expertise with Central students.