Central Receives $1.97 Million Bequest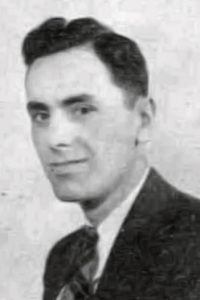 Central received a generous bequest of $1.97 million from the late James Naccarato Sr. '43, who served as a military attorney for the U.S. Department of Justice.
Naccarato's tremendous generosity will support the James J. Naccarato Scholarship, established in his name in 2007.
Originally from Johnstown, New York, Naccarato made a name for himself at Central as a writer and frequent columnist for The Central Ray, the college's student newspaper. As a history major, he often wrote commentary on American politics and always encouraged his fellow students to participate in "the political life of our nation, state and local community."
Naccarato went on to earn a law degree from Washington and Lee School of Law in Lexington City, Virginia. He served in the U.S. Navy and was a military attorney for the U.S. Department of Justice in Washington, D.C., for many years. From 1961-64, Naccarato served as president of the Washington, D.C., Central Club.
Naccarato died Feb. 3, 2020, in Silver Spring, Maryland. He was 102.
Laine Installed as Weller Distinguished Professor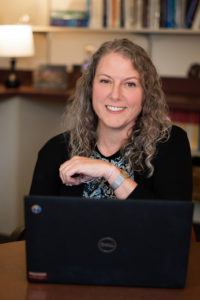 Linda Laine, professor of communication studies, was installed as the Kenneth J. Weller Distinguished Professor of the Liberal Arts on Sept. 29.
Laine has taught at Central since 2004 and was promoted to professor in 2018. She enjoys guiding students in their own research and facilitating their application of theory to service learning, internships and other projects. She teaches a wide array of courses, including organizational, intercultural and health communication, as well as first-year seminar and research methods.
The Kenneth J. Weller Distinguished Professorship of the Liberal Arts, named after Central's 18th president, recognizes a distinguished faculty member and provides support for teaching, research and scholarship.
Central Receives Federal Funding for Talent Search Program
Central received five more years of funding from the U.S. Department of Education for the college's Talent Search program. The award, contingent on annual congressional appropriations, is expected to total $2.5 million.
The nationwide TS program, part of the U.S Department of Education, prepares middle school and high school students from disadvantaged backgrounds to succeed in higher education. TS has been one of the pre-college programs at Central since 1980.
The continued funding of TS will allow the assistant director, five advisors, a recruitment specialist and an event and student record coordinator to serve a minimum of 900 students. Two-thirds of program participants must qualify as both low-income and/or potential first-generation college graduates.
TS advisors meet with participating students once or twice a month in their schools. In addition to tutoring students, providing academic advising and exposing students to STEM opportunities, TS teaches financial literacy, test-taking skills and social-emotional skills. Advisors also take students on college visits and to various cultural activities.
In addition to funding these services, the recent award will allow advisors to implement a career series using individual Myers-Briggs Type Indicator results. The program also will host a three-day STEM camp to provide an opportunity for students to study the STEM field in depth through exposure to computer programming, coding and enhanced computer skills.
TS is one of seven Federal TRIO Programs that provide educational services to individuals from disadvantaged backgrounds. Central also administers two other TRIO programs: Upward Bound and Student Support Services.
Central Surpasses Journey Together: 48-Hour Challenge Goal
Central's Journey Together: 48-Hour Challenge surpassed its goal, raising more than $189,000 for students.
From noon Tuesday, Aug. 17, to noon Thursday, Aug. 19, $189,607 was raised with 334 gifts from alumni and friends of Central.
"Supporting annual scholarships like the Journey Scholarship Fund is one of the best ways to make an impact in the lives of students," says Sunny Gonzales Eighmy '99, vice president for advancement. "We are incredibly grateful for the generous support from alumni and friends of the Central family; it opens so many doors for students."
The challenge kicked off the 2021-22 academic year and the Journey Scholarship Fund's 11-year celebration. The fund was created to directly help students pursue their dreams at Central and since has awarded thousands of scholarships to students from around the country.
For the third year in a row, the Journey Scholarship Fund saw record support during the fiscal year that ended June 30, 2021. A record $1.67 million went toward the Journey Scholarship Fund, surpassing the previous year's total of $1.38 million.
At Central, 100% of gifts to the Journey Scholarship Fund directly support students. Thanks to the generosity of donors, Central plans to award every new incoming student a Journey Scholarship in the 2022-23 academic year.
To help support the Journey Scholarship Fund you can give a gift at central.edu/give.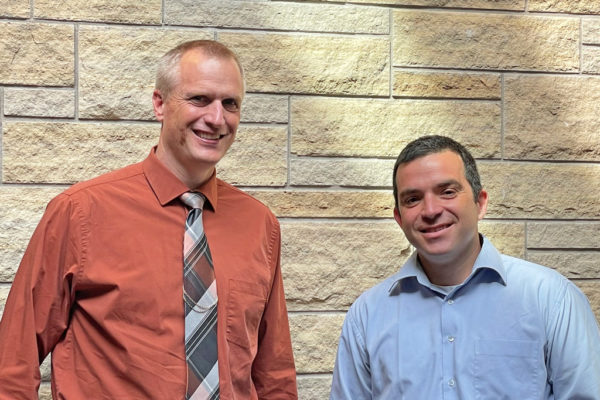 2021-22 Faculty Changes
Central announced changes among its faculty for the 2021-22 academic year. Central made two new faculty hires:
Stavros Papakonstantinidis, right, (B.A., State University of New York; M.S., Ithaca College; Ph.D., University of Leicester, United Kingdom), communication studies.
Dan Vos, left, (B.A., Dordt College; MDiv., Calvin Theological Seminary; Ph.D., Boston College), lecturer of religious studies.
Three assistant professors earned tenure and promotion to associate professor:
Elizabeth Golovatski (B.S., Saint Ambrose University; Ph.D., University of Iowa), physics. She has been with Central since 2015.
Lee Macomber (B.S., Cornell University; M.S., Ph.D., University of Illinois Urbana-Champaign), biology. He has been with Central since 2015.
Mark Thomas (B.A., University of Notre Dame; M.A., Ph.D., Boston College), philosophy and religious studies. He has been with Central since 2015.
Emeritus status has been awarded to the following Central faculty:
Jeffrey Bass (B.A., Sarah Lawrence; M.A., University of Chicago; M.A., Ph.D., University of California, San Diego), anthropology. He started at Central in 2007 and was granted tenure and promoted to associate professor of anthropology in 2012.
Dennis Doyle (B.A., University of Northern Iowa; M.S., University of North Texas; Ph.D., Southern Illinois University-Carbondale), communication studies. He started at Central in 1989 and was granted tenure and promoted to associate professor of communication studies in 1994. He was promoted to professor of communication studies in 2005.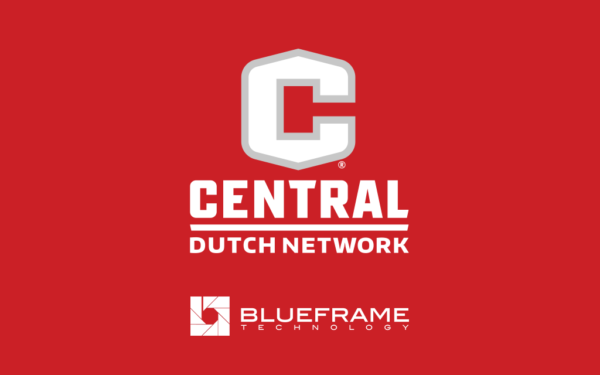 Blueframe Technology Becomes Central's Official Video Streaming Partner
Central announced a partnership with BlueFrame Technology as the official video streaming platform of the college.
BlueFrame is one of the country's premier video livestreaming providers, partnering with more than 1,000 colleges, high schools and athletics organizations across North America. BlueFrame has partnerships with more than 40 collegiate conferences and organizations spanning all levels of competition, including the United States Collegiate Athletic Association.
Central began streaming all home Dutch football games through BlueFrame on Saturday, Sept. 11, for the team's first home game against Kalamazoo College. In addition, Central will stream other athletics and non-athletics events to the service, making Central the first college to use BlueFrame technology across its entire campus.
Live events for athletics, performing arts, academic affairs, lecture series and more may now be streamed at centraldutchnetwork.com. Central Dutch Network also is available through native apps on several devices, including mobile, Apple TV, Amazon Fire TV and Roku.
Professor Russ Benedict Featured on Discovery Channel
Russ Benedict, professor of biology, was featured on The Discovery Channel show "Expedition X" on Sept. 8.
An expert in Midwestern bats, Benedict was asked by producers to help them learn more about bats as a way of potentially solving the mystery of Iowa's famed "Van Meter Monster." For decades, people in Central Iowa have reported seeing a mysterious night creature with some of the characteristics of a bat.
"The hosts of the show were very enthusiastic to see and learn about these mysterious animals, and the bat population did not disappoint," Benedict says.
Benedict has taught at Central since 2002 and has spent most of his life exploring the prairies and woods of the Midwest. Although his graduate education emphasized mammals, he loves to study birds, insects, plants and all other aspects of nature.
Professor Shawn Wick Published in Top-tier Sociology Journal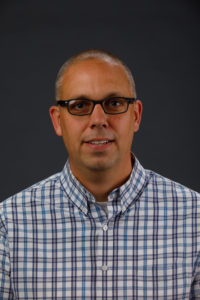 Shawn Wick, associate professor of sociology, has co-authored an article published in "Social Forces," a top-tier sociology journal.
The article, titled "The Effects of High Stakes Educational Testing on Enrollments in an Era of Hyper-Expansion: Cross-National Evidence, 1960-2010," investigates how national high-stakes exams affect educational expansion across the world. It was co-authored by Jared Furuta, humanities and sciences dean's postdoctoral fellow at Stanford University; and Evan Schofer, professor of sociology at University of California, Irvine.
"For this project, we were trying to understand the varied ways education systems around the world are structured, how they change over time and examine the consequences these systems produce for individuals and societies," Wick says.
Wick and his co-authors show that high-stakes exams limit educational expansion and access by collecting and analyzing data from 142 countries. According to Wick, the limitations high-stakes exams place on educational expansion persist despite significant global pressures to provide equal access to education.
"Institutions can change, but often do so slowly over time," Wick says. "Countries that initially adopted a more constrained educational model with high-stakes exams face a range of obstacles in transitioning to a system with more open access to schooling."
At Central, Wick teaches a course on the sociology of education to help students understand the complex relationships schools, both in the United States and abroad, share with key institutions such as the family or economy.
"It is important as a student of sociology, and as members of our respective communities, to appreciate how our lives are interconnected. To understand how policies and practices, perhaps set in motion long ago, shape the opportunities and everyday lives of individuals today," he says. "As a professor, I seek to demonstrate to students how sociology is particularly well-equipped to make sense of this complexity."
Wick has taught at Central since 2011 and specializes in international development, globalization and sociology of education and organizations.
2021 Kuyper, Rolscreen Scholarship Recipients
Seven students in the Class of 2025 were recipients of this year's full-tuition Kuyper Scholarships and Rolscreen Foundation Scholarships, the most prestigious awards granted at the college.
Peter H. Kuyper founded Rolscreen Company, known today as Pella Corporation. The Kuyper family has provided financial assistance to Central students since 1952.
"The Kuyper family has a long-standing tradition of service, generosity and commitment to Central," says Sunny Gonzales Eighmy '99, vice president for advancement. "Their investment in our students and a Central education helps open many doors over their lifetimes. We are so thankful for their generosity and support." Students who were selected participated in Central's Scholar Days. All have at least a 3.7 GPA. The following students were awarded scholarships:
Evan Hackett of Tempe, Arizona, recipient of the P.H Kuyper Full-Tuition Scholarship
Victor Nop of Huxley, Iowa, recipient of the H.S. Kuyper Full-Tuition Scholarship
Kallie Wallick of Tipton, Iowa, recipient of the M. Joan Kuyper Farver Full-Tuition Scholarship
Patrick Krapfl of Ames, Iowa, recipient of the Rolscreen Scholarship
Kalli Peebler of Altoona, Iowa, recipient of the Rolscreen Scholarship
Nicholas Reid of Batavia, Illinois, recipient of the Rolscreen Scholarship
Anna Venenga of Washington, Iowa, recipient of the Rolscreen Scholarship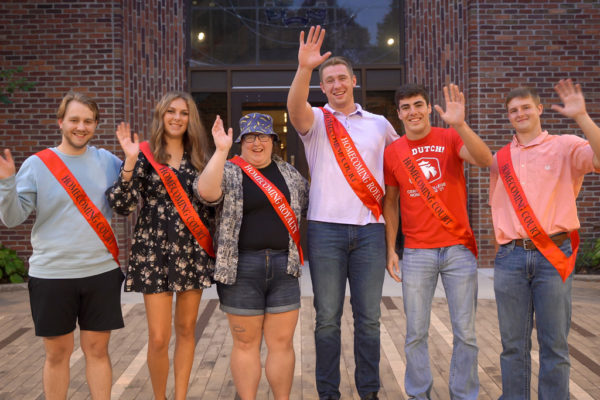 2021 Homecoming Court
Central announced its Homecoming court and royalty winners during a ceremony Friday, Oct. 1. Terry Hefel '22, Megan Reem '21, Brayden Egli '22 and John Zeitler '22 were selected to the Homecoming court. Cassidy Frana '22 and Thomas Spoehr '22, center, were crowned Homecoming royalty.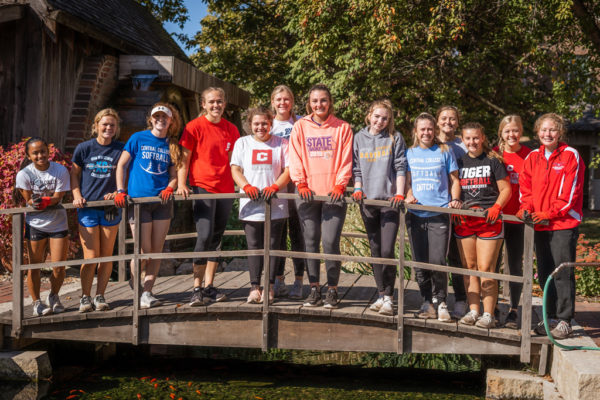 2021 Service Day
Central held its annual Service Day on Oct. 5 with more than 630 volunteers taking part in 43 projects. Service Day has been a cornerstone of the Central experience since 2006.
Students, faculty and staff volunteered for projects in the Des Moines, Pella, Oskaloosa, Grinnell, Newton and Ottumwa areas. Service Day is organized by Central's Office of Community-Based Learning and is part of the college's commitment to service-learning throughout the year.
In total, there were 1,975.5 hours donated with an economic impact of more than $49,000.
Projects included sodding three different properties for Greater Des Moines Habitat for Humanity; winterizing outdoor garden areas; and sorting and packaging food.
Other highlights of the day include:
6,912 meals packaged for Meals from the Heartland.
1,000+ kits assembled for The Project Primary Health Care.
500+ trees mulched for Barnswallow Flowers and Produce.
400 toothbrush kits assembled for Drake Head Start.
Professor Stavros Papakonstantinidis Publishes Chapter in Academic Handbook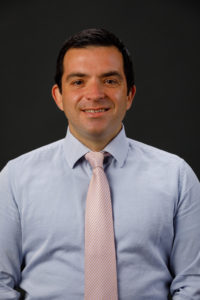 Stavros Papakonstantinidis, associate professor of communication studies, has co-authored a chapter published in "The Emerald Handbook of Women and Entrepreneurship in Developing Economies."
It examines women's roles in entrepreneurial practices in a range of developing countries by analyzing, interpreting and understanding certain themes and issues. The book brings a global range of scholarly voices to examine women and entrepreneurship in developing nations, exploring their practices and motivations in relation to individual, societal and institutional factors. Gender roles, role models and entrepreneurial ecosystems are issues the book aims to question.
The chapter, titled "Digital Natives Entrepreneurial Mindset: A Comparative Study in Emerging Markets," analyzes cultural and social entrepreneurial differences between men and women in Kuwait and Serbia, with a focus on digital marketing strategies. It was co-authored by Piotr Kwiatek, associate professor at Kozminski University in Warsaw, Poland, and Radoslav Baltezarevic, vice dean for graduate studies and scientific research and professor of marketing, communication and management at Megatrend University in Belgrade, Serbia.
"My research background is to understand how people who are presumed to be Generation Z, or digital natives, use technology," Papakonstantinidis says.
The study focuses on males and females ages 18-25 and measures both their ability and desire to own a business. The book states socialized gender roles, not biological gender, play an important part in entrepreneurship.
The study shows females in both countries demonstrate a positive attitude toward using social media for entrepreneurial activities. Although technology drives emotional intelligence, females would like to receive more guidance and encouragement to feel more confident to start a business.
"Women feel they need more empowerment and education to start their own business, whereas men typically feel the opposite," Papakonstantinidis says. "The Middle East is a male-dominant society, so they don't feel they need an expert opinion outside of their family. Women see entrepreneurship as a way to break away from the gender stereotypes of the Middle East. Entrepreneurship gives women the opportunity to work and not rely on the state or their father or husband's income."
While Papakonstantinidis doesn't necessarily see the study as a breakthrough, he says it shows how entrepreneurship can be used to disrupt social stereotypes.
"This study identifies a need for young women seeking social and economic opportunities," Papakonstantinidis says. "Women's entrepreneurship has been designated as an engine of economic development for these countries."
This research is ongoing and will continue to explore effective methods to encourage entrepreneurship in emerging markets.
This is Papakonstantinidis' first year teaching at Central. His expertise includes digital, strategic and organizational communications, public relations and advertising.