Innovation Isn't Birthed From Abundance
In fact, innovation exists to fill a void where there is lack. Five Central College graduates share how their college experiences shaped their careers and molded them into innovative leaders and entrepreneurial pioneers.
From researching a new soybean genome in an engineering lab to turning the Des Moines Metropolitan area into the "Silicon Valley of the Midwest," these alums are opening new, infinite doors of possibilities in their respective fields.
And it all started at Central.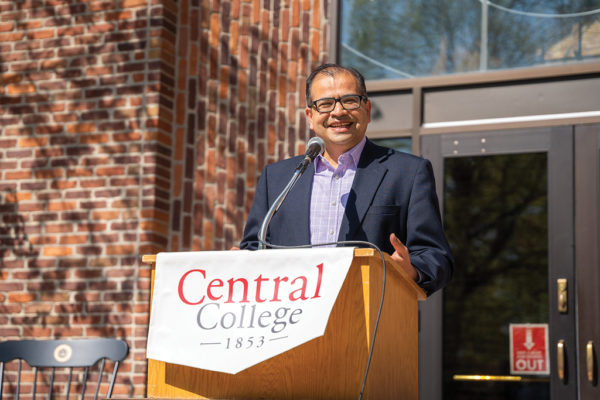 Tej Dhawan '91
Hometown: New Delhi, India
Majors: Mathematics and Computer Science
Campus Activities: The Pelican, The Ray, Student Senate, Students Concerned About The Environment and Alpha Zeta Mu
Current Professional Role: Strategic Initiatives Officer, Principal Financial Group, Des Moines, Iowa
Like Lego pieces, there are experiences and relationships that are critical building blocks to the foundation of everyone's life. For Tej Dhawan '91, Central College is the Lego that pieces everything together.
"There are so many foundational elements, much like Lego pieces, that make me who I am," Dhawan says. "And Central was the luck of the draw. Central is where it all began for me."
Humble Beginnings
The foundation of a Central education helped propel Dhawan as a leader in a technology startup community in Des Moines, Iowa. The city has been coined the "Silicon Valley of the Midwest," and Dhawan's expertise, entrepreneurship, advocacy and dedication have played a role in this recognition.
But before the Silicon Prairie, Dhawan was a mathematics and computer science double major at Central. Originally from New Delhi, India, Dhawan chose Central as his new home after exchanging letters with Eric Sickler '83, who, at the time, was Central's vice president for admission.
"Central, above all, supported me financially to attend college," Dhawan says. "I'm friends with Eric to this day. And I still have his letters that brought me to Central."
And, believe it or not, Dhawan was drawn to Iowa's frigid temperatures.
"When you grow up next to the deserts of India, you're used to 100-plus degree temperatures in the summer," Dhawan says with a laugh. "So, the cold sounds pretty good."
At Central, Dhawan was an active member of Alpha Zeta Mu, Students Concerned About The Environment and was president of Student Senate. But his main passion was computers.
"I found the computers, the nascent Internet and fellow computer science students absolutely fascinating," Dhawan says. "I was always reading and learning about technology."
Robert Franks, professor of computer science, sparked Dhawan's specific interest in cryptology. Combined with courses in business administration, Dhawan was challenged heavily by his professors.
"It became a challenge and a proof point to say, 'Hey, I can do whatever I put my mind to,'" Dhawan says.
And he did just that. After graduation, Dhawan worked at Principal Financial Group in Des Moines, Iowa, as a systems consultant. He combined his interest in technology and business by buying and selling computer equipment on the side. In 1994, he resigned his full-time job and dove head-first into owning and operating his own business.
"The word 'startup' had not entered the vernacular quite yet," Dhawan says. "And it wouldn't for another decade or more."
The Innovator
Dhawan had to pivot quickly from selling computer hardware to writing computer software. At the time, computers were increasing in reach. Microsoft had pledged to have a computer in every home. Companies like Dell and Gateway were successfully enabling that dream.
The company, now Advanced Technologies Group of West Des Moines, shifted its focus on a tighter niche — computer software in the prison industry. Collectively, Dhawan and his business partner hired 12-15 Central graduates over the years. Dhawan sold his equity in the business in 2010, and the company was bought by another industry heavyweight. Dhawan pivoted again.
In 2011, he and co-principal Christian Renaud launched StartupCity Des Moines, a volunteer-driven incubator to help entrepreneurs grow their budding tech companies in the Des Moines Metropolitan area. Together, they formed a startup "ecosystem," which did not exist in the Midwest before 2010. This created a startup community comprising of government, business and educational institutions.
"I realized there were a lot of people who were trying to start their own companies, a lot like I had in 1994," Dhawan says. "There really wasn't an ecosystem that could help people get started. The hardest thing is to get going. We did this with a service mindset."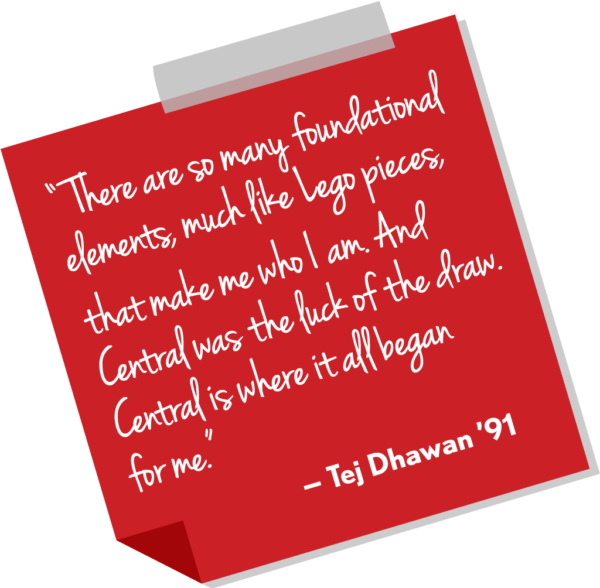 And Dhawan knows diversity is key to a flourishing ecosystem. He has been an active advocate for immigration laws in the U.S., prompting conversations with state and national politicians at the White House. In 2020, he was named to the Business Record's Racial Equity Advisory Board for his advocacy.
"What we need is a diverse ecosystem of competing ideas to keep enriching the ecosystem," Dhawan says. "Men and women, young and old, people from different geographies, they all think differently. They are shaped by forces that are divergent. Having all of those voices around a single table creates exponential growth."
In December 2010, President Barack Obama launched the Startup America Initiative to celebrate, inspire and accelerate high-growth entrepreneurship in the U.S. The initiative welcomed Dhawan, his co-principals and the Greater Des Moines Partnership to launch StartupIowa alongside Startup City, a statewide initiative aimed at providing visibility to Iowa entrepreneurs. Iowa was one of the first states to launch such initiatives alongside the White House.
"By resonating with the national message, by being volunteers and not trying to make money off of young startup companies, we received so much network attention from the media," Dhawan says. "It gave a ton of young companies the confidence to start moving forward. We never wanted a CEO for the Iowa startup community. We are continuously trying to build our community, not own it."
Over the years, Dhawan has formed multiple business startups, including:
Pikuzone, a parent-managed service that delivered a safe email platform for children.
Plains Angels, a network of angel investors from Central Iowa who invest in early-stage companies focused on product development in ag-tech, bio-tech, medical, pure tech and manufacturing companies.
Mango Seed Investments, a boutique seed fund based in Des Moines that invests in early-stage companies.
Dhawan currently works as a strategic initiatives officer at Principal Financial Group, where he began his professional journey in tech in 1992. He also has served on Central's board of trustees since 2001 and was named chair in 2018. You could say he's pivoted in a full circle. "There are some things you just can't control in your life," Dhawan says. "Some things just happen. And I've had many fortunate strokes of serendipity."
The Instigator
If Dhawan had to give himself an official title, it would be "Instigator."
"I like to get things started," Dhawan says. "In many cases, I've invested in companies that I've helped instigate, and I continue to mentor them. On the other hand, I've also helped companies sell or shut down. I am an instigator."
As an instigator, his biggest piece of advice for any young entrepreneur is this: There are no good or bad ideas.
"Your ideas are never wrong," Dhawan says. "Nobody can tell you whether your idea is good or bad. It's all going to be in the execution of that idea. It's all within you, what's in your heart, not what anyone else says."
And it is essential to talk about those ideas.
"Unless you want to start a business that might lead toward intellectual property protection, keeping your idea a secret is not going to let that idea grow," Dhawan says. "You can have a package of seeds, but they aren't going to produce anything until they are sown into the ground."
And when you find success in whatever you do, it's important to never forget those who helped you along the way.
"Without Central, I wouldn't have my wife, Karen Spencer Dhawan '91. I wouldn't have my family. I wouldn't have a successful career," Dhawan says. "Had I not found employees who are themselves Central graduates, through my advisors, I wouldn't have my professional standing. These Lego pieces aren't green or blue or yellow. They're Central red."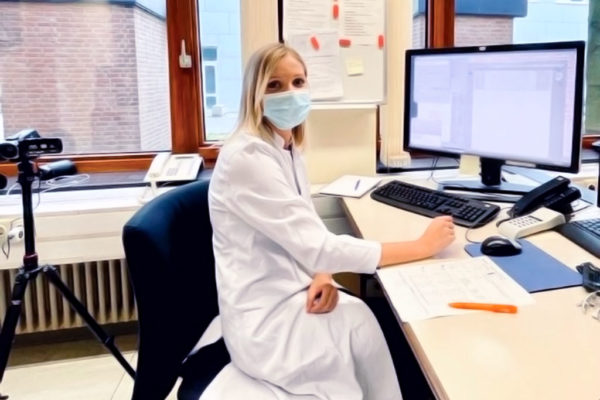 Rachel Spooner '16
Hometown: Altoona, Iowa
Major: Biology
Minors: Chemistry and Spanish
Campus Activities: Research Assistant, Honors Thesis and Resident Advisor
Current Professional Role: Postdoctoral fellow in neuroscience at Heinrich-Heine University in Düsseldorf, Germany
Rachel Spooner '16 is taking the world of neurological research and discovery by storm. The doctor of neuroscience is continuing her research path, which began at Central and carried through her Ph.D. program, to Düsseldorf, Germany.
A Focus on Research
Spooner, a biology major with minors in chemistry and Spanish, was inspired by her grandfather: his life and his battle with Parkinson's disease.
"He was just the kind of person who would be in rehabilitation classes helping out like he was the instructor, not someone who needed to be there to work on things himself," Spooner says. "There he was, with the same disease as those around him, and he's thinking about the well-being of others ahead of himself. That was truly inspiring to me."
Spooner came to Central intending to study Parkinson's or go into a field involving the disease. The original intention morphed into a desire to conduct research.
Spooner rolled up her sleeves knowing full well what her topic would be for undergraduate research projects, including her honors thesis.
In her time at Central, she was a research assistant and resident advisor; completed her own research and honors thesis; and stayed active on campus attending events and participating in campus activities. She fondly recalls the events and activities on campus as well as hands-on learning opportunities like beekeeping and prairie preservation. Even Spooner's favorite activities made her think outside the box or adjust routines through trial and error.
Examining Brain Function
Hungry for more information and to contribute to the community of neuroscience, Spooner moved on from Central to the University of Nebraska Medical Center where she studied motor dysfunction in people living with HIV.
Under the direction of Tony Wilson, director of the institute for human neuroscience at Boys Town National Research hospital and associate professor in UNMC's department of neurological sciences, Spooner worked in the neuroimaging lab using a magnetoencephalography device and MRI, which would then provide a clearer picture of how the patient's brain functioned during specific tasks.
Spooner's patients had virally suppressed HIV, which is not transmittable. However, the patients still exhibited some cognitive and motor deficits. She and her mentor took a closer look to see if these deficits were related to the aging process or to the virus itself by using MEG and comparing biological markers that are usual indicators for aging like mitochondrial dysfunction and oxidative stress. Spooner then evaluated how this relates to the brain and to HIV.
Her combination of neuroimaging and molecular biology techniques is unique to her lab and to the world of neuroscience.
Just five years removed from her Central education, she's been published 22 times (first author and co-author) and is waiting on review for another seven first-author publications.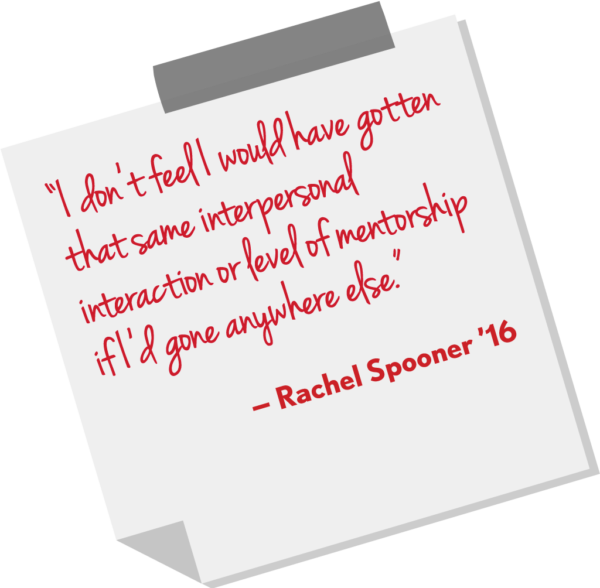 Understanding Parkinson's Disease
Spooner's hunger for knowledge still unfulfilled, she is now a postdoctoral fellow at the Heinrich-Heine University in Düsseldorf.
She's collecting and analyzing real-life data from patients with severe cases of Parkinson's who have been implanted with deep brain stimulation. Her research involves recording brain function as they perform a variety of specific cognitive and motor tasks. She's found herself diving into a lot more computer science and programming than she ever thought she'd encounter. Because of it and the technology utilized, she's able to see and localize where activity is (or isn't) occurring in the brain and how it's optimized by DBS to alleviate adverse symptoms in these patients.
Spooner has been able to apply much of what she learned during her Ph.D. program to her work in Düsseldorf. Through an interesting development, Rachel has seen firsthand that some of the same motor deficits observed in people living with HIV are also present in those with Parkinson's disease.
The finding is "an interesting parallel and just goes to show all we're not aware of until we study something like this," she says.
Spooner is living her dream and blazing the trails of innovation along the way. She's nowhere near being done dreaming or doing, though. After her three years overseas have concluded, she hopes to continue as an MEG scientist and someday become the director of her own lab while teaching at a small school like Central. Throughout all her accomplishments — of which there are many — she recognizes their ties back to her time at Central.
The Path to Innovation
"New people coming into the lab as research assistants are trying to get experience that matters when you're wanting to go to graduate school, and especially for a research-based Ph.D.," Spooner says. "That is one of the first things that they look at: if you have research experience, publications or some sort of tangible output. Central helped me stand out to grad programs because it was uncommon to have experience at that point in time presenting at professional conferences like the Midwest Psychological Association.
"The mentorship I received at Central was truly outstanding," she adds.
Ashley Scolaro, associate professor of psychology, was Spooner's primary mentor as a student.
"She was amazing. She really helped me get into the mindset of designing a research question that is your own," Spooner says. "The participant recruitment, data collection, statistical analysis, writing, even developing the question and reading the literature to begin with — are all things I learned at Central and do every single day now," Spooner says.
Spooner is convinced her early experience, in addition to personal connections and interactions with professors are unlikely options at most other institutions. She was particularly impacted by mentorship from Paulina Mena, associate professor of biology, and Nicole Palenske Ladner, associate professor of biology; and her academic advisor, Russ Benedict, professor of biology.
"That's what I felt so much (personal connection) with my professors like Ashley, my co-mentors for my thesis Paulina and Nicole and my advisor Russ. Having that support from mentors you can trust who provide great personal and professional advice? I don't feel I would have gotten that same interpersonal interaction or level of mentorship if I'd gone anywhere else."
What started as a research assistant position working with zebrafish in a Central lab as a student turned into an intense passion for research and making a difference that could one day help the world solve the debilitating riddle that is Parkinson's disease. Spooner loves that the day-to-day work of research is different all the time, and yet researchers are in control of what they want to do and study.
"It definitely started with my grandpa. Like him, I wanted to help. I'm a patient-oriented person even though I'm not a physician," Spooner says. "A positive patient outcome is my ultimate goal, so that's what I'm trying to tailor my career around — doing research that serves the betterment of the patient."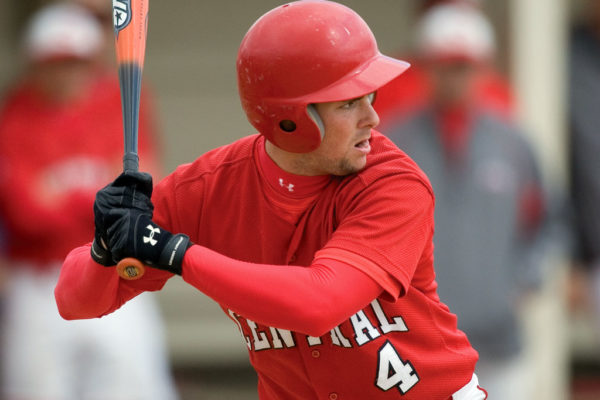 B.J. Pilling '09
Hometown: Denison, Iowa
Major: Exercise Science
Minor: Business
Campus Activities: Baseball
Current Professional Role: CEO, GoFan, Atlanta, Georgia
B.J. Pilling '09 hails from small-town Denison, Iowa. When the time came to choose a college, he knew he was unready for the atmosphere of a larger university.
"I wasn't really a party guy — didn't drink in high school," Pilling says. "So, I didn't know how well I would fit in at a larger school."
Continuing in athletics was a priority for Pilling, so a Denison connection with Al Dorenkamp '75, then Central College's athletics director, sparked Pilling's interest. "I went to Al, met a couple of kids on the baseball team who had familiarity with Denison and I was attracted to sport performance and the intersection of sports and business," Pilling says. "Sports were such a key driver."
Looking Up
Pilling spent time playing baseball for the Dutch and soaked in lessons from Jake Anderson, former strength and conditioning coordinator, as well as Kyle Johnson '02, strength and conditioning coordinator, fitness center director and lecturer in exercise science.
"Jake's leadership and overall approach to learning really inspired me," Pilling says. "I've looked up to him in a lot of ways, and he had a ton of influence in my life. Some of the ways I lead today reflect his influence and are ways that I continue to pursue growth."
Pilling grew into a leader his teammates also could look up to when he became team captain his senior year at Central.
"I was a better captain than I was a player," Pilling jokes. "I was trying to do the right things in the right way, and lead and motivate appropriately. To some extent, I guess my poor athletics performance probably helped make me a better leader."
Academically, Pilling decided to blaze his own trail by majoring in exercise science and minoring in business, and even managed to become Dorenkamp's sole advisee.
"I recognized where I wanted to go, and what I wanted to do. I switched my advisor to Dorenkamp — I kind of forced it on him," Pilling chuckles. "Everyone wants to be an athletics director or general manager, but I had an entrepreneurial itch."
Huddle Up
When Pilling got the opportunity to join Huddle Tickets, based in Atlanta, Georgia, in 2012, he hustled to take it. Huddle provided free paper tickets to high schools across the country by partnering with brands like Dick's Sporting Goods, Subway and others.
"We worked with about 10,000 high schools and provided 150 million free tickets every year," Pilling explains.
As digital trends continued to skyrocket, Huddle Tickets made a transition to include a digital ticketing platform — GoFan — "with a heart to provide a complete digital ticketing solution for high schools and fans who want a cashless option to purchase tickets ahead of time," according to the GoFan website. The most exciting part of the new era for Pilling was the opportunity to captain the change.
"I was employee one, and for the first year, I was the only employee," Pilling says. "I had the opportunity to start a company within an existing ecosystem." When Pilling was positioned as CEO to lead the transition with GoFan, he was floored by how the COVID-19 pandemic changed the scope of digital consumption.
"The pandemic made a very interesting pivot for the business. The high-contact business model [of Huddle] went away, while the digitall side of it accelerated like crazy," Pilling explains. "We experienced 10 times growth this year across the board, which is similar to others who experienced consumer disruption."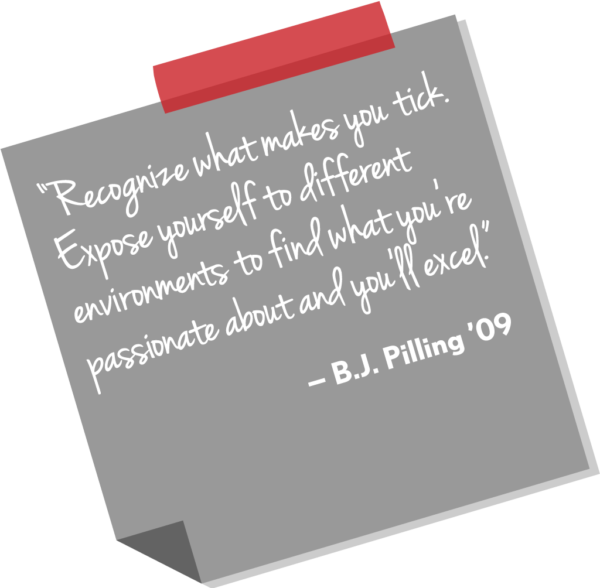 Level Up
GoFan expects to process well over $250 million in ticket sales in the next year. Pilling's biggest responsibility for the scaling software company is to govern oversight for schools and districts as well as acquire and retain employees in Atlanta's extremely competitive software and technology talent market.
"I love the fast growth phase," Pilling says. "No two days are alike. What's very exciting right now is we've reached a stage in our company that we're able to go acquire really, really good talent."
Pilling's hiring focus is centered on bringing in employees he deems smarter than himself.
"In any leadership position, you need to focus on hiring those you'd be comfortable working for someday who are smarter than yourself with those roles," Pilling says. "We've been able to leverage our growth to attract and acquire super talented folks who can take the company to the next level."
Married Up
Pilling not only grew his passion for athletics and shaped an innovative career from his time at Central, but he also met his wife Alysa Tanis Pilling '08 here. Pilling counts meeting Alysa as the biggest takeaway from his Central experience …
"I met my wife at Central, which is pretty cool," Pilling says.
… and a major reason his career took off.
"Alysa's father flies for Delta, so she lived in Georgia but went to Central because her grandparents live here," Pilling explains. "She graduated in '08 and I graduated in '09, and I essentially chased her down to Atlanta."
Going Up
Pilling encourages those with an entrepreneurial spirit and can-do attitude to establish goals and scale growth.
"Be growth-oriented," Pilling recommends. "Recognize what makes you tick. Expose yourself to different environments to find what you're passionate about and you'll excel."
Pilling's biggest piece of advice to young professionals involves testing and trusting oneself.
"Get outside your comfort zone," Pilling advises. "Test yourself, put yourself out there. Also, trust in your abilities."
Cheyanne Scholl '21
Hometown: Ankeny, Iowa
Majors: Biology and Spanish
Minor: Chemistry
Campus Activities: Out of the Darkness Walk, Color Guard Club, Rising Scholars Program, National Society of Leadership and Success
Professional Role: Research and Development Technician at Corteva Agriscience
Cheyanne Scholl '21 loves to do puzzles — but not ones out of a box.
A budding geneticist, Scholl knew she wanted to work in her field after taking an AP biology course as a sophomore in high school.
"When we began learning about genetics, we were doing all of this really cool stuff," Scholl says. "It was like doing a puzzle and figuring out how everything works together. And I decided I wanted to solve these puzzles forever."
STEM Innovation
As a research and development technician at Corteva Agriscience in Johnston, Iowa, Scholl works in a soybean genome lab conducting genome transformations.
"Other scientists and I insert different genes into soybean plants in order to get them to express traits that are desired, mainly traits that make them less susceptible to things like herbicides and pesticides," Scholl says. "We're performing this research to help farmers and the agriculture industry."
Scholl performs experiments each week by inserting different strains of bacteria into soybeans. She extracts embryonic axes of plants and infects them with specific bacterium. Then she grows them on several selective media to transform the genome, all while analyzing the data to find which methods are working and what needs to be changed.
Central's collaborative one-on-one student-faculty research opportunities prepared Scholl for this innovative work. As an undergrad, she participated in ongoing Genetics Honors Research with Paulina Mena, associate professor of biology. Her research investigated a simplified process of DNA extraction, followed by DNA barcoding of native Iowan bees, to identify morphologically difficult species more accurately.
"Something as small as a single vein in a bee's wing identifies it as a different species, which means they have completely different needs," Scholl says. "It's crazy to think about. We wanted to discover an easier way to identify them more accurately."
Scholl presented her research at Central's Undergraduate Research Symposium in 2019 and was awarded first place for best poster and presentation of research. Her research also was part of her senior thesis, which she successfully presented in December 2020.
"The role I'm currently in at Corteva requires a lot of teamwork, which I definitely experienced at Central," Scholl says. "We had to collaborate on research in all of my classes and one-on-one research projects. And, of course, the knowledge I got from my classes, specifically microbiology and genetics. Everything I'm doing in the lab every single day focuses on those two domains."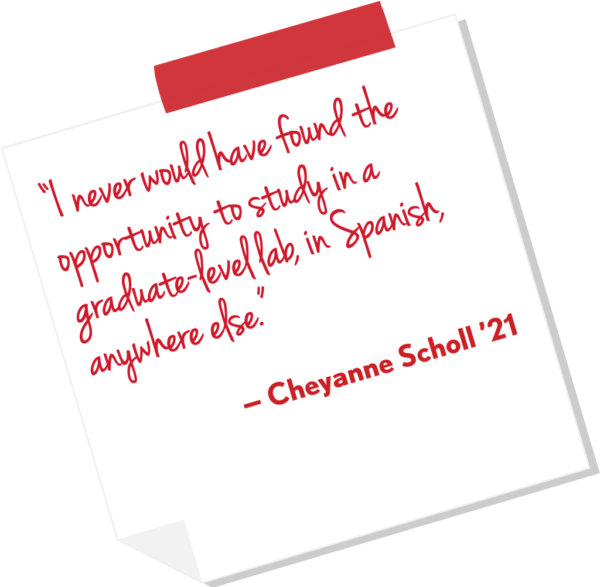 Studying the Understudied
DNA barcoding of bees and the innovation of a new soybean genome are both impressive, but Scholl's true passion involves a piece of herself: population genetics of autoimmune diseases.
Scholl has lived with celiac disease all her life. As a student, she served as a dietary assistant to research new recipe ideas for students who have a variety of dietary needs.
"Autoimmune diseases are super interesting, and there's a lot we don't know about them," Scholl says. "They're so understudied. And I want to make sure they're being researched like they should be."
Scholl's interest in autoimmune diseases extends to Latin America. In 2020, she briefly studied abroad in Mexico before COVID-19 cut international travel short. However, she was able to finish the semester online, where she combined her Spanish and biology majors to conduct international research in Spanish with graduate students at Universidad Autónoma de Yucatán. With the help of Central's study abroad team, Mena and Kathy Korcheck, professor of Spanish, Scholl was one of the first students at Central to ever have this experience.
"I never would have found the opportunity to study in a graduate-level lab, in Spanish, anywhere else," Scholl says. "Study abroad, the one-on-one research with professors and the small class sizes were so important to me and essential for my growth.
"Latin America has a rich culture and history, and I'm always wanting to learn more about it," Scholl says. "I know Spanish and have a host family there that I've visited, so combining Latin American studies and genetics in autoimmune diseases would be the perfect fit for me. Central helped me realize that."
She plans to apply to graduate school to conduct this research in the future. For now, she's working to transform crop genetics.
Piecing Together Endless Possibilities
Today, women make up just 28% of the workforce in science, technology, engineering and math. But Scholl says that shouldn't stop anyone from pursuing their dreams.
"Don't be afraid to be bright and do what you want to do," she says. "Don't let anyone else tell you that you can't do something. If there's something you want to do, try it. If you have an idea, seek it. It could be really, really great. Chances are, there will be bigger opportunities if you speak up, and you'll get to do bigger and better things."
Scholl's blossoming career, nurtured by a Central education, is proof of that.
"If there was something I wanted to do that had never really been done before, I was never told 'no' by my professors. I was always encouraged," Scholl says. "Faculty always helped me directly or at least pointed me in the right direction. I felt like I could do anything and make a difference.
"When you are encouraged to use your voice, so many doors will open for you. And that's when everything comes together."
Jeremy Siefken '08
Hometown: Rockwell, Iowa
Major: General Studies
Campus Activities: Student Orientation Staff Leader and Campus Activities Board
Current Professional Role: Senior Manager of Learning and Growth, Grubhub, Chicago, Illinois
Jeremy Siefken '08 was a self-proclaimed academic drifter. As such, he spent more than half of his college career pursuing a variety of majors — first pre-dental then secondary education — before finding the academic path that would inform his future career.
What Dream?
A young man from Rockwell, Iowa, Siefken wasn't passionate about his career path during his first years at Central.
"I was a good student and earned decent grades, but it wasn't until I studied abroad during my junior year when things clicked, and I really started to find my direction and what I wanted to do," Siefken says.
After studying in London, England, through Central's study abroad program, he took multiple business courses with Jaclyn Rundle, associate professor of business management, and began to find his niche in business. Siefken's only regret? Not discovering his passion sooner.
"I was so committed to one academic path that I was closed off to what else might have been available to me," Siefken says. "I think it's important for first-year students to explore courses they're encouraged to take and take them with a really open mind."
A New Dream
Central prides itself on the close relationships developed between faculty, staff and students. Siefken's mentors include Central legends JoNes VanHecke, former dean of students, and Bonnie Dahlke, former director of student involvement. Even as an involved student serving as an SOS leader and on the Campus Activities Board, Siefken didn't have higher education on his career radar.
"The two of them really took me under their wings and shepherded me," Siefken says. "They opened my eyes to this whole industry I hadn't considered, even though I was super engaged as a student."
It was those relationships that gave Siefken the leg up he needed in finding a job in higher ed without a master's degree or any previous experience. He accepted a position as a hall director for a college in Green Bay, Wisconsin. However, Siefken quickly realized residence life was not his niche.
"I knew pretty quickly that residence life wasn't a fit for me," he says. "But it was a really good stopgap, and it opened my eyes to other functions within higher ed."
Dream Team
Siefken transitioned from Wisconsin to Illinois, where he pursued a master's degree from Loyola University Chicago. It was here he worked in academic advising and orientation.
"I really enjoyed that work," he says. "And after graduating, I found a job doing exactly that at Central and led student involvement and orientation."
Siefken led a dream team of orientation leaders, in partnership with his colleague Laura Bade '09, during his one-year tenure at Central before being wooed back to Chicago.
"In that year, someone from my Loyola network was working at the University of Chicago Booth School of Business and reached out to me to run their leadership-focused orientation program," Siefken says. "I couldn't turn down the opportunity. So, I moved back to Chicago and led orientation for evening and weekend MBA students."
That decision would ultimately take Siefken down a completely different path than he could have anticipated. The position at Booth was eye-opening for him. The caliber of student was unparalleled, and the brainpower, imagination and drive each person brought to the school deeply inspired him. While all of the students were in the program to grow or transition their careers, many were budding entrepreneurs preparing to create their own companies. Siefken began to explore questions like:
What does it look like to lead a team?
What does it look like to lead a function?
What does it look like to lead a company?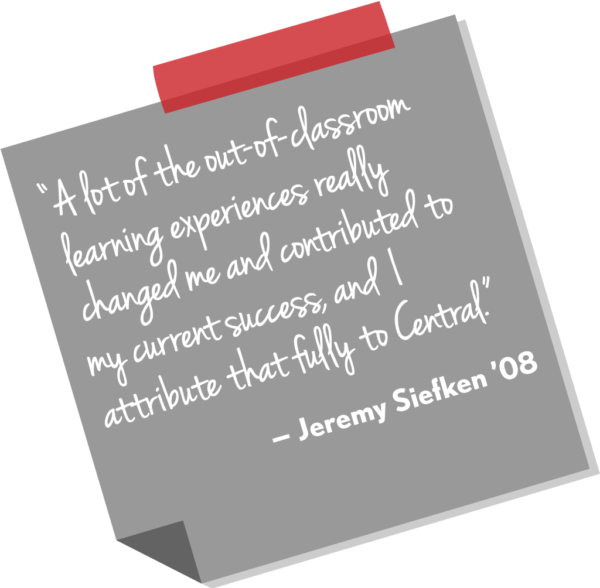 Dream Catcher
After 18 months of learning in this role, Siefken was hired onto Booth's leadership development team, where he started earning certifications and credentials, designing and facilitating leadership workshops, and coaching day-time corporate workers and executives turned night-time students. These conversations informed more research questions, including:
What are the critical needs for today's corporate leaders?
What themes are emerging from leaders' experiences?
What themes are consistent regardless of organization, function, industry or culture?
A handful of themes surfaced, including critical skills leaders should develop, like curiosity, courage and the ability to manage ambiguity. The most interesting were the sentiments students shared about their leaders and why they were exploring leaving their organizations.
"When people leave an organization, they're not necessarily leaving the organization — they're leaving their boss," Siefken confides, cemented by testimonials from countless conversations he had with Booth students. "Their managers were either not empowering or inspiring them, or providing growth or stretch opportunities, so they were exploring new opportunities outside their companies. Talent retention is massively important and critical to an organization's success."
This inspired a learning opportunity for Siefken to capitalize on in his role.
"I found a really neat intersection between teaching current and future leaders how to be better managers by developing their leadership effectiveness," Siefken says.
The challenges to inspire, coach, influence and create change span the leadership spectrum. That's why it was important to Siefken to scale his courses, making them valuable and relevant to every level of leadership.
"At Booth, I was having these great conversations about leadership effectiveness and felt like I was making an impact, but all of these people would contribute to the conversation then leave my classroom to go back to their companies and apply new insights, and I was missing the outcome of my input," Siefken says. It was this realization that solidified his decision to move into the corporate space after six years at Booth and bring learning initiatives in-house.
Dining Dreams
Siefken found an opening at Grubhub, founded by a Booth alum.
"I connected with the recruiter, and I was ultimately offered the job. It was kind of like a full-circle moment," Siefken says.
Fast forward two years, and Siefken is the senior manager of learning and growth and is responsible for corporate training and organizational development at a leading national online food delivery company. In addition to leading a team of 15, Siefken also designs leadership programs for internal growth at Grubhub, which span from entry-level management progressing to mid-level management all the way to high-potential leadership programs for senior leaders preparing to move into executive roles at Grubhub.
Dutch-inspired Dreams
The ability to think critically is one of the major benefits of Central's liberal arts education. This is especially true for Siefken in his fast-moving career with constantly changing demands.
"The ability to think critically, especially after taking classes in philosophy, business, political science, religion and STEM — classes I wouldn't necessarily have chosen to take outside of a liberal arts college — was a huge asset," Siefken says.
The opportunity to study abroad and complete service learning also stretched him to think beyond his rural Iowa roots. It was Cheri Trout Doane '98, director of civic engagement, who gave Siefken a life-changing service learning experience.
"My first encounter with Cheri was during service learning when I was placed at a Des Moines high school," Siefken says. "I remember walking into the school, the bell ringing, and the hallways flooded with students — and the majority of the students were not white. That was the first time I remember being hyperconscious of my race. It was a complete shift in my self-perception and the perception and worldview."
These experiences gave Siefken the ability to think outside of himself and opened him up to the differences in people.
"Had I not had those experiences, I may not have felt as comfortable or confident traveling to Booth's campuses overseas to teach leadership to people whose first language wasn't English and whose culture was different from mine," Siefken says. "A lot of the out-of-classroom learning experiences really changed me and contributed to my current success, and I attribute that fully to Central."