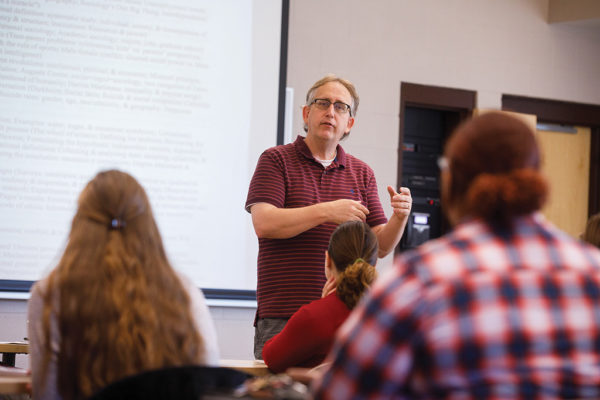 The past two years have been quite a ride. During that time, I served as the chair of Central College's Faculty Steering Committee, and we've dealt with many complex issues — not the least of which was navigating through a global pandemic.
I confess that it has sometimes seemed overwhelming. We've had to make difficult decisions while juggling many balls. Through all the challenges, however, the light at the end of the tunnel for me has been the hopeful vision provided by the curriculum renewal work the faculty began in 2019.
Central's curriculum has always been, and will always be, evolving. Over time, existing classes get reinvigorated with the addition of new texts and assignments. Professors regularly create new courses while old ones fall by the wayside. As professors retire, new professors arrive with different ideas, skills and visions. And every now and then, the faculty takes a more intentional look at the curriculum as a whole with an eye toward renewal.
This is one of those times.
The faculty launched our curriculum renewal conversations in response to Central's current "Strategic Plan for Student Success." As part of this process, we have passed a number of milestones including:
Developing guiding principles for Central's curriculum.
Evaluating the effectiveness of Central's current core.
Envisioning core renewal aligned with the guiding principles.
Producing innovative models of a new Central College Core.
This fall, the faculty plans to vote to adopt our new core. In addition, we continue to work on desired student learning outcomes and experiences for study abroad when it returns in Fall 2022 and to pursue pathways for additional curricular initiatives.
Why do this work now? There are a host of reasons.
All private liberal arts colleges today face significant challenges. Central must be proactive about addressing them.
One challenge, known in higher education circles as the "demographic cliff," is that significant declines in the number of high school graduates pursuing a college education will occur starting in 2026 because birth rates plunged during and after 2008's Great Recession and they have not recovered. This effect varies by region, with the Midwest and Northeast particularly hard hit. According to economist Nathan Grawe, Iowa should anticipate a drop of at least 15% in available students.
Another challenge comes in the form of enhanced competition between colleges and universities, which will only escalate when the supply of available students decreases. Nationally, fewer than 2% of all undergraduate students opt to attend liberal arts colleges. In addition, we hear increasing calls for free college tuition initiatives. And families have become increasingly cost-conscious, demanding quantitative return-on-investment figures for graduates.
Finally, few colleges have an overabundance of resources, so we must be good stewards of those we have. Too often, in an effort to attract more students, institutions have added programs but found it difficult to cut already established programs, opting instead to continue to carry those costs even when some programs may no longer be sustainable.
Over the past year, Central faculty have engaged in many conversations about academic program sustainability. We have taken a hard look at national and local trends, analyzed enrollments and budgets, debated how best to prioritize various principles and more. In doing so, we sought to balance what we hope and dream for against what's possible. In the end, some very difficult decisions about programs had to be made. And we continue to be committed to our responsibility of being good stewards of Central's academic programs.
Though we must be responsive to such challenges, our pursuit of curriculum renewal more importantly arises out of Central's ongoing collective commitment to always do right by our students. We want to ensure that the education we provide, both today and tomorrow, is rooted firmly in the liberal arts, provides a coherent and distinctive narrative, and equips students with the competencies necessary to succeed in whatever pathways they pursue after graduation, whether in the workforce, graduate school, or some other direction.
Central has always looked for innovative ways to provide its students with what they want and need. Since 1853, we have offered a broad range of degrees (B.A., B.S., B.M., B.Ph., M.A. and even Ph.D.). During the Great Depression, Central created the Central College Student Industries furniture and toy production factory to support our students (central.edu/factory). During World War II, the college created the School of Aeronautics to train pilots.
Today, and into the future, Central and its faculty remain committed to curricular innovation so that we can continue opening doors for Central students to go out and do great things.