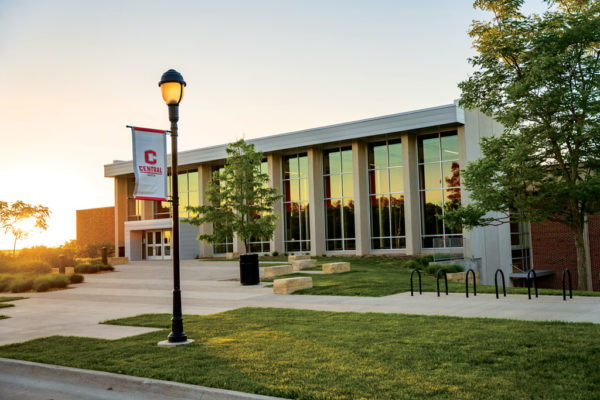 First impressions can last forever. Central College Football Coach Jeff McMartin '90 knows this.
"Your facilities are the front porch of your program," he says. "It starts to tell a story."
That story with Central athletics now begins with state-of-the-art facilities that certainly leave a lasting impression.
Central just wrapped up a project that transformed A.N. Kuyper Athletics Complex and changed the face of Dutch athletics forever. It began with outdoor field enhancements and finished with the expansion and renovation of P.H. Kuyper Gymnasium.
The Forever Dutch® initiative, the most ambitious athletics capital initiative in the college's history, wrapped up fundraising in November 2020, and construction was completed this spring. A record 2,712 Central alumni and friends provided support for the completely donor-funded project.
A Game Changer
"Completing this phase of Forever Dutch with the Kuyper Athletic Complex is a game changer for us," says Eric Van Kley, Central's athletics director. "The upgraded facilities allow us to more efficiently recruit, enhance our student-athletes' experiences and, most importantly, better impact the young women and men we serve.
"We couldn't be more grateful to each donor who has made this possible. These first-class facilities raise the bar for us among our conference and regional peers, along with making a tremendous impression for recruits' families locally and nationally."
The project officially kicked off with a celebration in January 2016, although a few projects already had been completed.
Some of the first noticeable improvements were new baseball and softball seating areas; hillside soccer seating; new scoreboards for baseball, softball and soccer; and the videoboard in Ron and Joyce Schipper Stadium, which also received improvements that included the Heritage Plaza leading to the playing field and stands.
Significant changes to P.H. Kuyper Gymnasium, which originally opened in 1970, were the bulk of Forever Dutch.
Major infrastructure improvements were needed, and a new entrance welcomes visitors into the M. Joan Kuyper Farver Atrium where Central's 11 team national champion trophies are housed. That phase also included the new lower-level Pacha Family Lobby, which includes a new athletics hall of honor. A new men's varsity locker room was completed, as was a new wrestling room.
Improvements completed in September 2020 included a new women's locker room, a new equipment room, renovated coaches' offices and a renovated athletic training room. The final phase, completed in May, added team video rooms, new coaches' offices, recruiting suites and the Sikkink-Dykstra Welcome Center.
Pride on Our Side
"These new facilities give pride to Dutch athletics and show what we're all about," says Sydney Canney '22, a defender on Central's women's soccer team from Adel, Iowa. "These facilities represent the confidence and pride our alumni and fans have in us."
Thomas Spoehr '22 came to Central in Fall 2018, shortly after the first phase had been completed. Spoehr, from Bennington, Nebraska, played basketball and now competes in throws for the Dutch track and field team.
He had heard about the additional planned improvements, not knowing for sure if they'd be completed before he graduated.
"To see it come to fruition is pretty cool, knowing they did it while I was here," Spoehr says. "It's an environment you want to be in, a place you want to go and are proud to call your own. That's what you come to Central for."
Spoehr also says he's impressed by the breadth of the improvements.
"It never felt like one team was valued more than another," he says. "Everyone uses it. No matter what sport you compete in or what gender you are, it's for everyone. It speaks volumes about Central and how much they care."
Danae Greig '23 also found that feeling of caring during her visit to Central. It was part of her decision to come all the way from Albany, Oregon, to play basketball. Like Spoehr, she was curious about the timeline of the facilities improvements.
"To see it in motion was encouraging," she says. "I knew when it was done it was going to be a heck of a lot better than it was. The project is even better than I thought it would be."
Griffen McBride '21, a wrestler from nearby Pleasantville, Iowa, remembers his first visit and recruiting trip to Central.
"I was sweating profusely just watching the wrestling practice due to the small size of the wrestling room and large size of the team," he recalls. "Luckily, I was the first class to be able to use the new wrestling room. Our (facilities) can compete with anybody, and they'll absolutely give the Dutch an advantage over our competition."
Facilities Matter
No doubt one of the biggest benefits with the new facilities lay in recruiting. Coaches have sparkling new facilities to show off, certain to get the attention of a high school senior. It allows Central to attract top talent from across Iowa and the country.
"On my visit, I remember being very impressed by the quality of the facilities. They were already the nicest of any of the colleges I visited," says Amanda Smith '23, a volleyball player from Tipton, Iowa. "I love the new facilities! Seeing the progress and renovations motivates me and my team to continue to work hard for our school. They have put money and time into setting us up for success."
Adds Kole Tupa '24, a men's basketball player from Center Point, Iowa: "When I have had something nice, I tend to take care of it and take great pride in it. When something is The original Kuyper Stadium was located in the space now occupied by Vermeer Science Center and Kruidenier Center. Geisler Library sits behind the home bleachers. high class, like our facilities, student-athletes will be much more inclined and motivated to take advantage and use them. I definitely think the facilities will only have positive impacts on Central College athletics."
The upgrades serve the biggest areas of need for Central athletics. In addition to appealing to recruits, it allows current student-athletes to see they are supported.
Almost 70 percent of first-year students compete in a sport at Central. But it goes beyond athletics, too. The Kuyper facilities are used by nearly everyone on campus in some capacity.
"You can see Central is investing in its athletes and students," Spoehr says. "They're taking it seriously. Central cares about you — not just in athletics, but beyond and as a person. It really shows."
That's the feeling McMartin has gotten from student-athletes he's recruiting and those he's coaching. Both, he hopes, leave here impressed.
"These facilities make a big impact. They help create a great atmosphere, which can lead to future visits and ultimately result in commitments," McMartin says. "You want people to come in, feel comfortable, get excited and create an impression of who we are as an athletics department. When they commit to Central, you want them to know they're supported and have the facilities to develop and get better.
"These changes reinforce who we are, what we expect and how we want to compete. Throughout all levels of college athletics, it's an arms race. Everyone is looking to improve, to be better. You can't stand still. You must always be looking for ways to improve," he adds. "This is us."