Five years ago, James Boatright '21 was in a traumatic car accident. He pulled out at a stop sign in his tiny, blue Chevy Cavalier, and was T-boned by a pickup truck. The impact left an unconscious Boatright wedged in the driver's seat. The then-16-year-old Boatright was in a coma for 10 days, and doctors gave his family a grim prognosis: Boatright was not only in critical condition, but medical professionals predicted he would not walk, talk or even know who he was again.
There was nothing left for his family to do other than hope for the best.
Walking on Cloud Nine
Naturally, it was hope that filled Lauri Auxier's, Boatright's mother, eyes as she described the implications of her son graduating during Central College's Commencement ceremony Saturday, May 15, 2021.
"He's the first one to graduate," Auxier says. "He came with the odds stacked against him — low-income family, single-parent household, no one had ever been to college before and he had a traumatic brain injury when he was 16. So, for him to graduate high school on time and graduate college with the grade point average he has is absolutely a miracle."
Boatright spent a month in the hospital after his accident relearning how to talk and walk. A skill he used to cross the Commencement stage and accept his much anticipated and well-deserved Dutch diploma.
"It's hard for me to even put into words, but I'm beyond amazed that he did everything he did," Auxier says.
It was hope — and fatherly pride — that thickened Rick Boatright's voice as he, too, shared joy in his son's accomplishments.
"I couldn't be prouder of him," Rick says. "I think he chose the right school; it's been really good for him."
Upward Bound
Even his grandparents, James and Pat Auxier, believe Boatright's success at Central was paved on campus … before he was ever a student here.
"He went to Upward Bound before he ever started college," James Auxier says. "So, he calls this place his home."
Upward Bound is a program hosted on Central's campus that supports low-income and/or first-generation students from participating high schools in developing the skills and motivation needed to successfully complete high school and enroll in and complete a program of postsecondary education.
"It's been an experience to enjoy with him, as much as he has enjoyed being here at Central," Auxier says.
The Future Is Now
Boatright, a native of Des Moines, Iowa, is excited for life after Central. He secured a job at Soil-Tek in Grimes at the beginning of April; although he accepted the position on April Fool's Day, this job is no joke.
"I'll essentially be making sure that construction sites are being environmentally friendly," Boatright says. "I'm super excited about it."
With classes and Commencement over, Boatright's future is now. However, it was his satirical wit as a Central student that made him a campus favorite.
Yolk's on You
Boatright also is known as Egg Guy. What started as a small yolk — or joke, rather — during Boatright's junior year at Central became a campus hit.
"I started scrambled egg reviews second semester of junior year because I thought it was kind of funny," Boatright says. "The last couple of months, I had kind of fallen off because I got bored of doing it."
Then he received word that his adoring public was hoping for one last egg review.
"My friend is a resident advisor, and she overheard some first-year students saying they hoped I would do one more for the end of the year because they look forward to it," Boatright says. "A ton of faculty and staff have told me they look forward to the egg reviews. So, it seems that the demand didn't fall off as steeply as I thought it did."
Boatright was even approached at senior events by professors he didn't really know, but they knew him — the Egg Guy! Given his unprecedented popularity, Boatright planned for one last scrambled egg review.
The Thursday before Commencement, he planned to give his parting review. Except he couldn't.
"There were no scrambled eggs on Thursday," Boatright says. "I was a little disappointed. I had to rate a fried egg."
Hope For the Best
Much like Boatright's medical prognosis post-accident, there hasn't been much for the Central family, and the entire globe, to do in the wake of the COVID-19 pandemic but hope for the best. Each of us is responsible for extending the care and compassion that is so desperately needed.
In the coming days of transition, there will be opportunities to be kind in the midst of cruelty; to be empathetic despite disunity; and to be a light in encroaching darkness. Until the weight of the pandemic has lifted, and even long after it's in hindsight, take every opportunity to show love, advocate for change and lend your light. It's our only hope as a community — and we hope for the best. As President Mark Putnam told the Class of 2021, "Go and do great things!"
---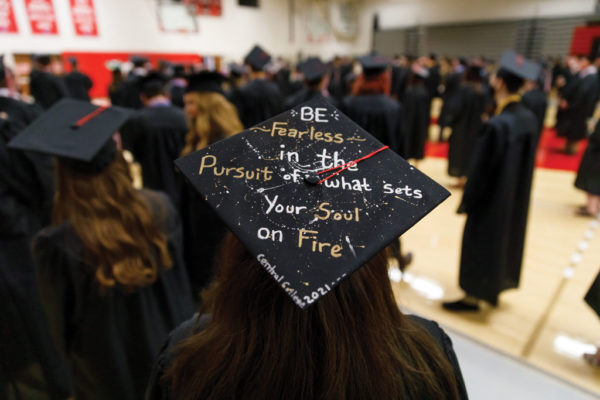 Celebrating the Class of 2021
256 Graduates From 17 States
29,091 Credits Completed
29 Graduates Are Children of Alumni
50% Of the Class of 2021 Completed at Least One Season of Dutch Athletics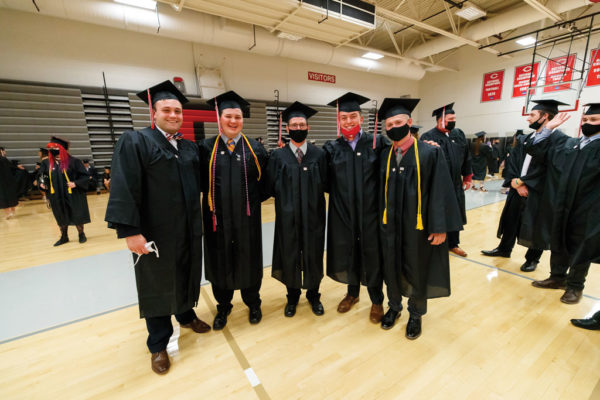 Commencement for the Class of 2021 was held at Ron and Joyce Schipper Stadium for the second semester in a row. And, for the second time, the weather threatened to unleash on the graduating class and their loved ones.
Kelly Yeager of Center Point, Iowa, was grateful to be at Central — sans rain — to celebrate her daughter. "We're here to support our daughter, Cassidy Yeager '21," Yeager says.
Cassidy, a sociology major and psychology minor, graduated manga cum laude.
"She's going to be working in Des Moines at NeuroRehab," Yeager says.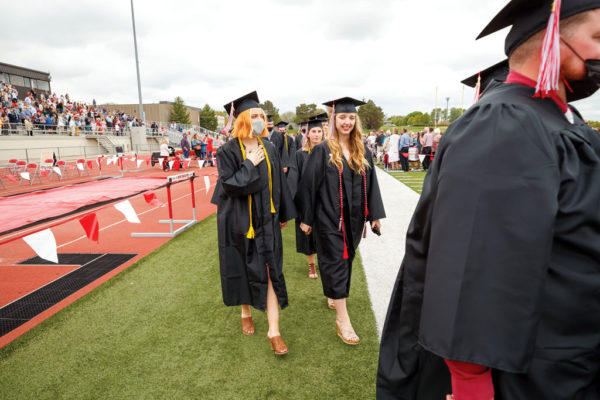 Xavier Bryant '21 of Des Moines, Iowa, performed the national anthem during the 2021 Commencement ceremony. As a music performance major, Bryant was a logical choice. But that didn't dull his shock at being selected.
"Sean Stephenson (lecturer of music) contacted me," Bryant says. "I was kind of surprised I was picked. But I think his faith in me really instilled my confidence in myself."
Bryant's clear voice delivered a classic rendition of "The Star-Spangled Banner," which filled the stadium at the beginning of the ceremony.
His next adventure involves a move for a job that moves him. Bryant is transitioning to Albuquerque, New Mexico, and starting a job at Silver Sage Development. The marketing agency works selectively with organizations that promote positive and timely causes.
"Their main initiative is to help prevent child suicide," Bryant says. "So, I'm really excited about jumping into that process with them."
Erica Shumaker '21 (above) of Tipton, Iowa, graduated cum laude with a physics major and math and environmental studies minors. Her post-graduation plans are equally as impressive.
"I have a full-time job working for Central Iowa Power Cooperative based out of Cedar Rapids," Shumaker says. "I will be an energy resource planner."
Shumaker is leaving Central with a full heart.
"It made me a more well-rounded person to enter society," Shumaker says. "I really enjoyed my time here."
Sarahi Ledesma-Ruiz '21 (left), of Round Lake, Illinois, and Maggie Langenfeld '21, of Earling, Iowa, stood next to one another in line to receive their Central diplomas. Ledesma-Ruiz, a Spanish and art double-major, is a first-generation college student.
"I'm really proud of myself," LedesmaRuiz says.
Langenfeld, a communication studies major, transferred to Central.
"I'm really sad to leave my friends," Langenfeld says. "I transferred, so I feel like I just haven't had enough time here. But I've loved every second of it."
More Scenes From Commencement 2021