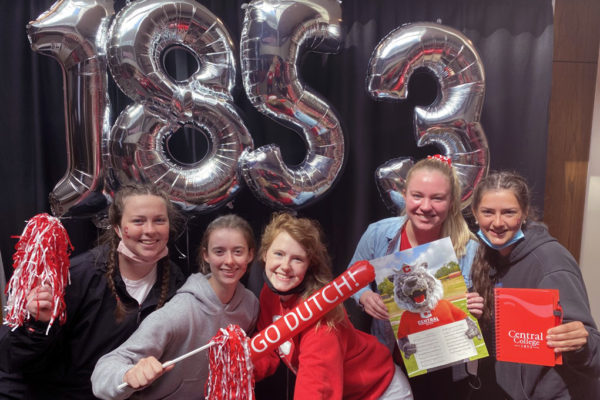 Celebrating Hoo-Rah! Day and a 53-Mile Challenge
Central set a fundraising record during its fifth-annual Hoo-Rah Day on April 13. In total, the college raised $343,217 to help support scholarships and programs. There were 384 gifts this year, including those made by alumni, parents of alumni or students, faculty and staff and students. Together, donors raised $317,376 for the Journey Scholarship Fund and more than $25,000 toward 51 additional campus programs and designations. Gifts came from 37 states and the District of Columbia.
In the days leading up to Hoo-Rah Day, 250 Central students, employees, alumni, family and friends participated in the college's first 53-Mile Challenge from March 1 to April 13. The challenge's goal was to encourage the Central community to practice a healthy lifestyle through movement in anticipation of Hoo-Rah Day. Participants logged more than 13,250 miles together. Go Dutch!
Thank you to everyone who helped make this Hoo-Rah Day so successful.
Cannon Co-Edits New Book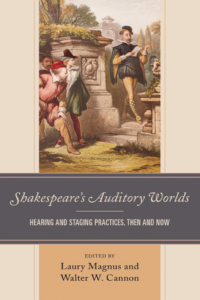 Walter Cannon, professor emeritus of English, has co-edited a new book titled "Shakespeare's Auditory Worlds: Hearing and Staging Practices, Then and Now."
Inspired by all that can be heard by audiences both on and off Shakespeare's stages, the book breaks new ground by exploring complex relationships between sound and sight, dialogue and blocking, dialects and other languages, re-voicings and nonverbal relationships essential to noise, sounds and music.
Career Kickstarter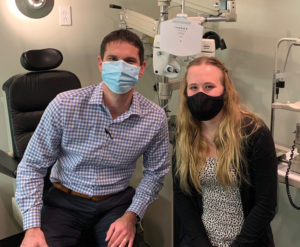 A total of 47 students participated in Central's second Career Kickstarter. This weeklong program during winter break brought students back to campus to think about preparation for potential careers. Delaney Underwood '23 joined Dr. Christopher Huston '98 at Whylie Eye Care in Pella and learned what it's like to be an optometrist. Underwood says her experience makes her want to continue to explore a career in optometry.
Central Honored for Communications, Fundraising Initiatives
Central received honorable mentions for key communications and fundraising initiatives from District VI of the Council for Advancement and Support of Education. The District VI Institutional Awards showcase best practices in alumni relations, fundraising, advancement services, special events and marketing and communications. Central received Platinum Award Honorable Mentions for:
Best Practices in Communications and Marketing: "Central College Tuition Announcement"
Best Practices in Digital Communications: "Central College Journey Scholarship"
Best Practices in Fundraising: "Central College Hoo-Rah Day"
Best of Red Rock
Central was named Best Caterer and Best Conference Venue in the Best of Red Rock 2020. Pella Cinemas, which is owned by Central, also was one of the local spots included in the Top 10 After 5 p.m. Colin Van Kooten '09 was named as one of Red Rock Area's Top 10 Under 40. The Best of Red Rock Awards honor businesses and organizations throughout Marion County in 55 categories, based on votes from area residents.
Black and Brown Business Summit
Central sponsored the West Des Moines Chamber of Commerce's first annual Black and Brown Business Summit, presented by Principal Financial Group, in April at Athene in West Des Moines. The two-day conference was created by the chamber's diversity, equity and inclusion committee with the goals of elevating ethnic minorities; bringing BIPOC businesses together to assist with connection building, programming, promotion and training; and providing resources to help businesses grow and prosper.
Weers Promoted to Director of Its Department
Lee Weers was promoted to director of information technology services at Central following Deb Bruxvoort's retirement in December 2020. In his new role, Weers' responsibilities include overseeing and setting strategic direction of the department to support the college's mission. The department supports more than 450 employees and 1,150 students on campus. Weers has been employed at Central since 2004.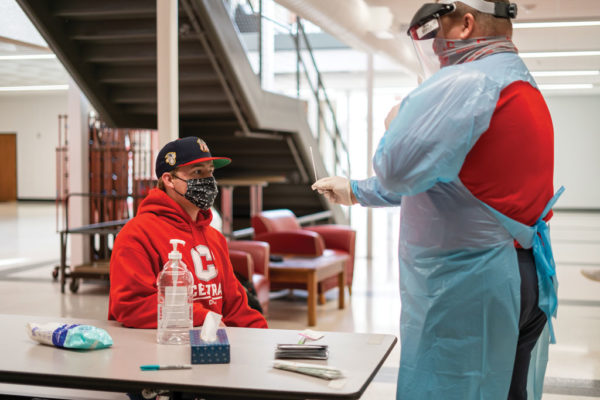 Dirksen Gift Backs COVID-19 Testing
Central completed a $30,000 fundraising project for COVID-19 test kits for student-athletes with the help of Gary Dirksen '69.
Before his death on April 27, Dirksen got the project started with a $15,000 gift, which was matched by a combined 23 donors. The "Gary Dirksen Challenge" raised $30,000 by the end of February 2021. Nearly $45,000 was raised by generous alumni and donors in support of campus safety and COVID-19 testing needs for all students.
Student-athletes at Central and throughout all divisions of the NCAA were tested regularly for COVID-19 in order to participate during the 2020-21 season. The American Rivers Conference, of which Central is a member, required weekly testing.
Dirksen joined the admission staff at Central after graduation. In 1973, he was named associate director of admission and four years later was appointed director of financial aid. He served in that role at Central until 1993. Dirksen then was coordinator of institutional research from 1993-97.
In 2001, Dirksen established the Gary Dirksen Achievement Award to honor a varsity men's basketball player who has achieved success on and off the court. In 2004, Dirksen was honored during Heritage Day with the Central College Presidential Service Award.
Precision, Inc., Gift
Central received a generous gift from Precision, Inc., of Pella that will be made over the course of three years to support athletics and student scholarships. The majority of the gift supports key athletics initiatives on the heels of a recent $18 million expansion and renovation of P.H. Kuyper Gymnasium called Forever Dutch®. Construction on that project is planned for this summer and will be celebrated by the community this fall. Precision's gift also supports the Journey Scholarship Fund, which is celebrating its 10th year and has awarded thousands of scholarships to students from around the country. Journey Scholarships are 100% donor funded and all gifts directly support students.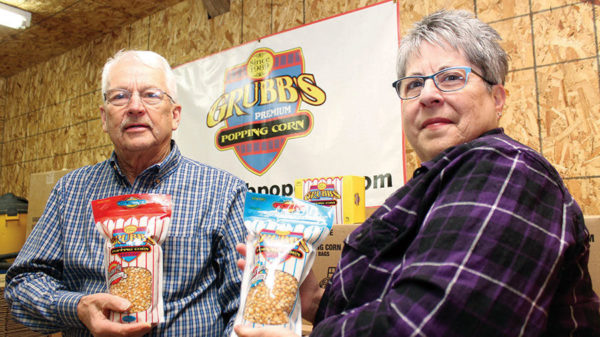 Grubb's Premium Popping Corn at Pella Cinemas
Whether it's on a date or a family outing, movie-goers can now savor the unique, quality taste of Bill and Ginger Grubb's popcorn at Pella Cinemas, owned and operated by Central. Since 1989, Bill and Ginger Grubb have grown popcorn on the Grubb family's century farm, located in Barnes City, Iowa.
Bill attended Central from 1964-65 until he was drafted into the Army during the Vietnam War. Daughters Deanna Grubb Arkema '99 and the late Melissa Grubb '95 also attended Central. The Melissa Grubb Scholarship was created in Melissa's memory after she passed away unexpectedly while attending Central in 1995.
Strength and Conditioning Partnership
Central partnered with Pella Community High School to offer a strength and conditioning program for student-athletes that began this summer.
Central hired Monica Ruiz '16 to serve as the assistant strength and conditioning coach for Pella High School students. Ruiz most recently served as assistant strength and conditioning coach at the University of New Haven in Connecticut, where she received a master's degree in sport management. She joined a Central staff led by Kyle Johnson '02, head strength and conditioning coordinator, and assistant Charles Friday '12.
The program will be offered year-round for all high school athletics and will include training and education in physical health, nutrition and mental health. Central also will offer its students the opportunity to participate in internships within the program to gain real-life experience to prepare them for future careers.
The partnership was made possible with generous support from Pella Corporation, the shareholder family and the Pella Booster Club. 2021
Goldwater Scholar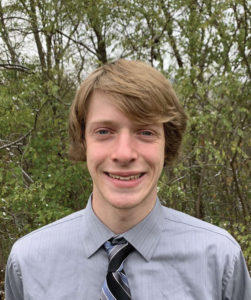 Cameron Coles '22 is the second Central student to win the competitive Goldwater Scholarship since it was founded.
The prestigious national competition recognizes undergraduates for outstanding achievements in the fields of mathematics, science and engineering.
In 2021, a total of 410 Goldwater scholars were selected from a field of approximately 5,000 nominees representing 438 institutions. This year, the number of nominees nearly quadrupled compared to last year (1,300).
Coles is a double major in biology and mathematics from Farley, Iowa. As a sophomore, Coles also was awarded the Benjamin A. Gilman International Scholarship to study abroad.
After graduating from Central, Coles' goal is to obtain a Ph.D. in ecology to conduct research in mathematical ecology or evolutionary biology and teach at the university level.
Tommi Boeder Estate Gift
Central received a generous gift of more than $100,000 from the estate of Tommi Hay Boeder '74, a former employee and graduate of the college who went on to become an ordained minister.
Boeder, an English major, worked at Central in admissions for 10 years. She also worked at Coe College, Teleconnect and McLeod Foundation before becoming executive director of Cedar Valley Habitat for Humanity in Cedar Rapids, Iowa. She worked there from 1996 to 2009, but it was through serving God that Boeder found her true calling.
She graduated from Eden Theological Seminary in St. Louis, Missouri, with a masters in divinity. Boeder served as interim pastor in Bennett, Clarence and Tipton (all in Iowa). She died Oct. 26, 2018, in Cedar Rapids.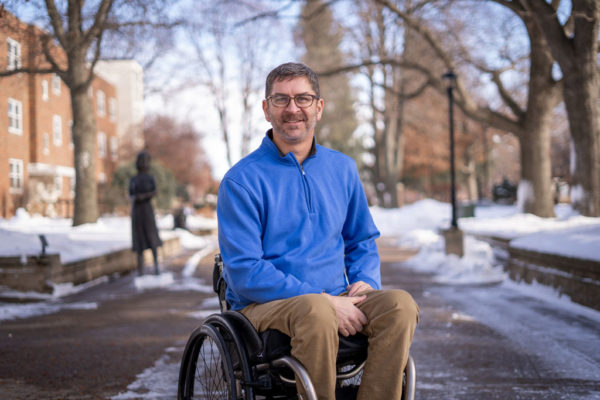 2021 Iowa Campus Compact Awards
Dean Furness '94 (above) and Central's Building a Culture of Inclusion initiative were recognized by Iowa Campus Compact for the 2021 Engaged Campus Awards. Furness received the Alumni Leadership Award, and Central's Building a Culture of Inclusion initiative received the Presidents' Student Leadership Award.
Furness harnessed the power of positive thinking and a can-do attitude to turn a tragic accident into a triumphant life. Despite a bleak outlook, Furness' resilience has been on full display the past nine-plus years, whether as a husband and father, a high school coach at Martensdale-St. Marys, with his job at Wells Fargo in West Des Moines, as an inspirational speaker giving TED Talks or in his wheelchair completing marathons.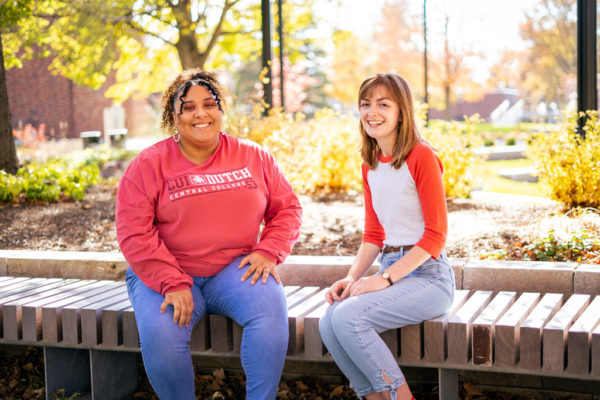 The Building a Culture of Inclusion initiative is a partnership between Central students and employees. Central students Yana Rouse '21 (above, left) and Marin Harrington '21 (above, right) led 28 of their peers and 31 faculty and staff members in collaboration to educate, program and recommend policy centered around inclusivity and celebrating cultural diversity.
Scholarship Celebration
Central's annual Scholarship Celebration was scheduled for Thursday, April 22, but was canceled because of the COVID-19 pandemic. The event gives student scholarship recipients the opportunity to personally thank and share dinner with donors who help make their Central education possible. More than 800 students would have been recognized this year in P.H. Kuyper Gymnasium.
As a substitute to the traditional event, the college invited 10 alumni scholarship recipients to share the impact the scholarship had on their lives. Jeremy Caracci '18, Susan Elder '16, Dirk Lindaman '13, Kristin Look '13, Zach Moss '17, Austin Pfiffner '20, Josh Prokupek '18, Catherine Pearce Vande Voort '18, Madi Gause Wiese '16 and Nicole Williams '19 were interviewed by Brooke Bouma Kohlsdorf '96 about how the scholarship helped give them access to a Central education. Check it out below.
Save the Date
Join us at A.N. Kuyper Athletics Complex for a Forever Dutch Celebration Saturday, Sept. 18, 2021, as we celebrate the completion of our renovated athletics facilities and the generous donors who made it possible!
---
Write Us!
Civitas welcomes letters and emails from readers concerning the contents of the magazine or issues relating to Central College. Please include the author's name, city and state; anonymous communications will be discarded. Letters selected for publication may be edited for length, content, clarity and style. Address letters to Civitas, Central Communications, Central College, 812 University St., Pella, Iowa 50219 or email Cyvannah Vecchio, Civitas assistant editor, at vecchioc@central.edu.