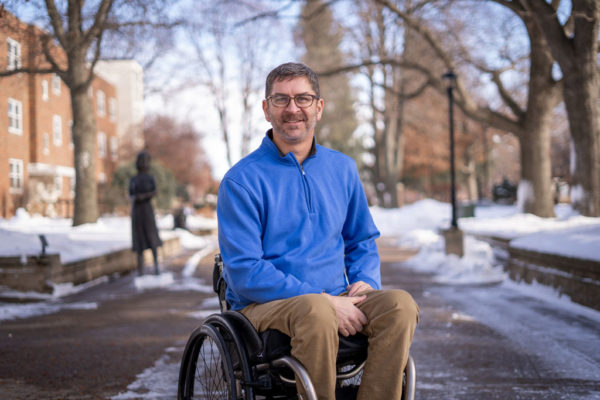 His arms wrapped around the steering wheel and his legs dangling as he straddled the middle of his tractor, Dean Furness '94 yelled out for help.
No one answered.
Inside his house — oh-so-close and yet so far away — laundry was going in the washing machine, a piano tuner had just arrived and his family was in the basement.
It was shortly after 5 p.m. on a warm December day in 2011. Dec. 14, to be exact. Furness remembers every little detail.
That's to be expected when you know you're living in a moment that will change your life forever.
Time ticked by. Slowly. His dogs — "despite what you see in the movies" — were of no help.
His daughter, Raigen Furness '20, would be leaving soon for confirmation class. Certainly, someone would hear his pleas for help then. Her ride came and left. Furness hung on.
Those dangling legs? He couldn't feel them.
He knew things were bad. Real bad.
After arriving home from an outing with his father, Furness had gone outside to do a few chores on the family's 10-acre property near Martensdale, Iowa.
It included feeding the horses, so Furness loaded hay into the bucket of a tractor, strapped it in and began to back up. The warm weather had melted the snow. It was muddy. The tractor began to slide.
"As I was drifting, the hydraulic must have got stuck because the loader went up and the bale fell off," Furness remembers. "It fell right on me and bounced to the ground. My hat got knocked off. My glasses got knocked off. The seat of the tractor broke.
"I didn't know the extent of it, but I knew I couldn't feel my legs. And it's pretty easy to understand what's going on there."
Furness hung on until his wife, Deonne, arrived home. When she did, she yelled out the window, as she always did, and asked if he needed help.
"The next thing I knew," Furness says, "I was getting real help."
Furness was airlifted to Des Moines from his family's property. He had broken the T5 and T6 vertebrae in his spine, leaving him paralyzed from his sternum down.
He can't remember his initial thoughts. The first 48 hours were a blur. But the doctors had been clear from the start: Furness would never walk again.
"It changed our family instantly, but we have all kept a can-do perspective and moved on to figuring out different ways to do things," Deonne Furness says.
Dean's can-do attitude has been on full display the past nine-plus years, whether as a husband and father, a high school coach, with his job at Wells Fargo in West Des Moines, as an inspirational speaker or in his wheelchair completing marathons on some of the biggest stages.
"There was such a small window of time being down about it, thanks to my wife, who was basically saying it was go time," he says. "It might have been a five-minute moment in the [hospital] room when we shared a few tears. But then it was time to move on. It was time to get going."
Life has not stopped for Furness. That was never an option.
A Viral Sensation
His wheelchair sitting in the middle of the big red circle on stage, Furness wondered if he belonged.
He was about to give a 12-minute talk about his life, the challenges since the accident and how he's been able to push forward day by day.
According to its website, TED Talks are influential videos from expert speakers on education, business, science, tech and creativity. Their slogan is "ideas worth spreading."
Furness was involved with TED Institute, which "works with select companies and foundations to identify internal ideators, inventors, connectors and creators." It was through Wells Fargo that Furness got the chance.
"We had to record a one-minute video to submit," Furness says. "There were 900 videos submitted and mine was one of 13 selected. My buddies say I cheated because I used the wheelchair. I'm like, 'That's right, man!'"
Upon hearing his story had been chosen in November 2019, Furness was given the whole TED experience. He worked with a writing coach who helped with the message and speech. He and his wife flew to Charlotte, North Carolina. The speech was recorded in February 2020 and posted in May.
A year after recording his message, more than three million people have seen Furness' TED Talk. It was among the 20 most popular TED Talks of 2020, among the likes of Microsoft founder Bill Gates, author Elizabeth Gilbert and historian and antiracist scholar Ibram X. Kendi. To Furness, it's simply hard to believe.
"At rehearsal the day before, they had that red circle in front of the room to get used to being on it," he says. "I started to wonder if what I have to share is worthy. There's definitely a fair amount of imposter syndrome in there that you don't belong.
"I'm a dad. I have an undergraduate degree. I've dabbled in this and that and whatever. I'm just your average person and I hoped they could relate."
Three million people and counting could.
"You don't go into a TED Talk thinking you're going to have a viral talk," Furness says. "It's just dumb. Twelve minutes times three million. How much time has been wasted in people's lives? But for whatever reason, it seemed to resonate with folks."
'I Was Hooked'
Furness was an athlete at Central. He played football — "I was your typical role player," he says — and spent a year on the track team, mostly so he could watch his brother, Mike Furness '93.
"I am not a runner," Dean insists.
The thought of a marathon and its 26.2 miles — or even a half marathon — never appealed to him. And when his physical therapist suggested he compete in a marathon in his wheelchair, he thought she was crazy.
It was the 2016 Dam to Dam half marathon, which went from Saylorville Dam to downtown Des Moines. It was 10 weeks away.
"There was no way," Furness thought.
His physical therapist learned Furness was exercising while his daughters were at basketball practice. One of the other fathers disappeared each time while waiting, and Furness learned he left to walk the neighborhood.
"I figured I could do that," Furness says, noting he added a contraption to his wheelchair that turned it into a three-wheeler and allowed him to go wherever he wanted. "I'd strap that on and started going through the empty warehouse parking lots. That's where it kind of started. I was doing a couple miles in the evenings to my physical therapist challenging me to do that half marathon."
At some point, Furness found that competitiveness of a former athlete.
"I was hooked," he says.
He started researching how to train to be a wheelchair athlete. There wasn't much available.
At first, he learned things on his own, like the need for two sets of gloves — one with more grip to go uphill and another softer pair to go downhill.
"Going downhill in a wheelchair is awesome!" he says.
Furness completed that Dam to Dam race. Since then, he's completed seven marathons and more than 10 half marathons. They include the big ones — from the Chicago Marathon to the Boston Marathon.
When he started competing in marathons in 2016, it changed him. It came after three or four years of trying to get back to normal, including trying to walk again.
"It was three or four years before I realized, OK, this is what it's going to be," he says. "That's when it started to click. This is just life, differently."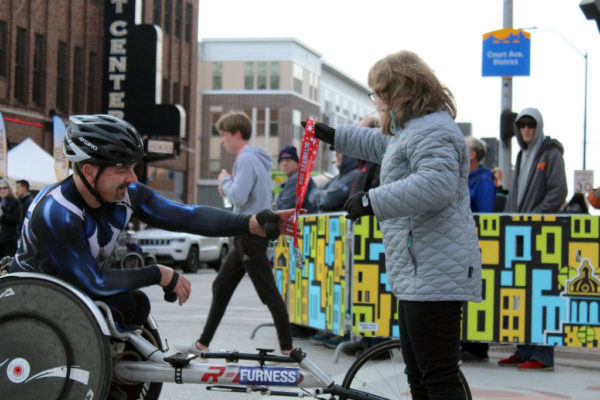 No Other Way
Furness has heard from so many people, including former Central football teammates, how they wouldn't be able to do what he's doing.
"I say, 'Yes you could!'" he says. "Schipper wouldn't have it any other way."
Schipper is Ron Schipper, the legendary Central football coach and a member of the College Football Hall of Fame. He coached the Dutch from 1961-96, compiling a 287-67-3 record. His teams won 18 Iowa Conference championships and the 1974 NCAA Division III national championship.
His success on the field speaks for itself. What he did behind the scenes is told through stories from former players like Furness.
"You realize after the fact you weren't really playing football," Furness says. "I mean, that happened on Saturdays and we did pretty well, but there's so much more to it. It's the stuff (Schipper) would talk about, like having the guts to decide if things are better today than they were yesterday and realizing it's up to you to figure out if that's something that can be changed.
"You have a bad play, but you move on. What's the next play? Only you can decide if it was good or bad and what you're going to do about it. You can't wait for anybody else."
In the Furness family's living room is a sign with the message "Stronger Than Yesterday." It's been there since the accident, serving as a reminder to Dean and his family.
"This is what I have learned from my dad: There is no such thing as a bad day unless you let it be a bad day. In the end, it is your choice to change it," Raigen Furness says. "That saying means you can move forward to what's next. My dad always strives to continue rolling forward to what is next."
These are the messages Furness carries with him when he speaks.
In addition to the TED Talk, he's talked to a Zoom group in Miami that does logistics to raise money for people with COVID-19. He's been on multiple podcasts in India. He's done radio interviews in New Zealand, Australia and the United Kingdom. LinkedIn asked him to speak to its interns.
There were times following the accident when Furness admits it took effort just to get through the day. It seems a bit odd to think about now.
"Ever since I've known Dean, he has always been an out-of-the-box thinker," Deonne says. "If one way doesn't work or he doesn't know how to do something yet, he's going to find a solution. I know this mentality has helped him conquer his physical challenges."
The Furnesses have three children, two of whom are adopted. Raigen got a degree in business management from Central and works as a graphic designer for Flynn Wright in Des Moines. Taylar, the couple's oldest daughter, had planned to attend Central before getting married. She currently works at Wells Fargo and lives in Des Moines. Angelina is a junior in high school and has Central high on her college list.
Central has played a major role in life for the Furness family. Braden Furness '20, Mike's son, majored in biology. Dean's younger brother, Kelly Furness '96, majored in chemistry and met his wife, Lori Fisher Furness '96, at Central.
"My dad always talks about everyone from Central who reached out after his accident, which is clearly a symbol of how real the connections made over the four years at Central are," Raigen Furness says. "I didn't understand the significance of having connections until I came on my college visit to Central with my dad during my senior year of high school. Everywhere he went, he knew someone or someone knew him. I think it is then when it really clicked how special Central is."
Dean works as an analytic consultant with Wells Fargo Technology, a job offered to him following his accident. He had previously done consultant work for the company.
He's served on the school board for Martensdale-St. Marys. He helped coach football for a few years and now is the assistant varsity girls basketball coach.
There are also the inspirational speeches, the marathons and simply the day-to-day desire to be better in everything he does. He still hears Schipper pushing him.
"It became so real, so valuable, so much more about life than football," Furness says. "You're learning things about yourself every day. It's a foundation you can build on. Those things are embedded into you. And if you buy into it when you need to call on them, it's amazing what can come out of that."
You're the Inspiration
Furness is aware of the outside perception: What he's accomplished in life is inspirational.
He's reminded of it often, especially as crowds cheer him and his fellow competitors on during marathons.
"The kudos and attaboys you get at an event like that, I'm not a war hero, none of that," Furness says. "I was dumb, and a hay bale fell off my tractor because I didn't wrap it up right. So, how do you not finish the race with that stuff? How do you not prove, more so to me but also to others, that you can do it?"
Furness remains driven. He knows he's eight minutes slower than he wants to be and is 25 minutes slower than the best in the world.
"How OCD is that?" he says. "But I'm still getting after it."
He's doing it for himself, not for others. An inspiration? He doesn't see himself that way. In fact, he laughs a little thinking about it. "I don't have it all figured out. Not at all, right?" he says. Still, he knows people are listening. Three million people across the world have heard his story, heard his words. It's not lost on him what he's doing could be helping others.
"If what I'm doing inspires you, that's great for you. That's awesome," he says. "Use it, do whatever you can do with it. But understand, for me, it's just a day. That's the way I've tried to approach it. If I can help you in the smallest way, then that's awesome. Find out what works for you and then go for it."