Pilot Power
Thank you for the wonderful articles in the Summer/Fall [2020] version of Civitas magazine. As a pilot and Central alum, I was particularly interested in reading the story on pilot training, which took place in Pella and at CUI during WWII. Thank you for your good work.
— Kelly B. Shaw '88
Indianola, Iowa
---
R-E-S-P-E-C-T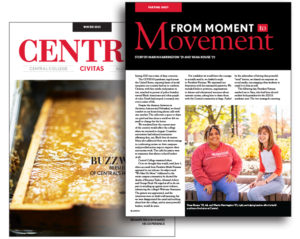 Thank you for the recent and excellent Winter 2021 Civitas. Please allow me to attempt to be brief in saying how proud and impressed I am by my alma mater.
First, President Putnam's piece titled "It's Complicated" once again confirmed for me Central has an excellent leader. He gets it.
Second, I am so proud of Ms. Rouse and Ms. Harrington for seeing something important that needed more attention and having the courage to make this point to President Putnam (Parting Shot: "From Moment to Movement"). I believe Central fosters a great combination of genuine respect for one another and for others, together with a responsibility to think for ourselves and then when called for, to act. It takes fortitude as a college student to call out a president when they see more needs done. As I would expect, he responded positively rather than defensively. I am confident not all academic cultures invite such boldness.
So proud that so many of CUI's students, alumni and staff proactively seek to understand others and then make a difference. GO DUTCH!!
— Terry Haines '86
Waxhaw, North Carolina
---
WRITE US!
Civitas welcomes letters and emails from readers concerning the contents of the magazine or issues relating to Central College. Please include the author's name, city and state; anonymous communications will be discarded. Letters selected for publication may be edited for length, content, clarity and style.
Address letters to Civitas, Central Communications, Central College, 812 University St., Pella, Iowa 50219 or email Jeff Bersch, Civitas assistant editor, at berschj@central.edu.