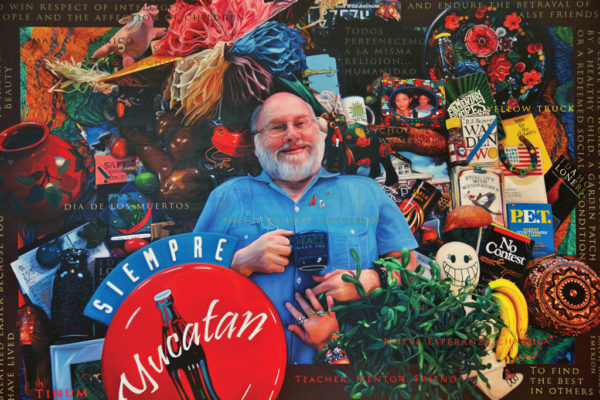 James T. Schulze, associate professor emeritus of psychology at Central College, died Dec. 23, 2020, in Pella, Iowa. He was 78.
Born in Sunnyside, Washington, Schulze grew up in Idaho where he returned each summer to hike and fish in the mountains surrounding McCall. He loved to travel, enjoy good food, listen to music, ride fast motorcycles and scuba dive in Yucatáh cenotes.
Schulze earned a B.A. in psychology at Valparaiso University and obtained a Ph.D. in general experimental psychology from the University of Nevada, Reno. He taught one year at Eastern Montana College before joining the psychology department at Central College in 1968.
When asked to reflect on his 39 years of teaching at Central, Schulze said, "I intended to stay only a few years before getting back out West where I belonged. It was the opportunity to teach and conduct research with students studying in Yucatán that kept me in Iowa. Following his retirement in 2007, Schulze continued arranging student homestays in the Mayan village of Tinum as an in-kind contribution to Central's Mérida Program.
Back on campus in Pella, Schulze connected students to Iowa's Latinx community through an experiential service-learning course he developed in cultural psychology. His Elementary Principles of Behavior and Psychology of Parenting and Teaching courses offered students lifelong skills in managing their environments to create success in future careers and relationships. Psychology students recall his patience and humility in teaching statistics.
While at Central, Schulze was a member of the Iowa-Yucatán Partners of the Americas Advisory Council, Iowa Psychological Association, Midwestern Psychological Association and North Central Council of Latin Americanists. He also was active with Hospice of Pella and Witness for Peace. Schulze strongly supported student organizations, fine arts and cultural events on campus. He served as faculty advisor to Common Ground and chaired the Diversity Task Force subcommittee responsible for drafting Central's Welcome Statement.
When Schulze retired, psychology alumni and friends contributed artifacts, memories and gifts to commission a Tilly Woodward portrait in his honor. "The Schulze Spirit," located in the Roe Center psychology office suite, features his favorite mugs, best-loved books, flying pig, a Mayan hammock and is bordered by Ralph Waldo Emerson's creed, "This is to have succeeded."
Schulze's spirit lives on in his partner, Lisa Rock '87, and all those who remember their beloved teacher, mentor and friend.