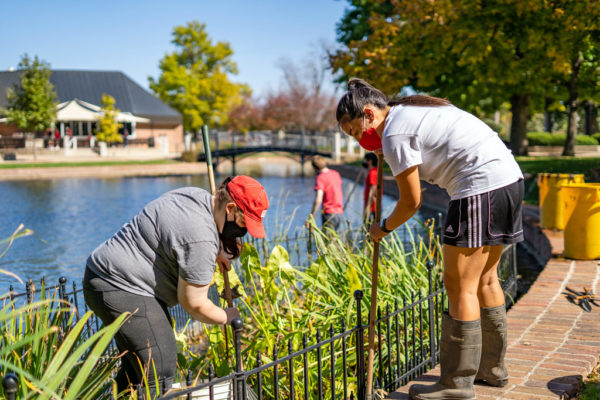 Central Faculty-Student Research Published in Chemistry Journal
A Central professor and four students had their research on a byproduct of indigo dye featured in RSC Advances, a peer-reviewed journal of the Royal Society of Chemistry.
James Shriver, professor of chemistry; Katelyn Wang '21; Andrew Patterson '21; James De Young '19; and Richard Lipsius '20 published the research paper "Exploring an Anomaly: The Synthesis of 7,7'-Diazaindirubin Through a 7-Azaindoxyl Intermediate" in the broad-topic chemistry journal in October.
Their research focuses on two methods of generating indirubin, a side product from commercial indigo production. Indirubin is emerging as a promising pharmaceutical platform, with its derivatives being studied for their anti-cancer properties, potential to treat diabetes and anti-inflammatory response. Indigo has been used and independently developed as a dye in many cultures. It dates back as early as 6,000 years ago in Peru.
The research was supported by funding from the Moore Family Foundation, the Arthur J. Bosch Endowment for Student Research and the John Wesselink Endowment. The project started in Summer 2019 and ran through Summer 2020.
The Royal Society of Chemistry is one of the world's leading chemistry communities. Its members and publications work to shape the future of chemical sciences — for the benefit of science and humanity — through promotion, support and celebration of chemistry.
48-Hour Challenge for Scholarships Helps Students
Central's Journey Scholarship 48-Hour Challenge raised more than $185,000 for students from 325 alumni and friends of Central in August.
"We continue to see tremendous support from our generous donors who remain loyal to this amazing institution," says Sunny Gonzales Eighmy '99, vice president for advancement. "Central family members truly have a heart for others. Nowhere does that show itself more than with those who allow current and future students access to a Central education."
The challenge kicked off the 2020-21 academic year and the Journey Scholarship Fund's 10-year celebration. The fund was created to help students pursue their dreams at Central and has awarded thousands of scholarships to students from around the country.
For the second year in a row, the Journey Scholarship Fund saw record support. During the fiscal year that ended June 30, 2020, a record $1.38 million went toward the Journey Scholarship Fund, surpassing the previous year's total of $1.34 million. At Central, 100% of gifts to the Journey Scholarship Fund directly support students.
Professors Launch Season 2 of "Mid-Americana" Podcast
"Mid-Americana: Stories from a Changing Midwest" launched its second season in October. The podcast is the brainchild of Joshua Dolezal, professor of English, and Brian Campbell, director of sustainability education and partnerships.
The project explores the history and identity of the Greater Midwest through the lives and stories of individual people. "Immigration" is the theme of the second season, which features eight stories from people who left their native countries to make a new home in the Greater Midwest. Dolezal and Campbell ask their guests what pulled them from their homelands, what challenges they faced while making a home in the Heartland and how they contribute now to a changing Midwest.
The debut season, with the theme "Homecoming," featured eight native Iowans who left the Midwest and came back to stay. All episodes of the podcast are available at www.midamericana.com.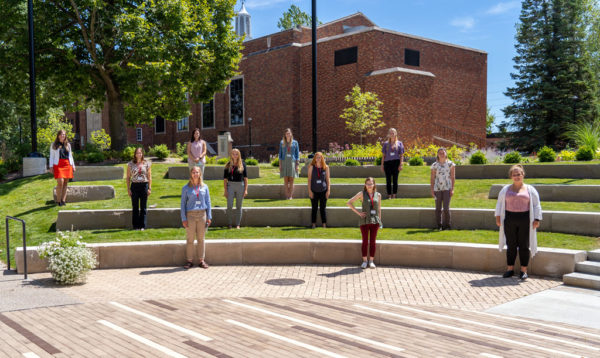 Women's Leadership Conference
Central hosted a five-day women's leadership conference on campus in mid-August. The event brought together women from the region, state and beyond to discuss issues in women's leadership, knowledge, skills and values.
It is the second year for the conference, designed to provide opportunities for Central seniors nominated by faculty and staff members. The event allows students to meet with experts in their fields whose character sets an example for women scholars and future leaders. The conference's keynote speaker was Jann Freed '77, professor emerita of business management and the former Mark and Kay DeCook Endowed Chair in Leadership and Character Development at Central. During her 30 years at the college, Freed was department and division chair, served on numerous committees and acted as interim vice president for academic affairs.
Central also welcomed 10 other speakers to campus. Attendees also traveled to Des Moines to meet with civic leaders, engaged over lunch with an executive leadership panel, participated in team-building exercises at nearby Lake Red Rock and took part in individual career counseling sessions.
Focus on Diversity
Eddie Moore Jr., recognized as one of the nation's top motivational speakers and educators, presented a live and virtual discussion on his book "The Guide for White Women Who Teach Black Boys" in Douwstra Auditorium in August.
Moore delivered an impact exercise and facilitated a discussion with participants about the book that will transform the next 25 years of educating Black boys.
Moore has pursued and achieved success in academia, business, diversity, leadership and community service. In 1996, he started America & MOORE, LLC, to provide comprehensive diversity, privilege and leadership trainings and workshops.
Fellowship To Study Early Talking Books
Katherine Nesbit, assistant professor of English, has been awarded a Bibliographical Society of America Fellowship to help fund a one-month research trip to archives in England containing early talking books. She'll take the research trip after it becomes safe to travel internationally again.
Her work there will inform her forthcoming book "Listening to Books: Reading Aloud and the Novel, 1800-1935." Nesbit writes that "Victorian … proponents of mass literacy recommended reading aloud as a safe mode of encountering text for the century's so-called 'new readers': women, children and workers. Household reading distracted the working man from the drink and radical politics tempting him at the pub; allowed parents to censor their children's reading material; and prevented women from poring over novels alone, thus neglecting the duties of hearth and home."
Talk Des Moines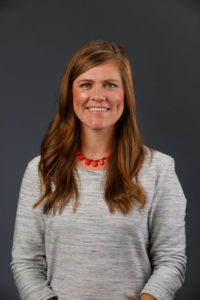 Jessica Klyn de Novelo '05 served as a panelist for a TALK Des Moines webinar discussing campus recruiting during COVID-19 during the fall semester.
TALK (Talent Acquisition Leadership Keynotes) is the world's largest organization of talent acquisition professionals, with nearly 5,000 members representing 80 chapters in North America. The TALK platform enables talent acquisition leaders to connect, share best practices, innovate, improve their business processes, manage local events and make new friends.
Students Earn Gilman Scholarships
Four Central students received Benjamin A. Gilman International Scholarships, which enable students to study or intern abroad:
Alora Nowlin '23, a political science, Spanish and French major from Council Bluffs, Iowa, plans to intern in Spain.
Madolyn Clark '22, a biochemistry major from Clarinda, Iowa, plans to intern in Mexico.
Samantha DePauw '22, a business management major from Mineral, Illinois, plans to intern in Mexico.
Jenna Clark '22, an elementary education major from Story City, Iowa, is undecided on plans.
Since March 2020, Central has not been sponsoring international travel for students, faculty or staff. The students will pursue their travel plans once COVID-19 restrictions are lifted. The college continues to monitor the pandemic and travel warnings issued by the U.S. Department of State. Gilman Scholars also can use their awards to support creditbearing virtual international opportunities through Dec. 31, 2021.
Harry Smith Speaks at Climate Action Event
Harry Smith '73 served as the keynote speaker at the annual Called to Climate Action: Uphold and Upheave virtual event co-hosted by Central and Iowa Interfaith Power & Light in October.
Smith, an award-winning national television news journalist currently working as an NBC News correspondent, shared his experience as a journalist covering environmental stories from all areas of America and his coverage of climate change in the lead-up to the 2020 Iowa caucuses.
The event also featured Iowa college students who have organized action for climate justice on campuses across the state, including Tiffany Van Gilst '23.
Van Gilst recently published a commentary, "Young activists like me need support from older generations." In preparation for the event, Iowa student leaders have drafted an Interfaith Statement on Climate Change, which they invite all Iowans of faith and conscience to sign.
Career Development Changes
Jessica Klyn de Novelo '05 has been promoted to assistant dean for career development and civic engagement. Klyn de Novelo has worked at the college since graduating.
Klyn de Novelo worked for eight years in study abroad before serving as associate director of community-based learning for four years. Since 2018, she has been director of career and professional development.
In her new role, Klyn de Novelo leads the career and professional development team, the community-based learning team, the director of civic engagement and the director of sustainability education and partnerships.
Other changes among the departments Klyn now oversees include title changes and new roles for Cheri Trout Doane '98 and Brian Campbell. Doane, previously director for community-based learning, now is director of civic engagement. Campbell is director of sustainability education and partnerships, adding the work with partnerships to his title.
Rachelle Bahl Talbott '12 also was promoted to associate director of community-based learning. She has experience as an AmeriCorps VISTA, manager roles with the Girl Scouts of America and as a volunteer engagement specialist with the United Way of Central Iowa.
Central Receives Grant for Spectrometer
Central received a $145,000 grant from the Roy J. Carver Charitable Trust to replace and upgrade its nuclear magnetic resonance spectrometer.
The new 400 MHz spectrometer will replace the aging 300 MHz spectrometer purchased and installed by the college in 2003. The 300 MHz unit was part of a larger equipment upgrade supported by the Roy J. Carver Charitable Trust in conjunction with the 2003 renovation of Vermeer Science Center.
Central's chemistry department used the spectrometer the past 17 years to increase students' exposure to modern instrumentation within the curriculum and through nearly universal participation in undergraduate research within the department. An NMR spectrometer helps determine the molecular structure of organic compounds.
Every Central student who takes organic chemistry is trained to operate the NMR and use the data to evaluate the results of their experiments. This includes all chemistry, biochemistry and biology majors, as well as students pursuing a career in the health sciences from other majors. The new, more powerful spectrometer will allow the department to continue this momentum while increasing the quality of laboratory instruction and research.
Estate Gifts Advance Student Endeavors
Central received three estate gifts from longtime friends of the college to support students and college initiatives. The gifts leave lasting legacies at the college:
+ A $200,000 gift from Marjorie Giles, a former longtime Central staff member, funded the Marjorie Giles Endowed Scholarship, which was awarded for the first time during the 2020-21 academic year. Giles started at Central in 1972 as associate dean of students and served as dean of students from 1983-95. In addition, she served as the college's director of retention and development programs from 1995-98. An avid sports fan, Giles also helped start women's athletics championships in the Iowa Conference (now the American Rivers Conference).
+ Fran De Jong '57, a former chaplain at the college, left the college more than $110,000 and helped fund scholarships for students. De Jong was one of the first women ordained in the Reformed Church in America and later served as chaplain at Central from 1977 97. She earned a degree in physical education from Central and went on to earn a master's at McCormick Theological Seminary in Chicago.
+ Mary Vanden Berge '67 left an estate gift of more than $431,000. Vanden Berge majored in history at Central and went on to earn her master's in library sciences from what now is the State University of New York at Geneseo. She was a longtime resident of Philadelphia, Pennsylvania, where she worked for 30 years for the City of Philadelphia Library as a general librarian and later a federal documents librarian.
Estate gifts can assist donors in fulfilling their philanthropic goals while also often creating an endowment or project that will leave a legacy into perpetuity. For more information about these gifts, see central.edu/news. For information on bequests or to chat about options to include Central in a will or estate plan, contact Doyle Monsma '83 at 641-628-5181 or monsmad@central.edu.
Service Day
Each year, students, faculty and staff participate in Service Day. This year's Service Day took place Oct. 6 with nearly half of campus participating in service project work both on and off campus.