Three former student-athletes who reached the national championship stage and received distinctions in other areas will be the newest members of the Central College Athletics Hall of Honor.
A pair of NCAA Division III individual champions — a men's high jumper and a decathlete — were chosen, along with an all-America defensive lineman who played in the Division III football title game for the Dutch. However, their induction has been delayed until Homecoming 2021 due to the global pandemic.
Established in 2002, Central's Hall of Honor recognizes those who were exceptional performers in the athletics arena as a student-athlete, coach or administrator and who have distinguished themselves in life after graduation through service and leadership. Eligible nominees must have graduated or served as a Central coach or administrator at least 15 years earlier.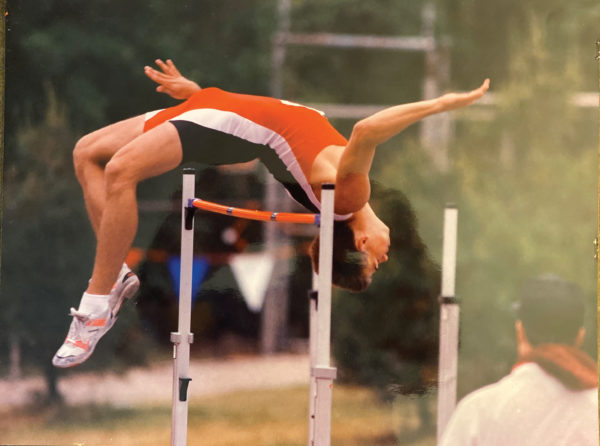 CRAIG CANTRALL '94
A high jump champ and physical therapist, Cantrall captured Central's first track and field national championship, a number that since has grown to 20. He leaped 6 feet, 11 inches in taking the 1994 crown after previously earning all-America distinction by placing third in 1992 and fourth in 1993 and finishing sixth in the 1994 indoor meet. He was a four-time national outdoor meet qualifier and two-time indoor qualifier.
Originally from West Bend, Iowa, Cantrall also was a nine-time Iowa Conference outdoor meet place winner and three-time indoor place winner, winning four consecutive outdoor high jump titles as well as the 1994 indoor crown. He helped the Dutch claim four consecutive league outdoor team championships as well.
His 1992 leap of 7-¾ broke the conference meet record and he cleared 7-1 ½ in 1993 to set a school mark that still stands.
Also a classroom standout, Cantrall was named to the U.S. Track & Field and Cross Country Coaches Association All-Academic Team in 1994. He received a doctoral degree in physical therapy from Creighton University, served as a physical therapist in Centerville from 1997-2008 and also was director of rehabilitation services at Mercy Medical Center from 2006-08. He's now a physical therapist at Spencer Hospital in Spencer, Iowa.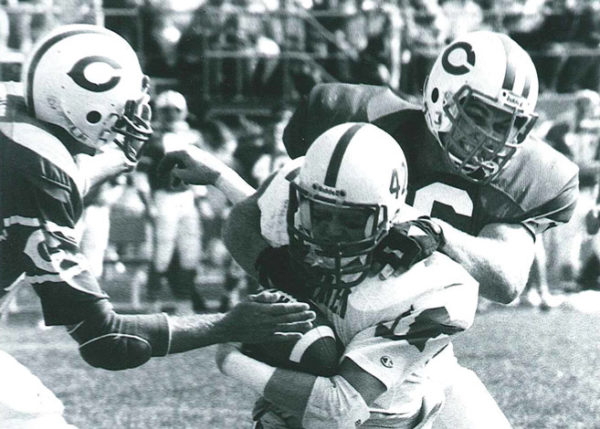 MIKE STUMBERG '89
Stumberg ranks among the most dominant defensive players in Central's storied football history. A defensive lineman with a rare mix of strength and a sprinter's speed, he was a nightmare for pass protectors.
Stumberg shattered Central's pass sacks records with numbers that have not been approached, posting 65 career sacks, including 28 in 1987. He had 296 tackles overall and notched a record 85 career tackles for loss, including 37 in 1987. He also set game marks by twice notching five sacks as well as seven tackles for a loss.
A 1988 nominee for Domino's Division III Player of the Year Award, he was a consensus all-America pick, landing on teams chosen by the American Football Coaches Association, the Associated Press, Football News and Pizza Hut. He was the conference MVP and a three-time first-team all-conference pick.
Stumberg was a member of four NCAA playoff teams and three conference championship squads. He helped lead Central to the Amos Alonzo Stagg Bowl game after reaching the national semifinals in 1985 and 1987. The Dutch were 44-6 during his career with only two regular-season losses.
Following graduation, he signed a free-agent contract with the NFL's Seattle Seahawks but after a promising start suffered an injury during training camp, ending his playing career.
Stumberg returned to the national championship field as a member of the officiating crew for the College Football Playoff finale in Atlanta featuring the University of Alabama and the University of Georgia in 2018. He's served as a Big Ten Conference official since 2014, worked the 2015 Big Ten title game and has officiated six major bowl games. He also is a claims manager for Nationwide Insurance and lives in his hometown of Grundy Center, Iowa.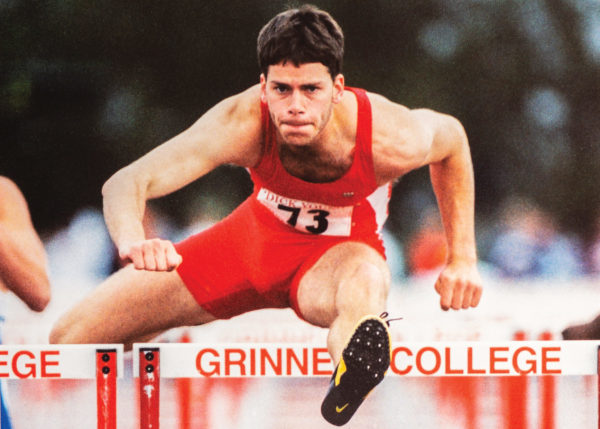 PETER WAGNER '03
Wagner is a nine-time all-American and three-time NCAA champion and Central's first national winner in the multi-events.
He won the 2001 and 2003 national decathlon crowns while also helping take first place in the 2002 1,600-meter relay.
Wagner received all-America honors nine times, the most ever by a Central athlete, including four times in the decathlon. He was eighth in the decathlon and outdoor high jump in 2000, third in the indoor 1,600 relay in 2001, second in the decathlon in 2002 after finishing fifth in the indoor 1,600 relay and was eighth in the 2003 indoor 1,600 relay.
The Iowa Conference MVP in 2002 and 2003, he placed in a remarkable seven events in the 2003 outdoor meet and was a 20-time league outdoor place winner with 17 indoor place finishes.
His competitive athletics career continued beyond graduation. He was 13th in the 2004 USATF Indoor Combined Events Championships in Chapel Hill, North Carolina, and is a four-time top-six place winner in the Drake Relays decathlon, most recently finishing sixth in 2018.
Since 2005 Wagner has served as a criminalist in the Iowa Division of Criminal Investigation. Wagner's wife, Raegan Schultz Wagner '04, was inducted into the Central Athletics Hall of Honor last year.