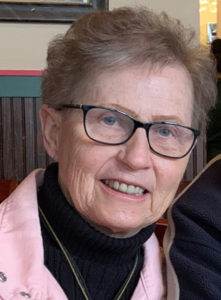 Margaret Louise Netz Zondervan, former director of Central College Health Services, died June 2, 2020, at age 73.
A native of Grand Rapids, Michigan, Zondervan graduated in 1968 with an RN from Abbott Hospital in Minneapolis, Minnesota. She moved to Pella soon after with her husband Leon Zondervan, now a retired high school teacher and a student teacher supervisor in Central's education department. In Pella she served as a nurse in various departments of the Pella Community Hospital before joining Central's staff in 1987.
As director of the health center, she was caretaker to Central students, faculty and staff, seeing 20-25 Central community patients per day for everything from sniffles to flu vaccines, blood pressure checks, strep tests, doctor and hospital referrals, transportation and more. She and her husband welcomed several Central students with special housing needs into their home. For a quarter-century of Central students, "Take a chill pill and see Nurse Zondervan in the morning" was the prescription for whatever ailed, according to an Oct. 16, 1996, article in The Central Ray.
In addition, Zondervan was a 25-year volunteer EMT for the Pella Ambulance Service and completed many mission trips as a nurse to underprivileged communities in Romania, Africa and Haiti. For 37 years, she directed a support group for Pella single mothers. She also served on the board of Pathways of Pella, a pregnancy care center.
Zondervan was a longtime supporter of Central as a member of the Cornerstone Society, Central Club and Heritage Roll of Honor. She contributed to the Central Fund, Roe Center, P.H. Kuyper Gymnasium, Journey Scholarship and various additional memorials and scholarships.
She leaves behind her husband Leon and her sons Russell, Ryan and Randall '98 and six grandchildren.