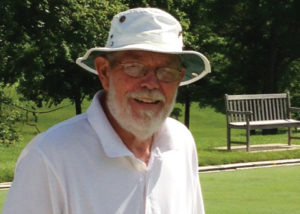 Don Maxam, professor emeritus of sociology at Central, died at home June 3, 2020. Maxam taught at Central from 1971-96.
After graduating from Hope College in Holland, Michigan, Maxam served as a missionary at the School of High Hope for boys in Basrah, Iraq, where he taught English and particularly enjoyed coaching basketball. His school's team often played against U.S. Navy teams from ships that docked in the port.
He then completed a divinity degree at New Brunswick Theological Seminary in New Jersey. While a student there, he served in various churches in the area as part of his training, which is how he met his wife, Elsie. Following his graduation and their marriage, he served as a pastor at several churches in Baldwin, New York, and Rossmoor, New Jersey.
After witnessing the racial turmoil of the 1960s, he completed a Ph.D. in religion and society at Princeton Seminary and joined Central, where he served as both department chair and division chair. Maxam believed sociology was a tool to better understand how the world works and use that knowledge for good.
He loved to teach. He had a lifelong interest in social justice and created a popular course, Social Movements, which he offered through the sociology department. In his Principles of Sociology class, he assigned students to work in groups to create an "ideal society" from scratch; in Planning for Change students worked on applied projects designed to bring about positive social change.
Maxam loved working with his colleagues and built a department committed to effective teaching and positive social change, a legacy that continues. He also enjoyed counseling, Dutch athletics, 10 a.m. coffee time with faculty colleagues and even officiating at several of his students' weddings. He liked everyone, had a gift for giving students a few words of encouragement and he was at home both in the pulpit and in front of the blackboard.
After retirement, he and Elsie returned to Rossmoor, where Don served as chaplain in the retirement community where they lived. They later moved to Silver Spring, Maryland. Don remained an avid walker and read The New York Times and The Washington Post cover-to-cover each day.
He is survived by his wife, Elsie, of Silver Spring, Maryland; daughter Leslie Maxam '88; grandson Luka of Kensington, Maryland; and son Daniel of Grandville, Michigan.