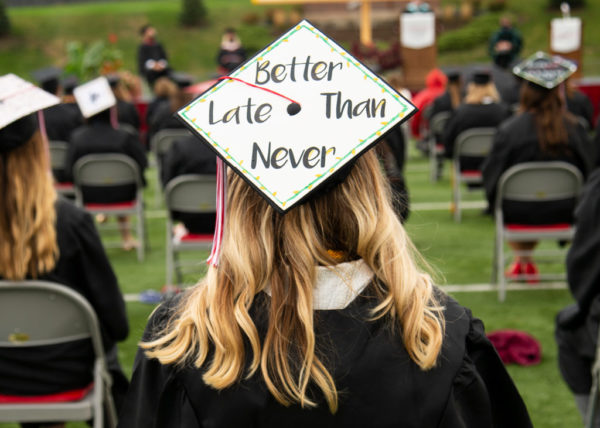 Central College President Mark Putnam wasn't certain the weekend would happen.
From safety measures for COVID-19 to asking former students to return to campus, there were many questions that needed answered before a Commencement ceremony could take place.
Two stuck out most. "How on Earth will we do this?" Putnam told a group of Class of 2020 graduates gathered the night before their long-awaited Commencement ceremony. "And will it rain?"
Well, it rained right up until the start of the ceremony, but it certainly didn't dampen the spirits of the many graduates and their families gathered on the wet and chilly Sunday afternoon at Ron and Joyce Schipper Stadium.
UNTRADITIONAL TRADITIONS
The Commencement event came at the end of a Homecoming weekend like no other at Central.
The Lemming Race wasn't run for the first time since it started in 1977. A Homecoming football game wasn't played for the first time in, well, forever. And with Commencement in September, it was only the second time in the college's history graduates weren't celebrated in May.
In 2020 — a year when so many things have changed — everything was different.
As the college has done since the start of the pandemic in March, members of the Central family adapted to the times. A mostly virtual Homecoming was held for alumni, while events for students on campus were sparse. Activities like the traditional crowning of the royalty and a casino night with lots of winners continued as planned. In addition, the college supported the Class of 2020 with an evening reception and an in-person Commencement.
Despite the 53-degree, rainy weather, they came to celebrate the accomplishments of the Class of 2020. They came with chairs in bags under a sea of umbrellas and plastic tarps to put on their laps. Families huddled together under blankets while Ian Heetland '20 launched the event with an a cappella rendition of the national anthem. The stage was set in the north end zone in front of the goal post — a subtle (or not so subtle) reminder that goals can still exist in a pandemic.
Nearly 200 graduates sat 6 feet apart in rows on the yard lines of the waterlogged stadium. Water puddled on the stage and track as well as on chairs and mortarboards. Masks got damp and more uncomfortable than normal. Still they came for a Commencement that was better late than never — and not to be forgotten.
Amidst shivers, graduates turned their tassels and were officially welcomed into the Central alumni family.
To stagger leaving, there was no recessional. Some families stood in place and marched to the beat of the recorded music. Some graduates lingered to throw their hats into the air and take pictures with friends.
Throughout the weekend, everyone displayed Forever Dutch® pride and revealed the enduring resilience of the Central spirit. "We will make the best of this," they said.
Nothing could steal the joy of this day. Nothing. Serving a poignant reminder: The simplest things in life are often the ones that matter the most. Bad circumstances are less bad when you have friends to help you and the Central community to support you. And every problem has a solution — even if it is just a good attitude partnered with rain gear and plastic bags.
It never hurts to keep looking for sunshine.
---
---
COMMENCEMENT COROLLARIES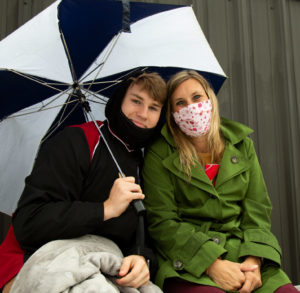 "We are excited to actually have graduation," says Shari Nobel of Huntley, Illinois, who made the trip to Pella with her family to watch her daughter Stephanie cross the stage. "The kids worked hard so it is nice to have the ceremony. I cannot be more proud and happy for how well Central prepared her." A biology major, Stephanie is now in graduate school at the University of Illinois at Urbana-Champaign studying to become a veterinarian.
"It was a cold one. We were driving here in the pouring rain. It was so good to see everyone. Despite the weather, I enjoyed it. The speaker (Kellie Gorsche Markey '88) was so amazing," says Gabrielle Lillie '20, a psychology major from Burlington, Iowa. She's currently working in a group home for patients with disabilities and applying to graduate schools.
"This is not how I expected to graduate. I was a marshal as a junior, so I was ready. But it was good to be here this weekend on the football field. It was so good to be on the turf again and seeing my teammates," says Daniel Anderson '20, a Boone, Iowa, native, who is looking at graduate schools. On the same field a year ago, Anderson, a defensive back, had interceptions in wins over Loras and Nebraska Wesleyan.
MORE SCENES FROM COMMENCEMENT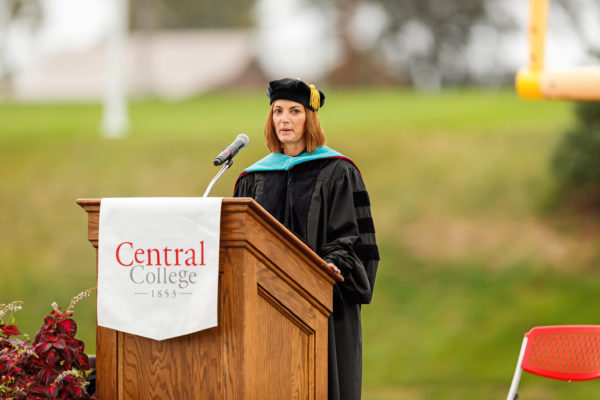 Kellie Gorsche Markey '88 served as the Commencement speaker and received an honorary degree of doctor of public service honoris causa during the ceremony.
"If I impart one idea on you today it would be to define yourself on the things that you are rather than the job that you do," she told the graduates." Work as hard as you can to be a great friend, a supportive life partner, an outstanding parent and an active, engaged part of the community you live in. Then, do your job to support those goals. You are in a unique position to launch careers in a life where 'going to work' is being redefined. So , demand the balance that allows you to be whole."
In 2016, Markey opened Dorothy's House in Des Moines, a long-term residential home that provides survivors of sex trafficking and sexual exploitation with the space, resources and support they need to heal.
HELP SUPPORT THE CLASS OF 2020
The senior class gift is a longstanding Central tradition in which the class joins the philanthropic community by supporting the college's needs or enhancing campus life. This year's class voted for outdoor furniture as an expansion of the Peace Mall renovation.
Central wants to celebrate and honor the Class of 2020 by securing funding for the completion of the project. This year's efforts were cut short when students left campus in March due to the COVID-19 pandemic.
For more on the project or to donate, visit ignite.central.edu/scg20.