"Last Wednesday night I was called out of bed to meet with the Board of Health, who were considering a general quarantine."
So begins an entry in the Central College president's diary.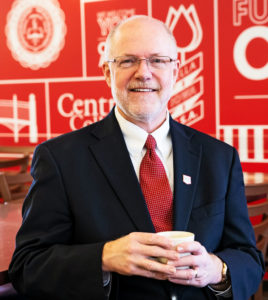 I could have written similar words this spring. The coronavirus pandemic forced us to send students home and move to remote learning for the remainder of the semester. We also needed to halt Commencement 2020 ceremonies and pause many of the college's cherished spring traditions.
But the diary is not mine.
John Wesselink, Central's president from 1925-34, wrote the sentence 90 years ago. In the entry that follows he chronicles — in neat, fountain-pen script — another time Central was driven to cancel its Commencement exercises. The cause: smallpox. The date: May 30, 1930.
"It was felt that it had come to the point where a general epidemic was imminent unless drastic measures be taken," Wesselink continues. "So it was decided to prohibit all public meetings including churches, schools, movies, celebrations, etc. … That meant that our commencement week must be called off with all its exercise, a great disappointment to the graduating class and to all concerned."
"A great disappointment." These words may sound stoic and dispassionate to the modern ear. But we know how much hurt they conceal. This spring we feel it, too.
The day after we announced students would not return to campus after spring break, one of my colleagues noticed another trying not to wipe away tears ("Don't touch your face!") as she worked. "Are you hanging in there?" he asked gently.
"I have to," she said, voice choking, "for our students."
As seniors stopped by a table at Maytag Student Center to turn in their room keys, Mary Benedict, assistant director of alumni relations, and her advancement colleagues turned the pragmatic ritual into an impromptu, unscripted celebration. They handed out Central pins and other remembrances we normally bestow upon seniors with great ceremony at Commencement.
There were no hugs — social distancing! — but there was much emotion. Brittany Carlson Prokupek '16, assistant director of annual giving, related how Susan Sikkema, an operator in our student safety and information office, asked a senior she's gotten to know over the years to join her in prayer before he left campus. "He agreed and it moved us all to tears," Prokupek shares.
Making the call to move from face-to-face classes to remote instruction in March — which I did in consultation with health officials, local government, Central's senior leadership team and our board of trustees — was the most difficult decision I've had to make as Central's president.
I encourage you to read "Proud to Be Dutch" and the poignant Parting Shot essay by study abroad student Marin Harrington '21 for more reflections on the impact of the changes wrought by the coronavirus on the Central family.
Central has weathered much in its 167- year history. Tuberculosis. Polio. Smallpox. The 1918 flu pandemic. The American Civil War. Two World Wars. The Great Depression. The college has met them all with a resilience that's in our institutional DNA. Often Central acted boldly, adapting to a new set of circumstances virtually overnight, just as we are now.
We'll detail a few of those pivotal moments in Central's history in the next issue of Civitas. With your help, we'll also share more about how the Central community is rising to the challenge yet again. Send your stories of Central community members who are COVID-19 heroes to us at alumni@central.edu. We'll share as many of them as we can.
The results will be the same as they were in President Wesselink's time: a strong, vibrant, creative, fiercely unified learning community working together with many roles but one spirit.
By the way, if you hadn't heard of the "general epidemic" of smallpox in 1930 that President Wesselink mentioned, there's good reason: it didn't happen. The quick action of the college and town — though difficult and painful — prevented the disease's wider spread.
We will never know how many lives we saved by our collective decision to move to remote learning this spring. I recognize your great sacrifice — most especially that of the Class of 2020. And I commend all members of the Central community for your willingness to give personally to ensure the greater good: the students who left campus when asked even as every fiber in their being wanted to stay; the faculty members who embraced with determination and creativity the temporary necessity of remote teaching and learning; the staff members who moved quickly to ensure the safety of our students and the continuity of our operations; and the alumni, parents and friends who immediately reached out to help.
I'm proud of and grateful for your actions. I thank you from the bottom of my heart.