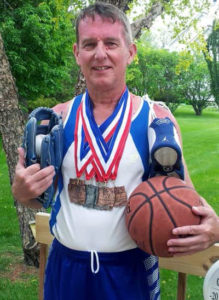 Martin Daniel Feeney, associate professor of communication at Central College from 1986 to 2008, died Jan. 3, 2020, in Clive, Iowa. He was 71.
A native of Boston, Massachusetts, Feeney earned a bachelor's degree in communication and theatre studies from Boston College. He served in the U.S. Navy submarine service aboard the Polaris Missile submarine George C. Marshall during the Vietnam War. He then obtained master's and Ph.D. degrees from Bowling Green State University in Ohio in communication studies and popular culture. He had a particular interest in film and media history and criticism.
In addition to teaching communications studies courses, Feeney coached Central's speech team and advised its student newspaper, The Ray, and radio station, KCUI. Students remember him for lively and innovative class discussions, David Letterman-style top-10 lists and Mason jars filled with Hershey bars to reward great work. A lifelong athlete, he won 104 medals at the Iowa Senior Olympics and was a gold medalist in the 2009 Governor's Cup Race in Des Moines, Iowa.
Feeney leaves his wife of 35 years, Susan Eggert '88; children Rob and Caroline Feeney; sister Pearlan Feeney-Grater; grandson Nolan Charles Feeney; and nieces and a nephew.