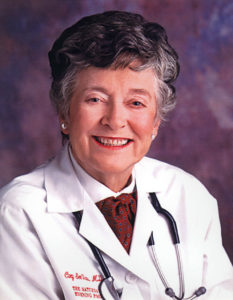 Cory Synhorst SerVaas '44, former editor of The Saturday Evening Post, physician, inventor, health educator and television personality, died March 6, 2020, in Indianapolis, Indiana. She was 95.
Born June 21, 1924, on a farm near Pella, Iowa, SerVaas attended a one-room country school. She graduated from Pella High School in 1940 and was a member of the gymnastics team during her two years at Central College. Later, she served on Central's Advisory Board and its National Advisory Council. She loved and supported Central throughout her life.
SerVaas earned a degree in journalism from the University of Iowa and did postgraduate work at Columbia University while working as a seamstress in New York City's garment district. Her first journalism job was as editor of the Lionel train magazine. She met her husband, Buert SerVass, in church and asked for his help in patenting her Cory Jane Clamp-on Apron she'd invented while a seamstress. The two were married in 1950 and moved to SerVass's hometown of Indianapolis.
In 1969, after the couple's five children were in school, Cory SerVass graduated from the University of Indiana with a degree in medicine.
In 1970, Buert SerVass bought The Saturday Evening Post and Cory became its editor-in-chief. She excelled at translating complex medical concepts into terms readers could readily understand and wrote two popular columns for the magazine: "Medical Mailbox" and "Ask Dr. Cory," along with numerous books on health and wellness. She also promoted exercise and good nutrition to young people in publications such as Jack and Jill and Humpty Dumpty.
A champion of public health, SerVaas founded the Benjamin Franklin Literary and Medical Society and its two divisions — the Saturday Evening Post Society and Children's Better Health Institute. She also hosted a weekly program on health on the Christian Broadcasting Network. There she advocated for preventive medicine initiatives and was at the forefront of national conversations on a range of health issues. And SerVaas didn't just advocate: In the 1980s she deployed mobile units that screened for heart disease and cancers.
Ronald Regan appointed SerVaas to the President's Commission on the HIV Epidemic. George H.W. Bush appointed her to the President's Council on Physical Fitness and Sport.
In 1993, with a nod to Pella and her Dutch heritage, she founded the annual Tulip Time Scholarship Games in which students nationwide competed in athletic and academic events for college scholarships. More than $1 million in scholarships were awarded between 1993 and 2006.
"Cory was a crusader and woe to anyone who stood in her way," read her obituary in The Indianapolis Star. "She was audacious and mission-inspired, with an intense desire to make the world a better place by solving problems that matter to society."
Photo credit: Courtesy Saturday Evening Post © SEPS